News
NO. 9 / 236 YARDS / PAR 3.
Since the day Merion's East Course was announced, seven years ago, as the site for the 2013 U.S. Open, naysayers have been challenging the wisdom of the choice: Too short...Too small...Wrong historic golf course. Add the conspiracy cynics who believe the USGA is going to Merion to either (a) prove there's no distance problem in today's game, or (b) demonstrate there is a distance problem, and it's no wonder this Open is one of the most anticipated in years.
In an effort to address these questions and others, Golf Digest Contributing Editor David Fay sat down with his alter ego, former USGA Executive Director David B. Fay, to get his perspective on a decision that was made on his watch.
After Ben Hogan's famous 1-iron in the 1950 U.S. Open, it took 21 years for the USGA to return to Merion for the Open. Why so long?
The popular theory is that the USGA and Merion were spooked when Jack Nicklaus, in the 1960 World Amateur Team Championship, pulverized the golf course with a score of 66-67-68-68--269, which was 18 strokes lower than Hogan's total 10 years earlier. But that's not the full story. The World Amateur event was played in early fall, and Merion was set up far shorter, softer and easier in all respects than it would have been for an Open or an Amateur. It didn't have an elite field. There were 58 scores of 90 and above, including eight scores in the 100s.
Personalities played a huge role. The USGA's Joe Dey had become enamored with the work of architect Robert Trent Jones, and Trent was all about big and brawny. After reworking Oakland Hills in 1951 into a course described by Hogan as a "monster," Jones had strengthened Baltusrol Lower in 1954. Both these clubs were 36-hole operations, with plenty of staging room. Dey saw this as the future, so it's no wonder that the Open went to large facilities like Congressional (1964), Bellerive (1965), Champions (1969) and Hazeltine (1970). It's funny how these newer courses produced shorter-hitting champions like Ken Venturi, Gary Player and Tony Jacklin. Anyway, I give full credit to Dey's key assistants--P.J. Boatwright and Frank Hannigan--for influencing the change in the USGA's Open mind-set, including the decision to return to Merion in 1971.
Merion has never been a course that emphasized the use of the driver. Never. My successor, Mike Davis, wants players to hit drivers at six holes this year: the two par 5s and four par 4s (5, 6, 14 and 18), though he acknowledges some will choose to hit 3-wood "to work the ball and better hold a fairway, but that's their decision." And yes, players might be hitting wedges into seven or eight holes (five of the par 4s are less than 400 yards). But Merion's strength has always been the brilliant weaving of short, sexy holes in the middle (7 through 11), combined with a stout five-hole finish. "If those aren't the hardest finishing holes in a U.S. Open," Davis says, "I don't know what are."
In 1971, prim and proper Merion proved that the game had not passed it by. The late Jim Murray summed it up when he wrote: "Nicklaus and Trevino shot even par and played off for the championship. Nicklaus lost and ended up one over par for the championship. Whatever else she is, Merion ain't no lady."
When the Open returned to Merion in 1981, David Graham won his second major with a surgically impressive final-round 67 for a total of 273--one stroke higher than Nicklaus had shot the year before at Baltusrol in winning his fourth Open. Only five players in the 1981 championship broke par. It looked like a continuation of the success story of 1971. So why did it take the USGA 32 years to return?
Baltusrol, in 1980, was a seminal moment for the business of the Open--good or bad, depending on your point of view--as the USGA was introduced to the corporate-hospitality tent. A couple of dinky, Cub Scout-like tents had been erected on the platform-tennis courts at Inverness in 1979. Baltusrol, using its Upper Course, sold 20 large ones. The era of the corporate-tent village arrived at a time when it was still a challenge for the USGA to make ends meet. We'd hired, in December 1980, former USGA president Harry Easterly as our senior executive director. We were adding programs and people, and the culture of the whole operation was becoming more of a business. It wasn't the place I'd joined in 1978 as the tournament-relations manager.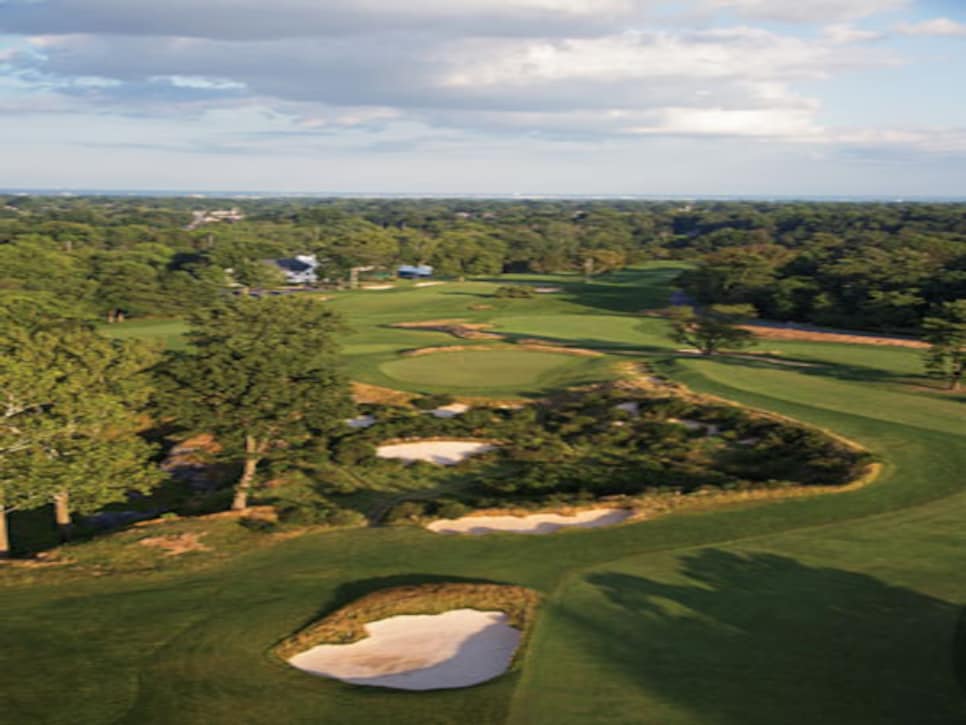 requires a second shot over challenging terrain.
(On the far right is the tee for the 411-yard 15th hole.)
Against this background, the comparison between Baltusrol and Merion was stark. At just more than 120 acres, far fewer daily and weekly tickets and just a handful of corporate tents could be sold.
Everything bad seemed to catch up with Merion in 1981. The course felt soft yet short and was in quasi-crummy shape. Even though we'd limited daily attendance to 18,000, the place felt claustrophobic. As we learned later, there was a good reason for this: Somewhere between 3,000 to 5,000 counterfeit tickets had been printed and used, and this number was probably on the low side. Losing out on revenue was never appreciated! This year, the USGA says "peak paid attendance" will be around 25,500.
An aside on the crowds in 1981: Yul Brynner, who was in Philadelphia to do a limited-engagement revival of "The King and I," had requested as his rental a grand-looking, quintessential Main Line fieldstone home on a quiet road, preferably a cul-de-sac. Brynner arrived late Sunday night at the Philly airport and was whisked to his stately digs. When he awoke the next morning and went to the bedroom window to draw back the shade for his first look, he was treated to the sight of thousands of people milling around on the other side of the street. It turns out that Brynner's rental was on Golf House Road, directly across from Merion's 14th fairway and 18th green. Word got out that Brynner took it out on his people as if he were the King of Siam punishing the lowly members of his court.
There was more furor in the second round, when the USGA's P.J. Boatwright issued slow-play penalties to John Schroeder--a known slowpoke--and Forrest Fezler, but the two-stroke punishments were overturned by the USGA's ber committee (see page 186). That did nothing to help the overall mood.
So, yes, coming out of 1981, there was a sense that the U.S. Open had outgrown Merion, especially at a time when changes in club and ball technology were rapidly evolving. We still loved the place, and our hope and plan was to use it for amateur championships and maybe a Women's Open--but no more U.S. Opens.
Just about everything, but it was a gradual fits-and-starts process over a number of years. The 1989 Amateur had done nothing positive to change our mind. But by 1996 and 1997, a few USGA staffers--particularly me and Mike Davis--kept surfacing the subject of an Open at Merion. Championship-committee chair Buzz Taylor brought in his pal Nick Price, who had won the British Open and the PGA in 1994, to check out the course. Nick loved the place, but he couldn't conceal his feeling that the course was just too short--and small. Even though Merion was among the candidates for the 2003 U.S. Open, that was more of a formality. Merion never had a chance.
But the club leadership--particularly the younger set--refused to give up, undertaking a comprehensive program to bring back some of Merion's muscle. The course was lengthened, and trees that had grown over the years were chopped down, which had the benefit of lengthening some holes, improving air circulation and turf quality, and expanding spectator corridors.
Some members, without any formal encouragement from the USGA, purchased land to the right of the sixth hole, believing--rightly--that the club's physical plant remained too compact. One of the club leaders, my good friend Steve Smith, coined this land purchase the Sixth Hole Investment Trust, to make clear to his group that if the club were unsuccessful in landing an Open, this term would become a fitting acronym for the investment and the Open dream.
Throughout it all, the USGA attitude was encouraging. It's corny, but you could say, at least for some of us, that though the USGA brain thought a future Open at Merion would never work out, the USGA heart wanted it to.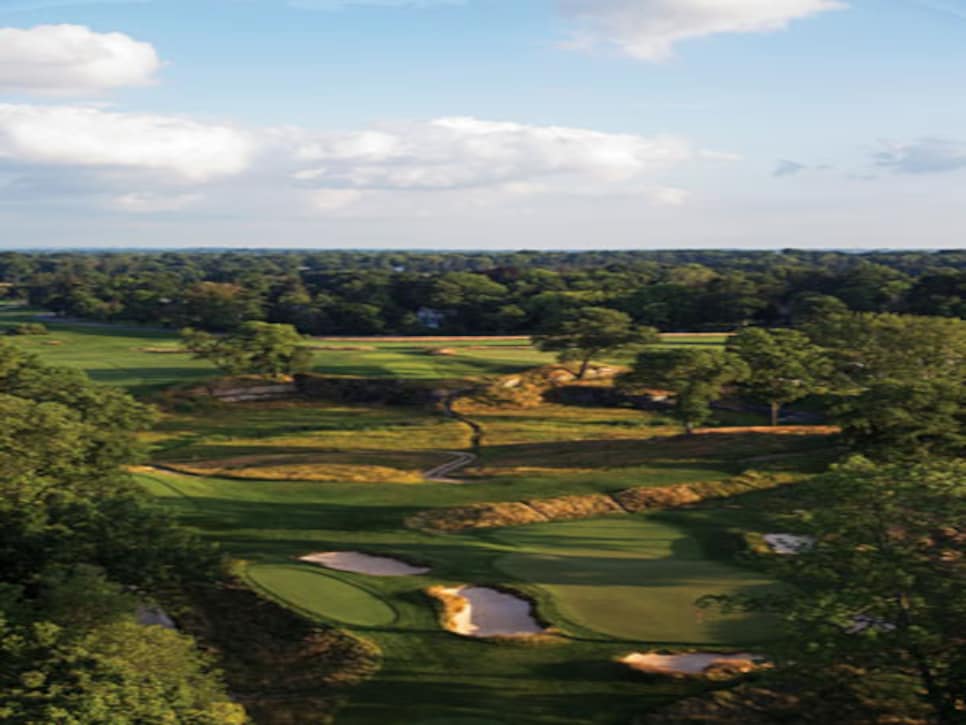 least 236 yards. (The 13th hole plays at just 115 yards.)
By the early 2000s, the USGA was flush, thanks in large part to increased broadcast-rights fees. Soon we were to have a stable of corporate partners for even more revenue. And introducing public courses like Bethpage Black and Torrey Pines to the unofficial U.S. Open rota allowed us to bundle smaller-scale Open courses like Merion and Olympic with large-capacity sites. Our internal financial-planning models were based on five-to-seven-year projections. We could afford to take a financial hit every so often. As for Merion, the course played fine for the 2005 Amateur and 2009 Walker Cup, and neighboring Haverford College was on board to rent us some of its property to ease the operations burdens we'd faced in 1981. Things looked promising for the upcoming vote on the 2013 Open site.
That's a sensitive subject. Some members of The Country Club regarded the 2013 Open as a foregone conclusion, a birthright. I like The Country Club, but I think the composite course is the most overrated of America's great courses, if that makes any sense. I love the members' course, and I think the drive up to the clubhouse is one of the most charming in the world, but I didn't--and don't--see it as a good U.S. Open site. My views were formed during the 1988 Open and the 1999 Ryder Cup. I thought there were too many weak and indifferent holes on the course and too many spectator bottlenecks.
And, yes, the published reports in the Boston papers were true that in 2003 I directed Mike Davis and Mike Butz to check out Ponkapoag--a 36-hole public facility south of Boston--as a possible U.S. Open site. I was hoping it would be New England's answer to Bethpage. But the two Mikes, as skillful as they were, couldn't find an acceptable 18-hole routing.
But now came the tough part: convincing The Country Club to consider hosting the 2013 Amateur as a fitting tribute to Ouimet, a two-time Amateur champion. It was not easy, but eventually the club agreed to invite us. We accepted, with alacrity. It will be a terrific U.S. Amateur, but there remain some hurt feelings and anger toward me. That's understandable.
Maybe someday The Country Club will come up with a new composite layout. I hope so, because it would be fun for the Open to return to New England. Remember this: When it comes to selecting U.S. Open sites, the importance of having a prominent USGA insider as a strong advocate can't be overstated. It can be the staff leader, or it can be a volunteer member of the executive committee. But the advocates have to be persuasive and committed. The Country Club had no strong USGA insiders as advocates at decision time in 2006. If there had been, I believe the Open would be in Brookline this year.
So, what do you expect this June?
Merion has gone from a middleweight to a compact heavy, like Philly's favorite, the late Joe Frazier. It's relentless and punishing. The classic short par 4s remain basically unchanged, but most of the historically longer 4s have been stretched. "The short holes are really short," Davis says, "but the long holes are really long." The 14th, only 414 yards in 1981, got 50 more yards by raiding the practice green for a new tee. The par-3 third hole added 73 yards, bringing it to 256. In 1981 we had tees at 179 and 195 yards at the ninth, but today the hole will play at 236. The 18th went from 458 yards to 521.
The scorecard reads 6,996 yards, par 70, versus 6,544 in 1981 (a point of pride to Merion members that the course can host the Open without busting the 7,000-yard barrier). I think the course is made for Mike Davis' pebble-in-the-shoe approach of keeping the players a bit off balance by moving tee markers up and back. Matt Shaffer, the club's director of golf-course operations for the past dozen years, adds: "It's going to be a chess match. I've been waiting all my life to play Bobby Fischer. I'm going to have some fun the week of the Open."
Anyone missing the fairway will be dealing with rough that is a hodgepodge of rye, bent, fescue and Poa growing at different heights and densities. "They could hit into the same spot in the rough on four straight days and find four entirely different lies," Shaffer says, adding that he doesn't spray for crabgrass. "There are big broadleafs in there and stuff with thick stems," he says. "Swinging through that is going to be like swinging through a pile of ropes." Then there are Merion's challenging putting surfaces. "The greens are firm," Shaffer says. "I could get a bowling ball dropped from 500 feet to bounce on them. I don't normally even run Stimpmeter readings on my greens. My definition of good green speed is when you're able to read the brand of the ball while it's rolling." Pressed, Shaffer adds that the greens "will be somewhere north of 12 on a Stimp but somewhere south of 14."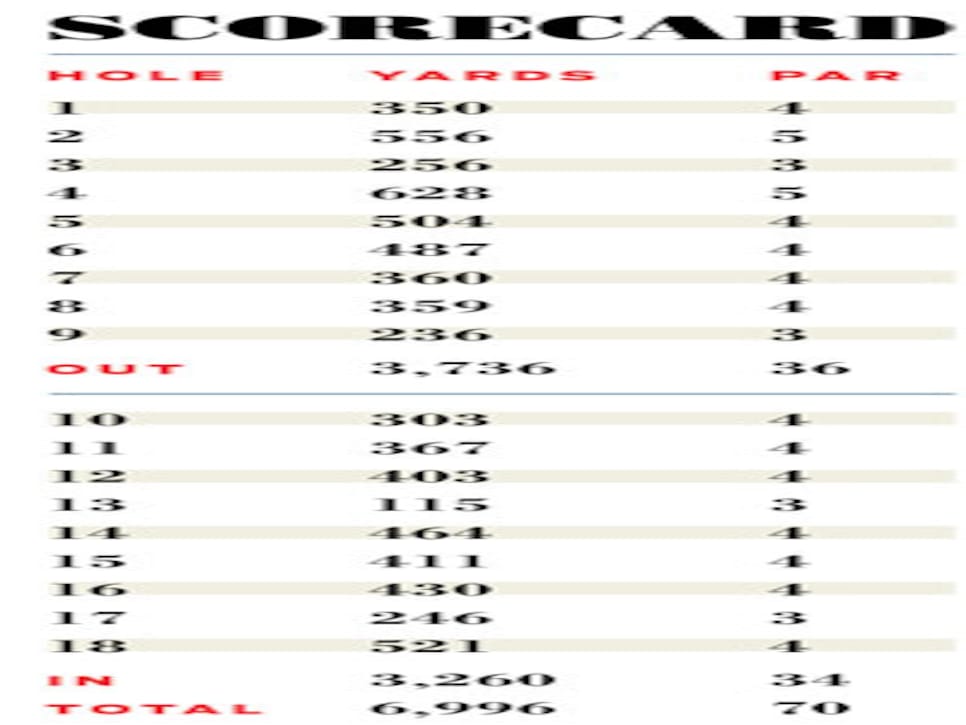 I'm stating the obvious when I bring up weather. Not just the conditions during championship week but the weather leading into the Open. One only has to look back to Bethpage in 2009 and Congressional in 2011 to appreciate that plans can literally be washed away when the squeegees and tons of wood chips become the visual. It's times like that when you yearn for a retractable roof.
"If you look at the historical progression," Davis says, "in 1934 Olin Dutra won the Open at Merion at 13 over. In 1950, Hogan won at seven over. In 1971, Trevino won [forced a playoff] at even par. In 1981, David Graham was seven under. So if the course is soft, I'm thinking 14 under is the winning score this time around. But if it doesn't rain, if Matt gets it firm and fast for four straight days, then I think even par wins it."
I'd go beyond that and say that if Merion plays hard and fast--and the club's maintenance crew gets overzealous--it could stir up memories of the Massacre at Winged Foot in 1974.
Final question: Is this Open a referendum on the distance issue?