The Loop
U.S. Open champ Webb Simpson happy to get back inside the ropes at the Travelers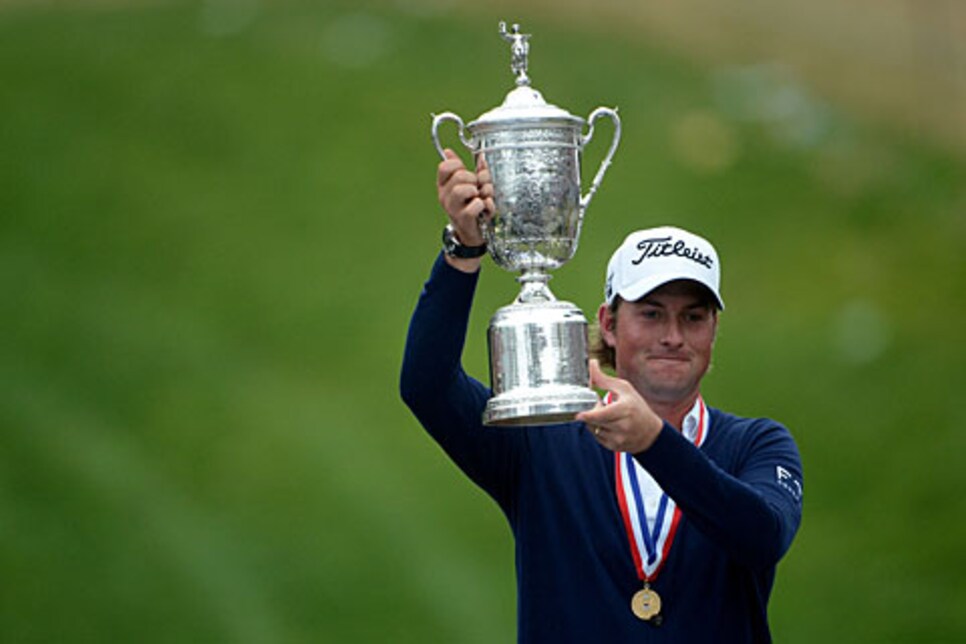 (Photo by Stuart Franklin/Getty Images)
CROMWELL, Conn. -- Unlike his playing partner in Thursday's opening round at the Travelers Championship, Webb Simpson is not taking any time off after his first major victory. Saying the thought of skipping the tournament -- an event where he received a sponsor's exemption to play in his second pro start in 2008 -- never entered his mind, the newest U.S. Open champ took a cross-country red eye flight home with his wife and son Sunday night for one day of rest and reflection before heading to TPC River Highlands on Tuesday.
Though he admitted he'll probably always play this tournament because of the commitment they made to him as a young golfer, Simpson said he was looking forward to resuming work after the whirlwind weekend. "It's a great week for me to unwind from the U.S. Open. ... to get away from just reflecting and thinking about it, and trying to put my focus on trying to win this golf tournament."
But Simpson's calm demeanor couldn't hide the excitement of winning his first major. "My hands are starting to slow down from shaking," he joked, before boasting of the long list of hall of famers who reached out to congratulate him, including an email from Tom Watson he said he's "probably going to print out and frame."
Simpson's immediate return to action is in direct contrast to the path that Bubba Watson -- who along with reigning PGA Champion Keegan Bradley will be playing with Simpson on Thursday and Friday -- took after his Masters victory in April. Following his win at Augusta, Watson took two weeks off, and spent nearly the entire month of May away from the game. The two are good friends both on and off the course, and Watson was one of the first people Simpson reached out to for advice about how to handle the pressure.
"Webb texted me and asked what was going to be different," Watson explained, "and I just told him you're going to have more fans. You're going to have more people wanting you to sign, and your agent's going to have more things for you to do. You're just going to have to be able to say no," he added, before emphasizing, "You're the boss. You just got to be able to do what's right for you and your family."
Doing what's right for his family doesn't seem to be an issue for Simpson. While loyalty played a part in his decision to compete at the Travelers, Simpson has said he will skip next month's British Open to stay home with his wife for the birth of their second child.
"After winning it's certainly a little bit harder to not go [to the British Open]," Simpson said, before immediately turning the attention back to his family. "But in the grand scheme of life, it's a decision I know I'll always be happy I made."
While both Bubba and Webb admitted they came to the Travelers expecting to win, playing alongside each other with Bradley as major champions is something they will definitely cherish. Much has been made this week of the 15 different golfers who have won the past 15 majors, but lost among the discussion is that these three reigning major champions are all American. And that's something they all take pride in. "The U.S. has won some majors now, so it's good," Watson said. "We got it going our way again."
As Watson has shown with two recent missed cuts, it isn't easy to keep the momentum going after capturing a first major. But as Simpson eloquently explained when asked if he was worried about his game falling off after winning the U.S. Open: "It is a concern... but a good concern."