News
U.S. Open 2020: Patrick Reed's putter finally cools off and three other Saturday takeaways from Winged Foot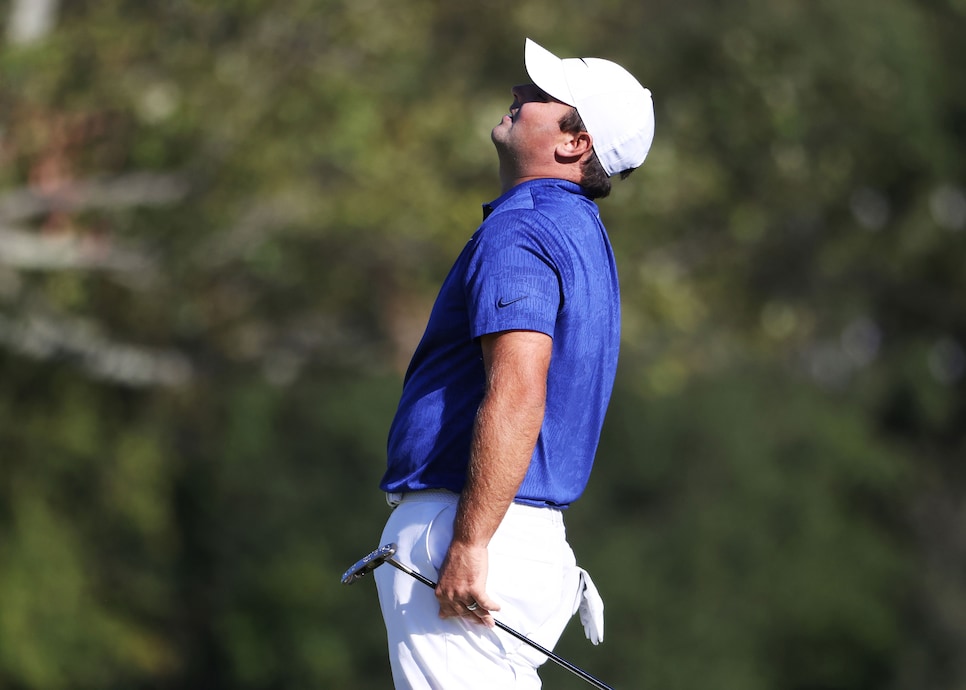 Patrick Reed reacts to a missed putt on the eighth green during the third round of the 120th U.S. Open.
Jamie Squire
And then there were three.
The only players under par with one round to go in the 120th U.S. Open are Matthew Wolff (five under), Bryson DeChambeau (four under) and Louis Oosthuizen (one under).
At 21 years, 5 months and 5 days old, Wolff is also the youngest 54-hole leader of the championship in nearly 50 years. Younger than Tiger Woods in 2000. Younger than Rory McIlroy in 2011. Younger than Jordan Spieth in 2015. All of them went on to win.
Wolff's five-under 65 on Saturday was sensational. Here's more on that in our takeaways on Saturday from Winged Foot.
Matthew Wolff joked with his caddie while coming up the 18th that he was trying hit as few fairways as possible, meaning that if he can hit just two(!) as he did on Saturday and still shoot 65(!!) that would give him all the confidence he'd need for Sunday's final round.
He has a point. Everyone is missing fairways at Winged Foot.
Bryson DeChambeau, just one back, found the short grass just three times on Saturday. Louis Oosthuizen, alone in third and four strokes back, hit just five fairways. Only two players in the top 10—Harris English and Viktor Hovland—hit better than 50 percent of their fairways in the third round.
Still, it's eye-opening just how well Wolff has been able to play from the thick stuff. To put it in perspective, here's a wild stat: The 12 fairways that he has hit through the first 54 holes is the fewest by any leader of the U.S. Open since 1983 … by eight. Jim Furyk was next closest, followed by Tiger Woods. That's the modern game, bomb and gouge. But it also helps when no one else is hitting fairways, either.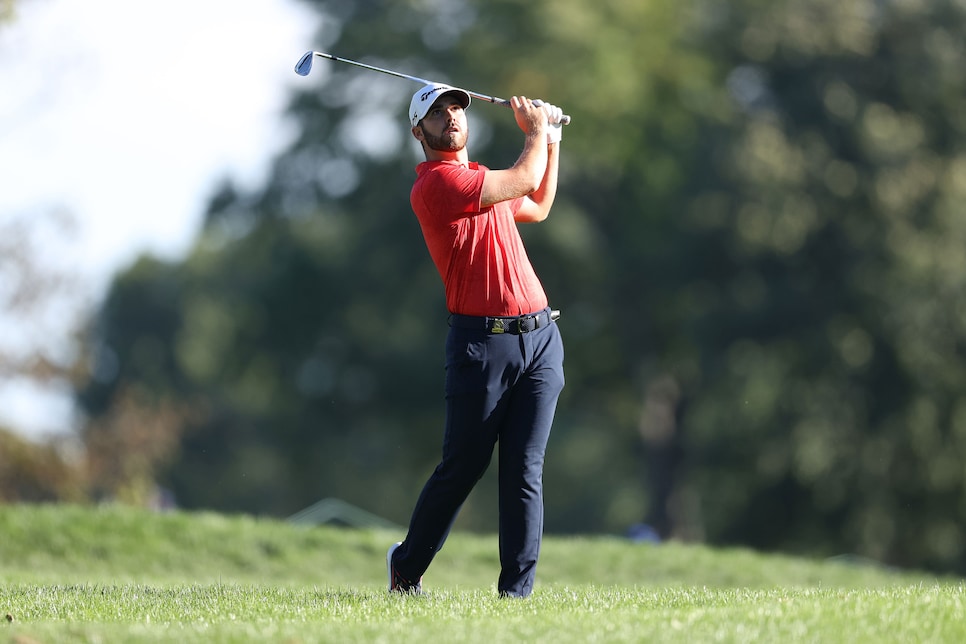 If the 21-year-old, just 16 months removed from winning the NCAA title, had stayed in college for all four years, he would have likely been at Saturday afternoon's less-than-thrilling Oklahoma State-Tulsa game. Instead, Wolff is now in position to become the youngest winner of the U.S. Open since Bobby Jones.
Maybe we should have seen this coming? Last month, in his first career major, Wolff tied for fourth at the PGA Championship at TPC Harding Park. Saturday, his iron game was clicking and so was his putting, the latter being an element of his game that he said is the best it has been in a couple of months.
Little else—like the pressure of leading a major at such a young age—seems to faze him, either.
"There's a lot of holes out there that maybe people would try to hit it in the fairway or maybe take the safe play because it is a U.S. Open and they know that pars are a good score. But I don't really like to think of it that way," he said. "I like to go out there and do what I feel comfortable with, rip dog and see how it goes from there. I feel comfortable with every part of my game so I don't like to shy away from things when I'm feeling confident, and I'm probably going to do the same [Sunday]."
At least one other person wasn't surprised by Wolff's performance, too.
"He hits it really far, he hits it really high, he's not afraid, and yeah, he doesn't really care," Xander Schauffele said. "I played with him the final round of the PGA Championship, and he destroyed that place as well and it was playing difficult there on the last day."
Still, a 65 was nothing short of spectacular, especially considering how few fairways he hit. Wolff rattled off five birdies in his first nine holes to make the turn in 30, made just one bogey coming in and birdied the 18th after hitting iron off the tee, getting a good bounce with his ball kicking out of the rough and into the first cut and sticking his approach to 10 feet.
This is how good the score was: It was two strokes better than the next best score, was one of just seven sub-par rounds on the day and more than eight strokes better than the field scoring average.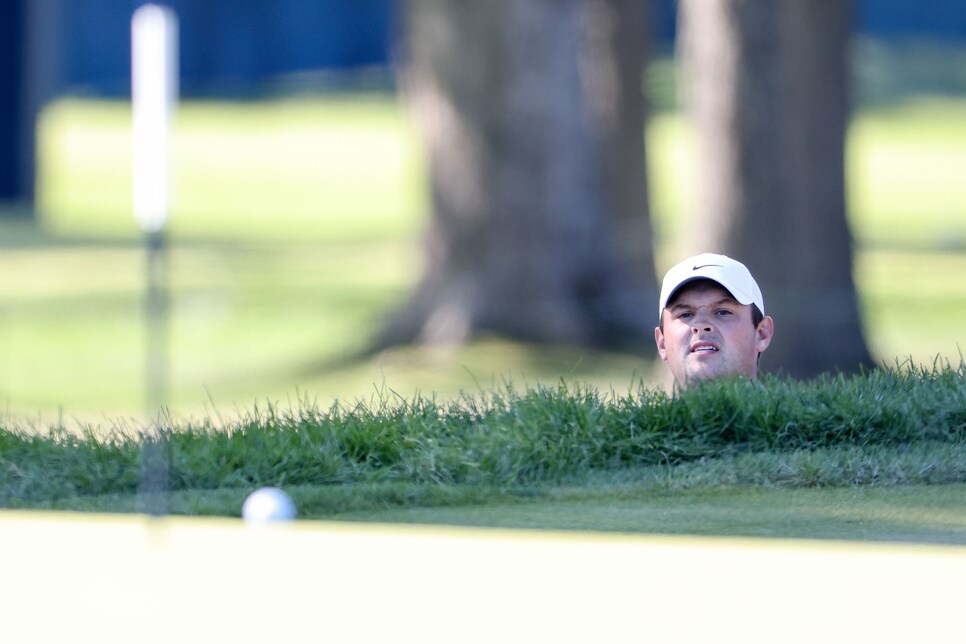 A tale of two nines it was for Patrick Reed, and a frightful one at that.
After going out in one under and looking at one point like he might run and hide from the field, Reed collapsed on the back nine with six bogeys and a double for a closing 43. That leaves him eight strokes back and tied for 11th.
The problems began on the 11th hole for Reed, who took four shots to reach the green after finding the rough on each of his first three and then two-putted for double. Then he putted off the green on the par-3 13th.
Reed continued to miss fairways the rest of the way and unlike others at the top of the leader board he wasn't able to recover.
His emotions afterward? "Frustrated," Reed said. "Anyone in my position would be frustrated, especially with having the lead going into today."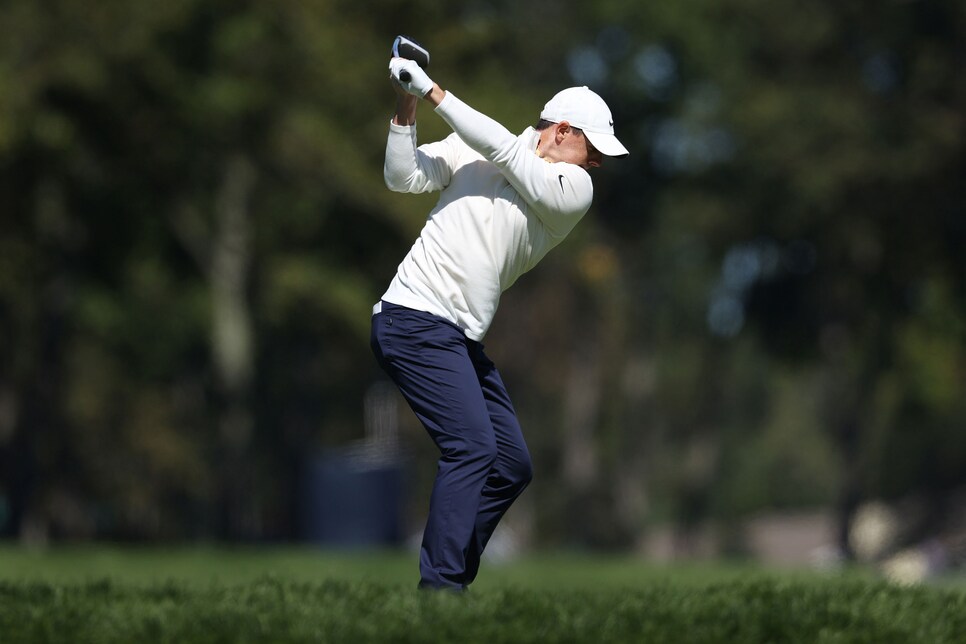 After what can only be described as a disappointing 76 in the second round, it looked like Rory McIlroy's chances of winning a second U.S. Open had slipped away with the Northern Irishman tumbling down the board and seven strokes back entering the weekend.
Not so fast. A 68 on Saturday—in which his iron play was much improved and he made three birdies and just one bogey—moved him up the leader board. And he kept moving up with the final groups just making the turn when he finished.
"If Matt [Wolff] pars his way in and is five under par, I still don't think that's out of it by any stretch of the imagination," McIlroy said. "It doesn't take much around here if someone gets off to a decent start, maybe one or two under through five and then the leader goes the other way, one or two over through five, and all of a sudden you're right in the thick of things."
Indeed, six back of Wolff with one round to go, he's not out of it, especially since there are just four players separating him from the leader.
What else helped in the turnaround?