News
U.S. Open 2018: The USGA's Hat Trick
Each year, headwear is the most popular merchandise item sold at the U.S. Open. But what goes into their creation and design? More than you'd think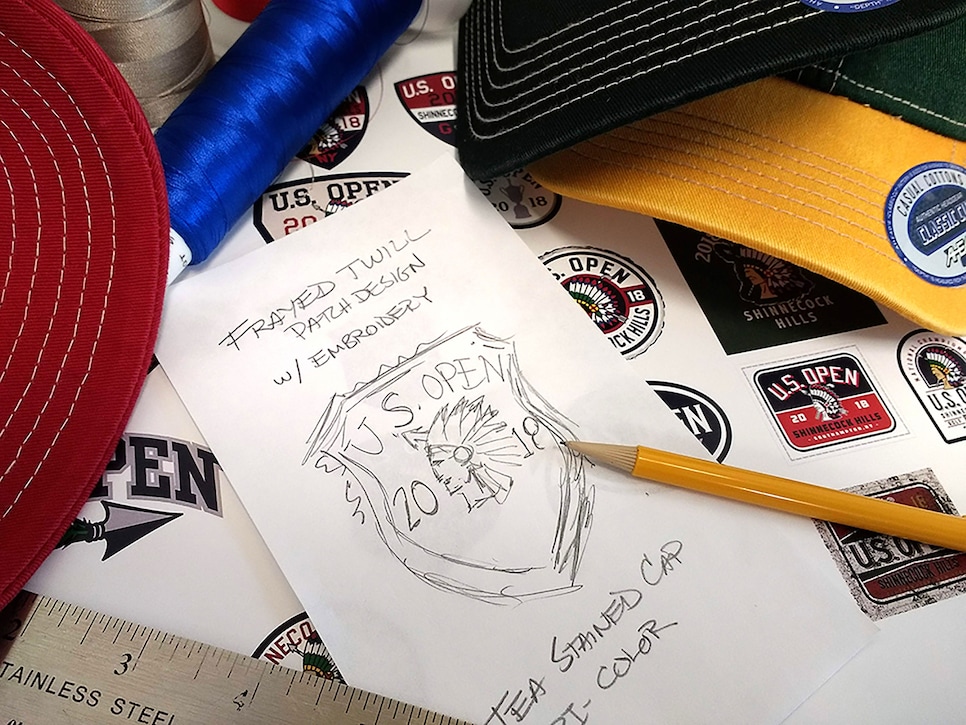 Photo By: Courtesy of Ahead
For every head a hat, a Lithuanian proverb says, its origin traced to the first time a Lithuanian entered a U.S. Open merchandise tent. Presumably. Open merchandise tents are hat repositories. Modified Dr. Seuss verses, too.
One hat, two hat, red hat, blue hat
Black hat, blue hat, old hat, new hat.
Hats in every color, hats for every head, one size fits all. But not one style. "We'll have 217 styles this year," Mary Lopuszynski, senior director licensing and U.S. Open merchandising for the USGA, said. "It's quite a selection."
Lopuszynski's Twitter handle is not the Mad Hatter, though that would work, too. It's Merchandise Mary, befitting her expertise in all manner of golf merchandise. She started at the top and stayed there, working the shop at Winged Foot during high school and college summers and later at Quaker Ridge and Sleepy Hollow in her home county of Westchester, N.Y.
She joined the USGA in 1994 and worked her first U.S. Open in 1995, at Shinnecock Hills, where the championship returns this year. She has witnessed the growth of what many still call the merchandise tent into what the USGA calls a pavilion that better reflects its size.
The U.S. Open Merchandise Pavilion now occupies 37,000 square feet, large enough to fit a couple of Southampton mansions inside, with room left over for tennis courts and swimming pools.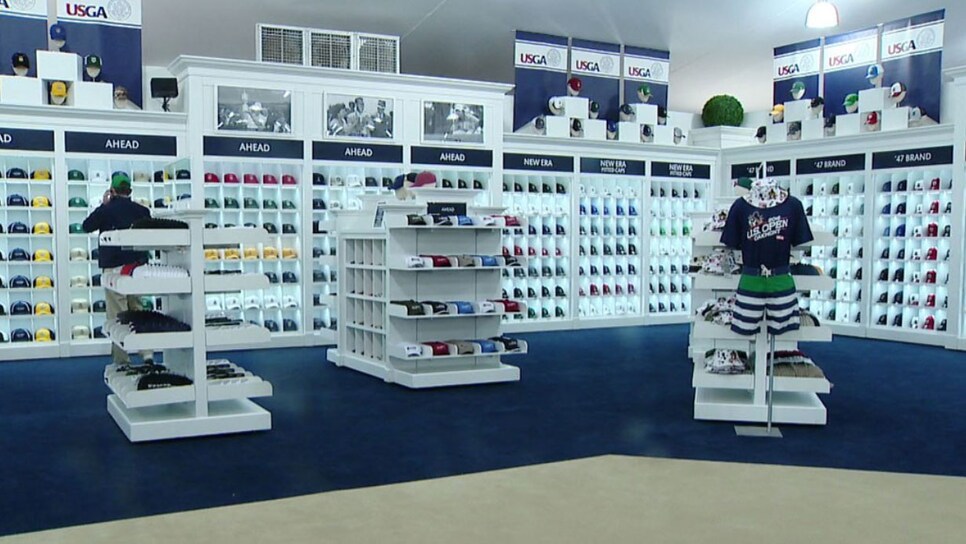 The size of the pavilion has become constant, but not the area devoted to the hat concession. "Every year I look at the pavilion and the space and make the headwear area bigger," Lopuszynski said.
"Units wise, hats are the No. 1 item that we sell. In a good year we'll sell over 100,000 hats."
And by year she means less than a fortnight. "We open for 11 days and then go out of business," she said regarding its opening the Thursday before the first round and closing after the final round.
It is a big business squeezed into a small window. Say the average price of a hat is $25 (though it's likely higher). Multiply that by 100,000 hats and you have hat revenues of $2.5 million, or an average take of more than $227,000 a day. We're ball-parking here, but suffice it to say it's a cavernous ball park.
"Hats are a good thing to kind of focus on," Lopuszynski said.
The growth of the U.S. Open headwear business mirrors that of hats in the culture at large. "I couldn't put a number to it, but it's grown exponentially," says Anne Broholm, CEO of Ahead, the USGA's largest hat vendor. Broholm has been in the hat business since 1996. "It's thriving and healthy, from souvenir hats at the U.S. Open to team sports and all the above. People love to express where they've been or who they support."
Chief among the U.S. Open hats is the style commonly referred to as the ball cap, for its baseball roots. A book was even written about its popularity explosion, "Ball Cap Nation," by Jim Lilliefors.
"The ball cap is by far the most popular headwear apparel in the United States today," he wrote, "accounting for more than 80 percent of hat sales, according to some estimates. Moreover, it has been adopted by virtually every social stratum in the country, from disaffected teens to celebrities to software moguls to middle-aged, middle-class moms and dads to retirees. Nearly everybody in the United States owns at least one ball cap."
Disturbingly so, renowned humorist P.J. O'Rourke might note. "A hat," he once wrote, "should be taken off when you greet a lady and left off for the rest of your life. Nothing looks more stupid than a hat." We'd like to think he was referring only to those who wear their hats backwards because they don't come with instructions, as an observant scribe once noted. But we digress.
The ball cap has become ubiquitous, "the common man's crown," Troy Patterson called it in the New York Times Magazine. It has become a staple in golf circles—professionally, for the ad space it provides tour players (think "Amana" in the 1960s), and for everyone else for the statement it makes.
"People love to express where they've been, who they support," Broholm said.
U.S. Open consumers often are buying hats not only for themselves, but for the less fortunate among their acquaintances—those who aren't attending the Open.
"It's an easy buy for people," Lopuszynski said. "They're buying for their foursome, for their family or friends. They don't have to know their friends' sizes, and there's a lower cost [than, say, shirts]. There are corporate buys, too, where we'll see them with a whole row of hats, 36 of them, purchased at one time."
Lopuszynski uses six vendors: Ahead, Nike, 47 Brand, New Era, Imperial and a private label. Decisions on what to order each year depend on trends and markets, and is a collaborative effort among the USGA, the vendor and the host site.
"We work with host sites years in advance," Broholm said. "We draw on a few different avenues to present them with initial ideas, which are pretty wide. We draw on past successes and certainly draw on current trends.
"Then we draw on tradition, just respecting the tradition of the course, the area, the local setting. All those inform the design process which is quite wide. And Shinnecock has a really strong colorful logo, an iconic logo. Then we tweak collaboratively, go through a few rounds of revisions."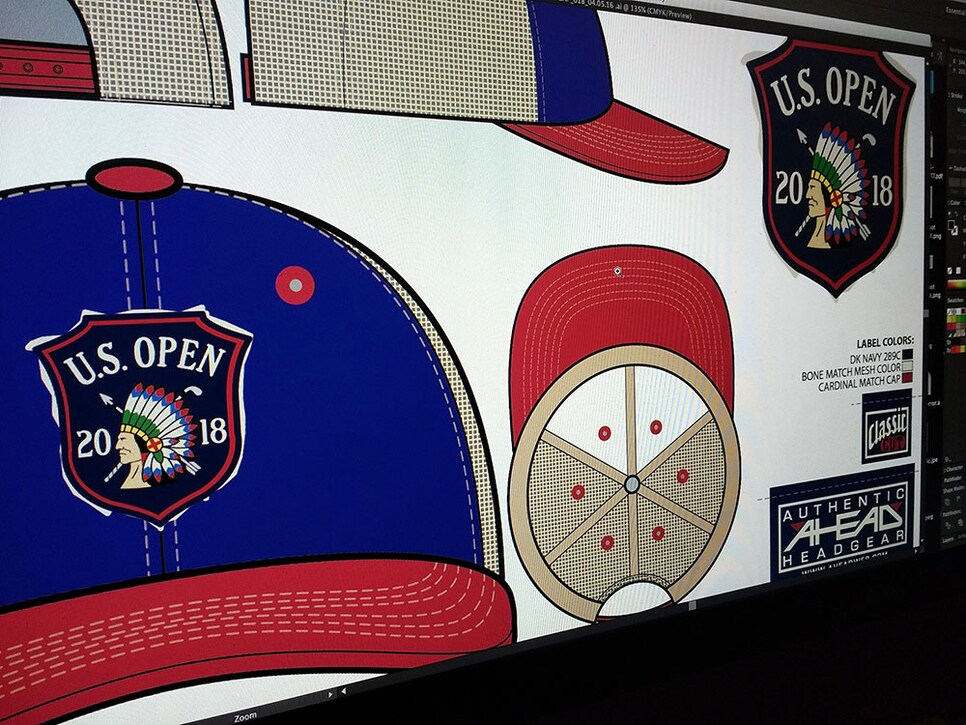 Among considerations are the fact that for a typical Open 75 percent of the crowd is local, Lopuszynski said. When the 2016 Open was held at Oakmont in Pittsburgh, hats in black and gold—the colors of the Steelers, Pirates and Penguins—were popular.
"But we go to Pinehurst [in 2014] and we couldn't give a black hat away," Lopuszynski said. "We do market research and look at what people are wearing. We talk to our sales reps at the different companies.
"We have fun items, too. Hunting camo has become a thing the past few years. So we'll do the logo in orange, to give it that hunting feel. That's been popular. We have some bucket hats in that camo. In recent years, military-type camo in colors has become a bigger fashion statement. Some years straw hats are bigger. We have women's hats, visors, kids' hats down to a baby-bonnet type hat."
Yachting is a popular summer pastime in the Hamptons, so expect to find hats with a nautical theme. "We'll have a hat where we spelled out 'U.S. Open' in nautical flags," she said.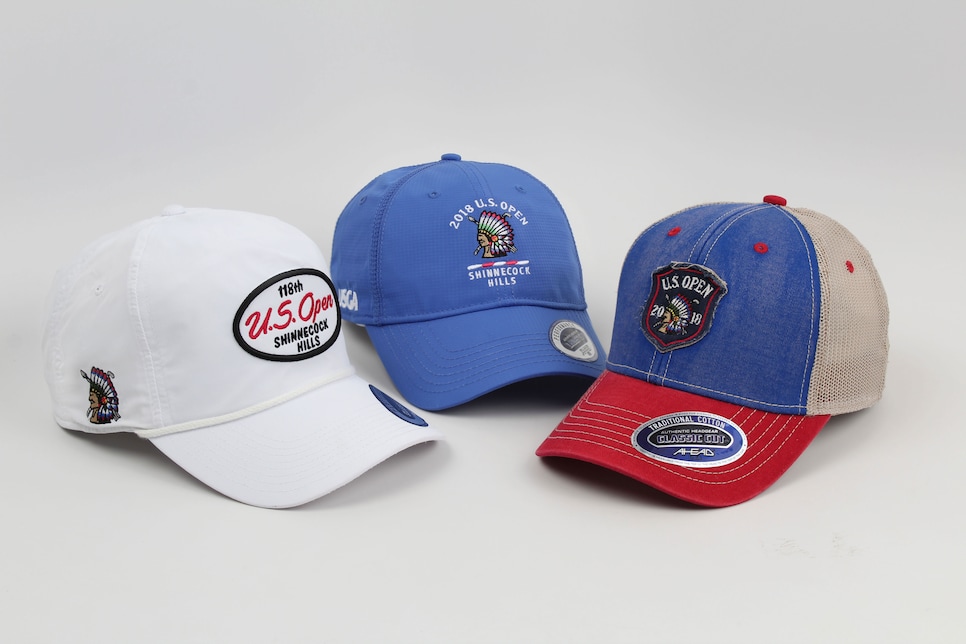 They also will pay homage to two legends with a Nicklaus Bucket Hat and a Palmer Bucket Hat, resembling styles occasionally worn by each.
Managing inventory, meanwhile, is less of a concern than one might think. The USGA can err on the side of caution. "Ahead is our biggest hat vendor, and it's very good on replenishment," Merchandise Mary said. "If we need these styles tomorrow, we have ordered as many as 5,000 hats and we'll have them tomorrow."
Of course, they're generally more likely to have too few hats than too many, as the Lithuanian who—presumably—happened onto a U.S. Open merchandise tent and also observed proverbially the speed at which they sell.
"As fast as nine winds," he said for Lithuanian posterity.