News
U.S. Open 2018: The skinny on a 130-pound amateur, Will Grimmer, who made the cut at Shinnecock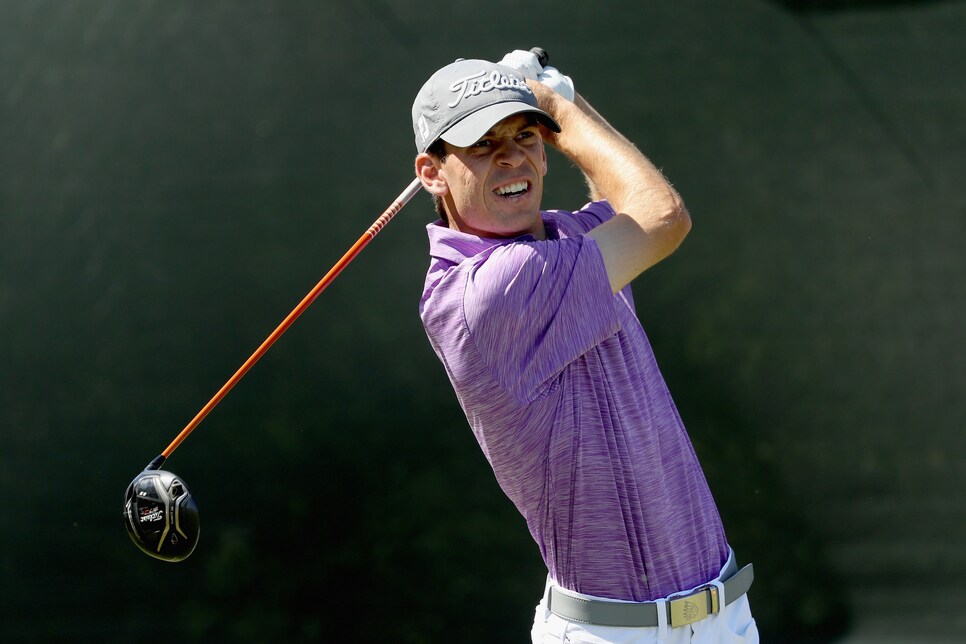 SOUTHAMPTON, N.Y. — Amateur Will Grimmer had two goals coming into the week at Shinnecock Hills: make the cut and finish as low amateur. One down, one to go.
Grimmer, a junior at Ohio State, carded rounds of 73 and 72 for a 36-hole total of five-over 145, putting him safely inside the cut line in just his second U.S. Open appearance, the first coming in 2014 at Pinehurst where he missed the cut with rounds of 77 and 80. As it stands, he's leading the amateurs in the field, putting him that much closer to batting 1.000 for the week.
"It's a surreal moment for me," said Grimmer. "I felt like I've been much calmer this week than I was back in 2014. I've been very in the moment, been able to handle my nerves."
His performance is made all the more impressive when you first catch a glimpse of him. The slender 21-year-old from Cincinnati stands at 5-foot-11 and might weigh 130 pounds when soaking wet, and his lack of length off the tee should have spelled doom this week (he's averaging just 276 yards). It hasn't thanks in part to a new mindset.
"A few years ago I was always concerned with how far I hit it, or gaining distance, or how far other guys were hitting it, or how far behind I was on the other guys," he said. "Now, I've just taken the screw-it mentality and I feel a lot of confidence in my game. I'm confident in my body and I just play to the strengths of my game. If I hit it 260, great, if I hit it 300, great. I'm going to go find a way to score and get it in the hole as fast as possible, and the more I'm able to embrace being Will Grimmer and not someone else, that will lead to more success."
That mentality might work elsewhere, but at Shinnecock, a course that measures over 7,400 yards and plays even longer with the wind? It's a big ball park for a guy like Grimmer, yet he felt good from the moment he stepped on the property on Sunday.
"When I got here and then played the course Monday I thought this course really suited me," said Grimmer. "So I tried to say 'forget U.S. Open, forget Tiger (Woods), Rory (McIlroy) or Phil (Mickelson)' and just go play your game and have fun with it. I really embraced that the last two days and played some really good golf."
Grimmer's game has been better than all three names he mentioned, even with 23 majors among them. His stellar short game and putting have allowed him to limit the damage all week, something you can't say for many of the top players in the world. Grimmer has made five birdies, 10 bogeys and not a single double-bogey or "other," which seems to be a right of passage for everyone else in the field at Shinnecock.
"Sometimes I guess you just get in one of those zones," Grimmer said. "I felt like these last two days, short game's just -- I felt nervous but I had this very surreal, calm feeling that I'm going to hit a wedge close or I'm going to hole a putt. It's tough to really explain. I think any golfer or any athlete will tell you that you just get in one of those zones, and that's kind of where I was today."
There was no better example of this zone than down the stretch on Friday, when Grimmer recovered from a bogey at the par-5 fifth (his 14th) with four straight pars, each more hard-earned than the last.
"After making the bogey on five I just kind of re-grouped and was like, alright, let's get it together and rattle off some pars coming in," he said.
At the sixth, his second shot came up 35 yards short of the green and he played a deft chip to three feet and holed the putt for par. Two holes later, his drive came up short in a fairway bunker and he played a remarkable 183-yard approach shot over the lip and on to the center of the green, two putting for another par. Grimmer's Ohio State teammate, fellow junior Will Voetsch, was on hand to watch, and it sounded like he expected it.
"He's as solid as it gets. That was probably the first fairway I've seen him miss today," said Voetsch.
It was the only fairway Grimmer missed on Friday, giving him 23 of 28 hit on the week. Even without the length, that's going to certainly help the card.
"He's always been kind of short off the tee," said Voetsch. "But he hits his hybrids and woods better than most people hit their mid-irons. 260, 270 off the tee in the fairway every day is going to beat a lot of 300s in the fescue."
The accuracy with the driver, plus some gutsy putting, has given Grimmer even more confidence heading into the weekend. For the week, he's averaging 1.61 putts per green, good enough to be in the top 20 in the field.
"The confidence with my putter right now is as high as it's ever been," said Grimmer. "When you're making putts it gives you so much more confidence when you're missing greens that you're going to be able to score."
While he gave off the grinder vibe over the first two days, Grimmer has made the game look easy before, including as his sectional qualifier. He was the medalist, carding rounds of 66 and 69 at Springfield Country Club in his home state of Ohio to earn his spot. In the 2013 North and South Amateur at Pinehurst No. 1, Grimmer posted an 11-under 59, which he still finds "cool." Just not nearly as much as making the weekend at the U.S. Open.
"Look, it was a phenomenal round of golf," he said. "But being able to handle the nerves of playing in front of these crowds, on this golf course, in my opinion, outside of Oakmont this is probably the toughest test you're ever going to see in tournament golf, period. So the fact that I was able to go out in these conditions, combined with what's at stake in the United States Open, the pressure to all of it, it's a great feeling, a humbling feeling. I'm excited to go attack it tomorrow."
Now comes the weekend, a place Grimmer expected to be, and so did his caddie and longtime golf buddy Michael Misleh.
"I'm not surprised, his work ethic for this game is second to none," said Misleh, who grew up with Grimmer. "You got to hit the fairways and greens out here, and he's the straightest and most accurate player I've ever seen, honestly. I felt like if we could control the wind and figure out the distances then he'd be great out here."
How confident was Misleh in his guy? Very.
"Oh, I was packed for the weekend. Absolutely, are you kidding me?" Misleh said, as if it were inevitable. The way Grimmer and everyone surrounding him talked after the round, that second goal of low amateur seems inevitable too.