Equipment
U.S. Open 2018: The clubs Tommy Fleetwood used to shoot 63 at Shinnecock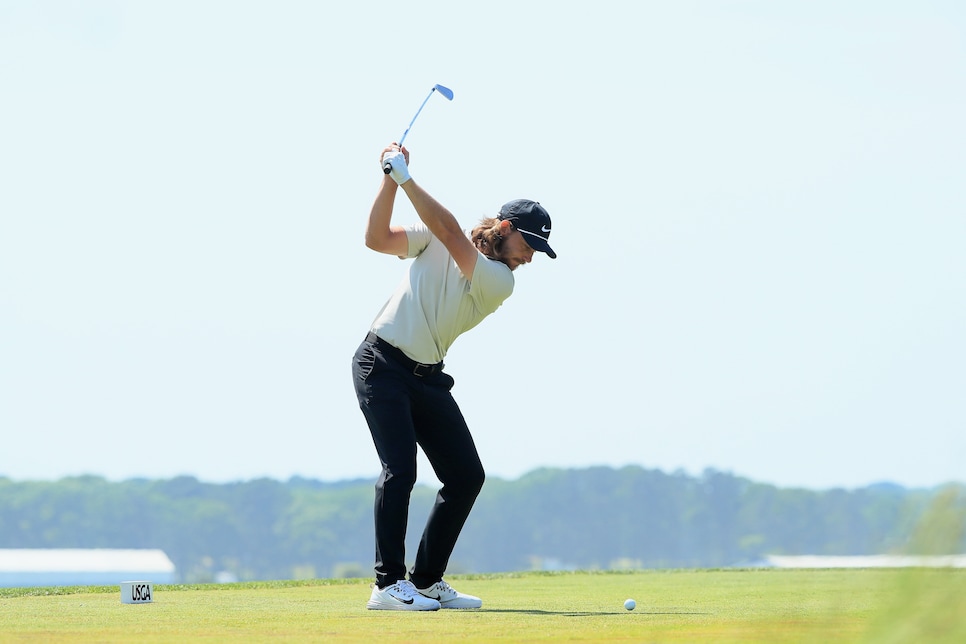 Tommy Fleetwood didn't end up winning the U.S. Open, but his record-tying 63 was a round to remember, and it was produced with a bag of clubs notable for the fact that the bulk of it is made of clubs from a company that stopped making equipment nearly two years ago.
Eight of the 14 sticks in Fleetwood's bag are from Nike, which announced in August 2016 it was exiting the equipment business. Fleetwood used a full set of Nike irons (save for a Callaway pitching wedge) and a pair of Nike fairway woods (along with a TaylorMade driver) to hit 13 of 14 fairways and 16 of 18 greens. He made eight birdies against a lone bogey at the ninth, including four in a row on Nos. 12-15.
Golf Digest spoke with Fleetwood earlier this year about his clubs and why he still uses them even though they are old technology and not replaceable.
"These clubs are still working," Fleetwood said. "I have no desire to change while they're still working. I'm used to them and have used some version of these clubs for years and years. Eventually I will put something else in."
That will be out of necessity more than anything else. "The grooves are gone, well gone," said Fleetwod. "But I'm still hitting greens with them. But I am down to one backup set of the irons."
So would Fleetwood risk damaging one of them if faced with a shot with a rock or such? "Well, in that case, I'd probably use one of my wedges to put the ball back in play. I can get those replaced."
There was no need to consider that Sunday at Shinnecock, where Fleetwood tied the Open scoring record and broke the Shinnecock Open scoring record by two shots. Though he fell one shot shy of a playoff with winner Brooks Koepka, Fleetwood produced a historical round with clubs that are clearly still working well for him.
What Tommy Fleetwood had in the bag for his 63 at the U.S. Open:
3-wood: Nike Vapor Fly, 13 degrees
5-wood: Nike Vapor Fly, 19 degrees
Irons (4): Nike VR Forged Pro Combo; (5-9): Nike VR Pro Blade; (PW): Callaway Mack Daddy Forged
Putter: Odyssey White Hot Pro 3
You are using an unsupported version of Internet Explorer. Please upgrade to Internet Explorer 11 or use a different web browser.