Apparel
U.S. Open 2018: The best of the U.S. Open merchandise store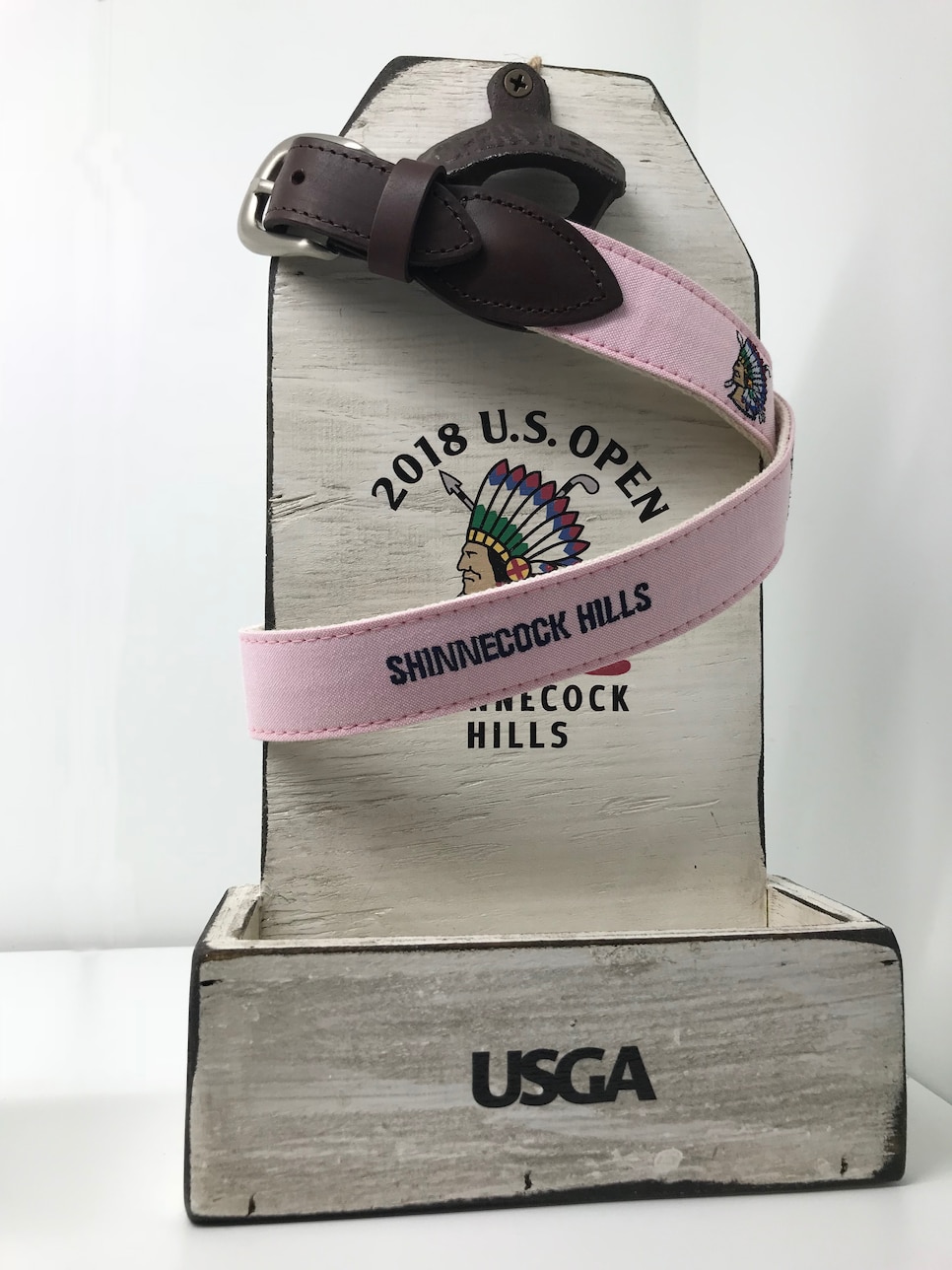 When the Long Island Rail Road Train pulls up to the temporary Shinnecock stop—installed just for the U.S. Open—the first view of the tournament is the massive merchandise tent just inside the gates. While everyone comes to watch some of the best players in the world compete in the second major of the year, the souvenirs can be just as important. Step inside the merchandise tent and you'll be overwhelmed by the choices of U.S. Open gear, from hats to headcovers and even boxers—everything can become a Shinnecock souvenir. Don't forget Father's Day is on Sunday, so if you haven't bought dad a gift yet, he'll probably let it slide if you get him something from the tournament. Here are some of our favorite items from the U.S. Open merchandise store that you can buy for yourself, your dad and everyone else on your gifting list.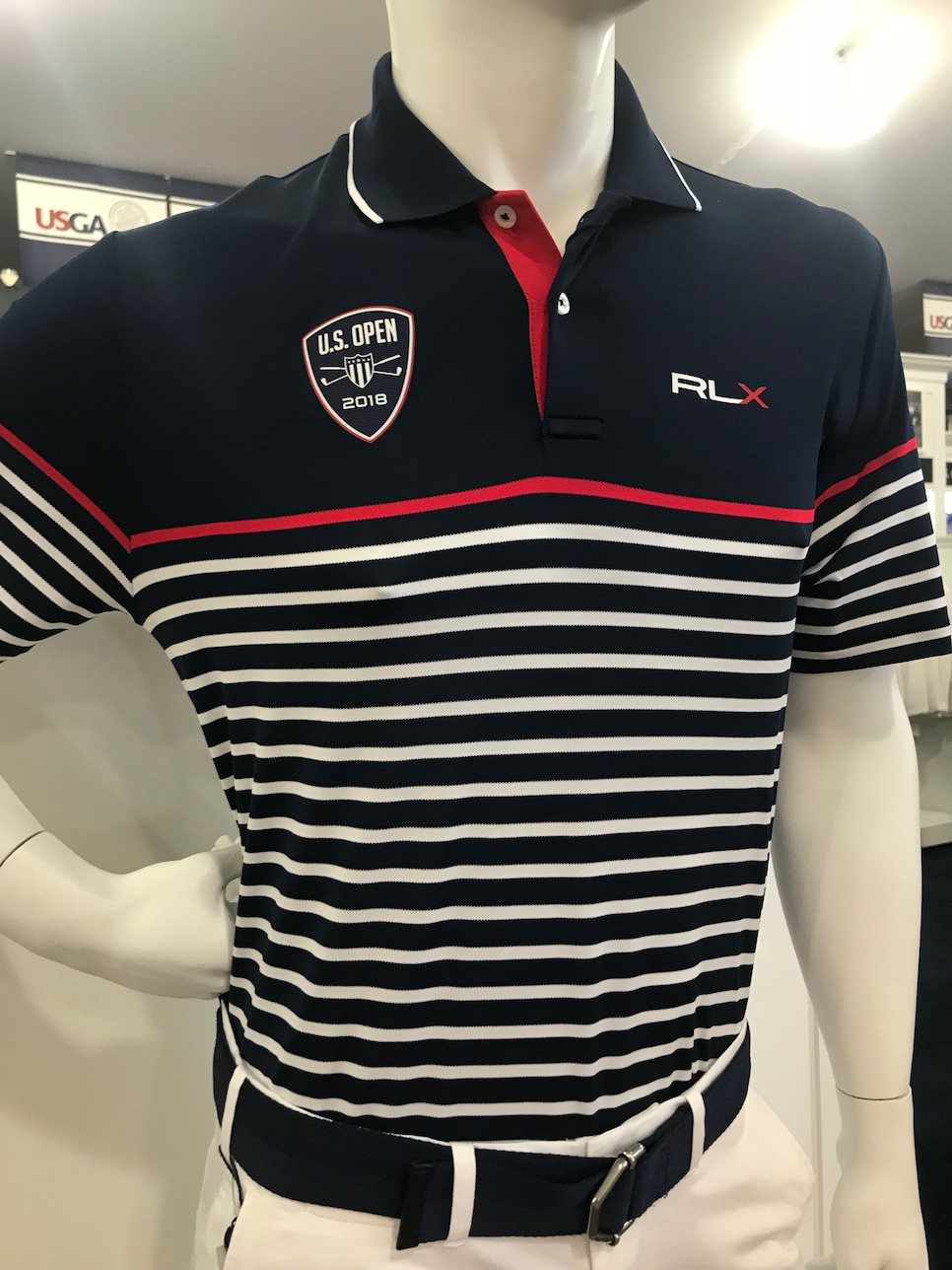 As the official outfitter of the U.S. Open, it seems like everywhere you look at Shinnecock someone has a stylish Ralph Lauren U.S. Open piece of apparel on. The volunteers are decked out in RL pieces that are to be envied. Luckily, the merchandise tent has plenty of options. This lightweight tech golf shirt ($105) is one of the best because it is a souvenir shirt that doesn't look like a souvenir.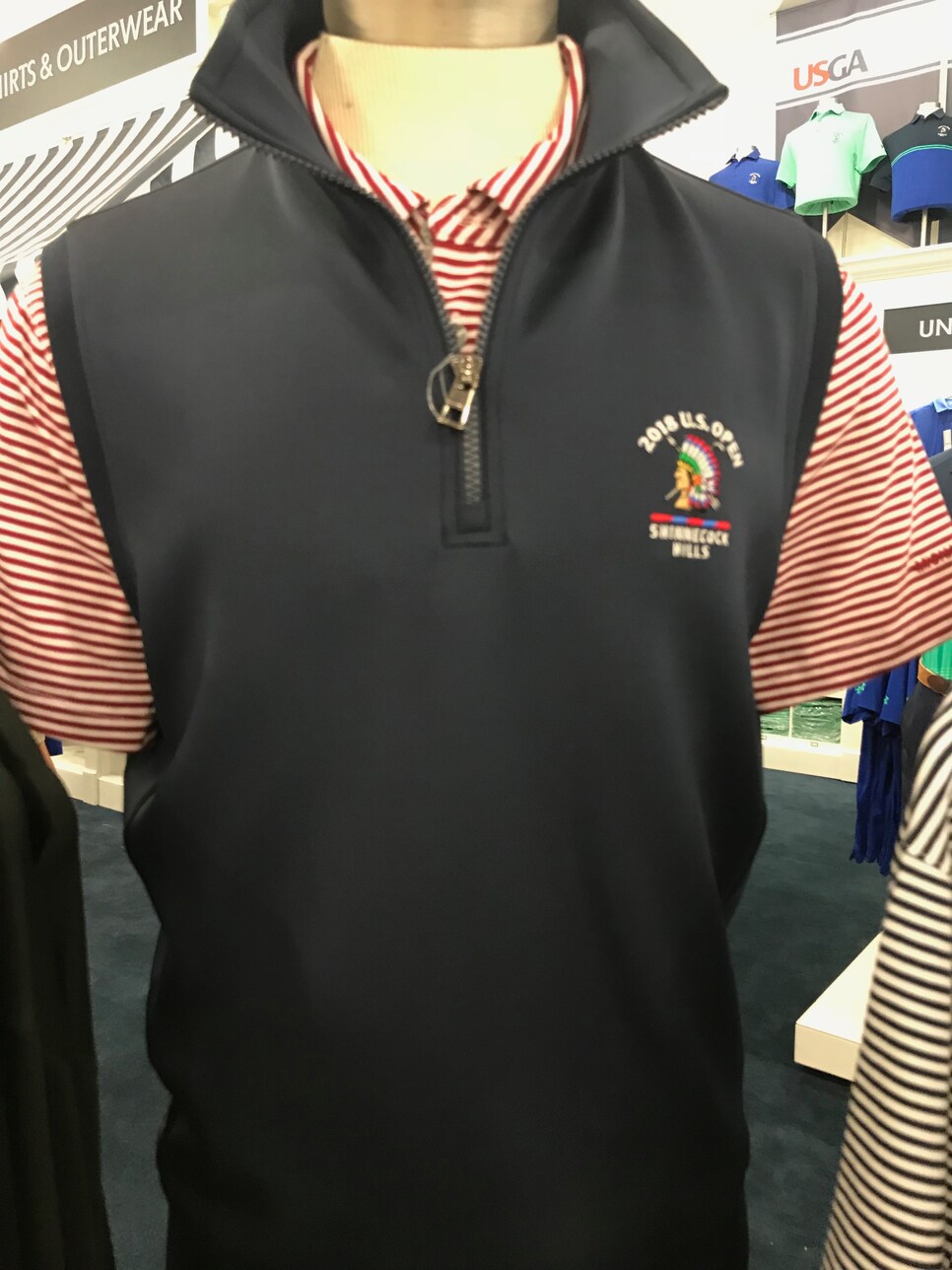 The navy vest is a staple in every golfer's wardrobe. It is versatile, warm and an easy way to show off what tournaments you've been to. This B.Draddy Scuba Vest ($128) is durable, stylish and works great over the red and white B.Draddy simple stripe polo ($86).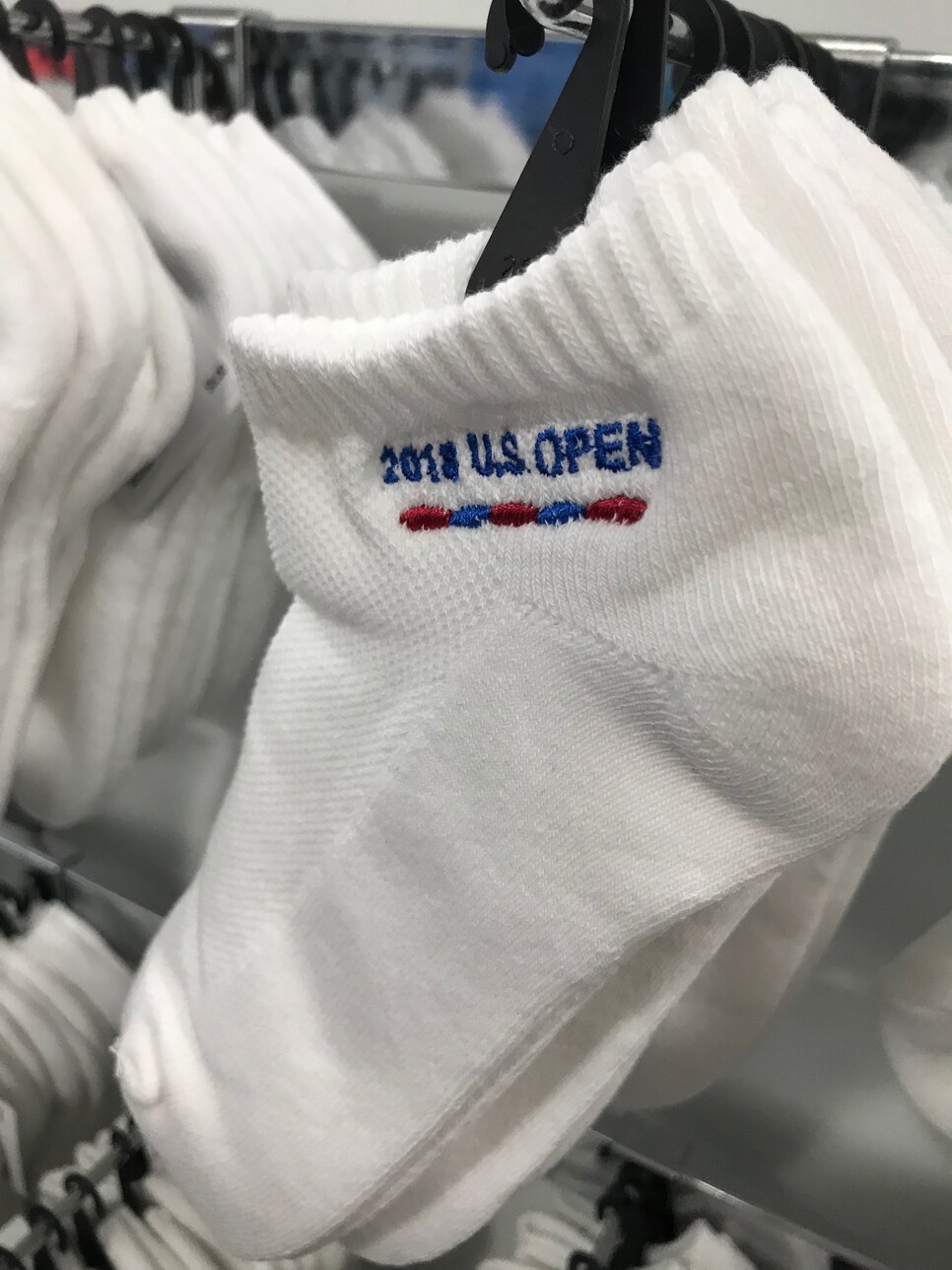 A trip to the merchandise tent at a golf tournament tends to get pretty pricey. After a hat for your neighbor, a shirt for your brother and something nice for yourself, your bill is certainly in the triple digits. These affordable socks ($8) are great for gifts, and won't break the bank.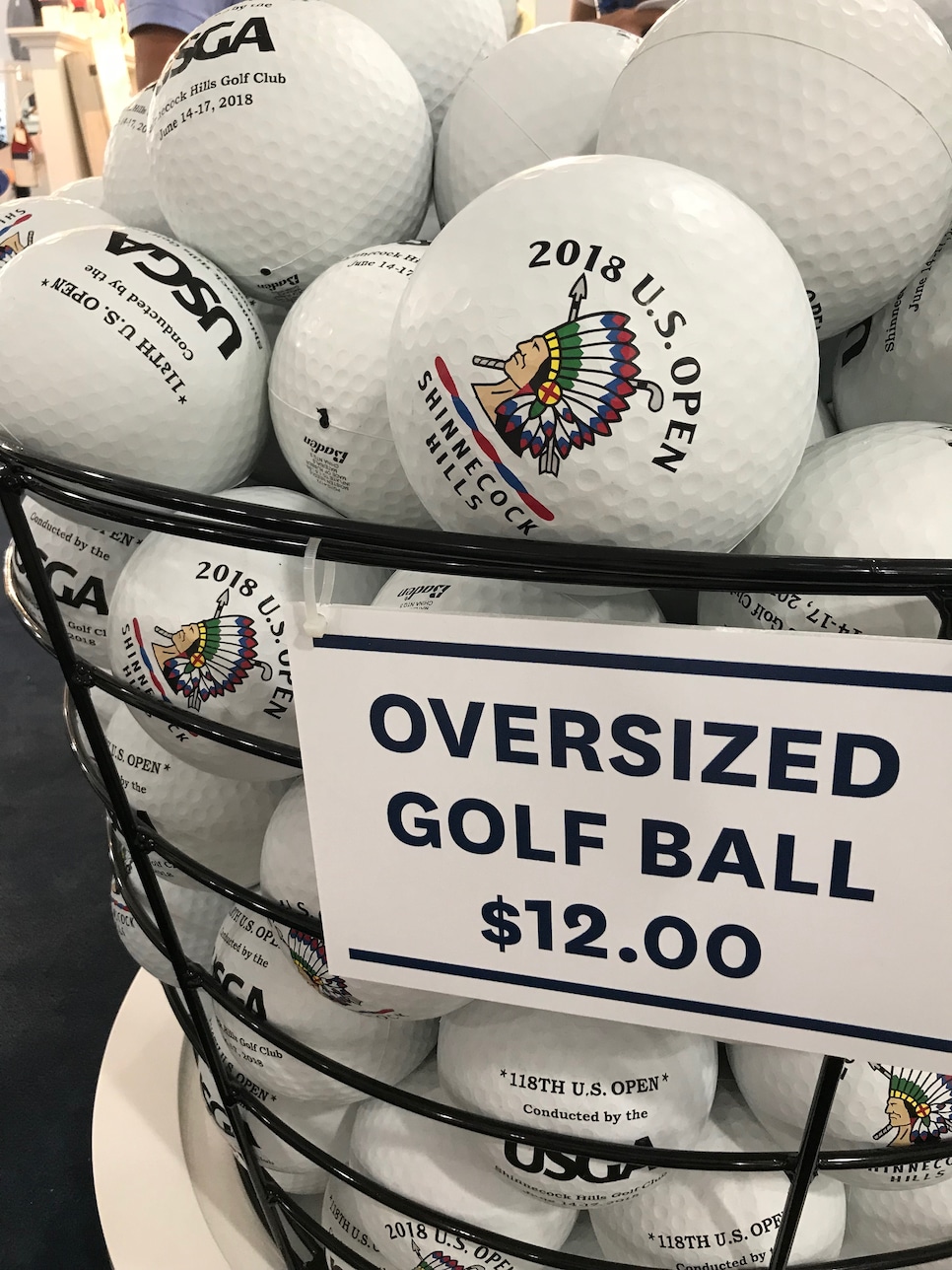 These balls are meant for younger fans to get autographs from their favorite players on during the week, but has become one of the most iconic souvenirs to buy at a golf tournament. It's affordable at just $12 and will look great on your shelf at home after you get a few signatures on it.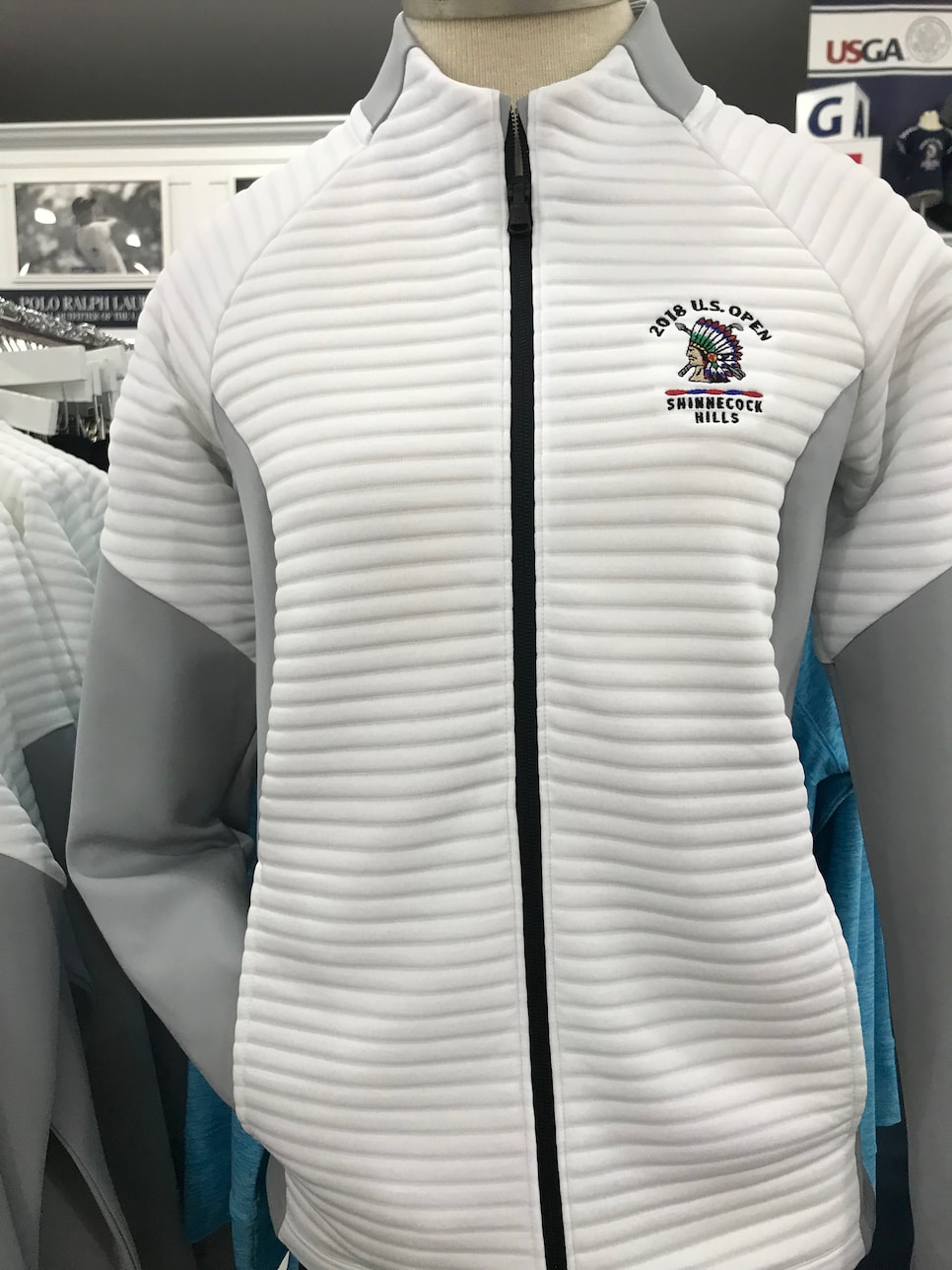 The women's apparel selection at golf tournaments typically has more variety than even your local golf shop. Stock up on quality, female-cut golf apparel at tournaments, you'll thank yourself later. This Under Armour Storm Daytona Full Zip Jacket ($95) has a clean look and is ultra-flattering. The double-knit insulation will keep you warm on windier seaside courses like Shinnecock and the stretch panels allow for a full range of motion for an unimpeded golf swing.
Seamus feather bottle opener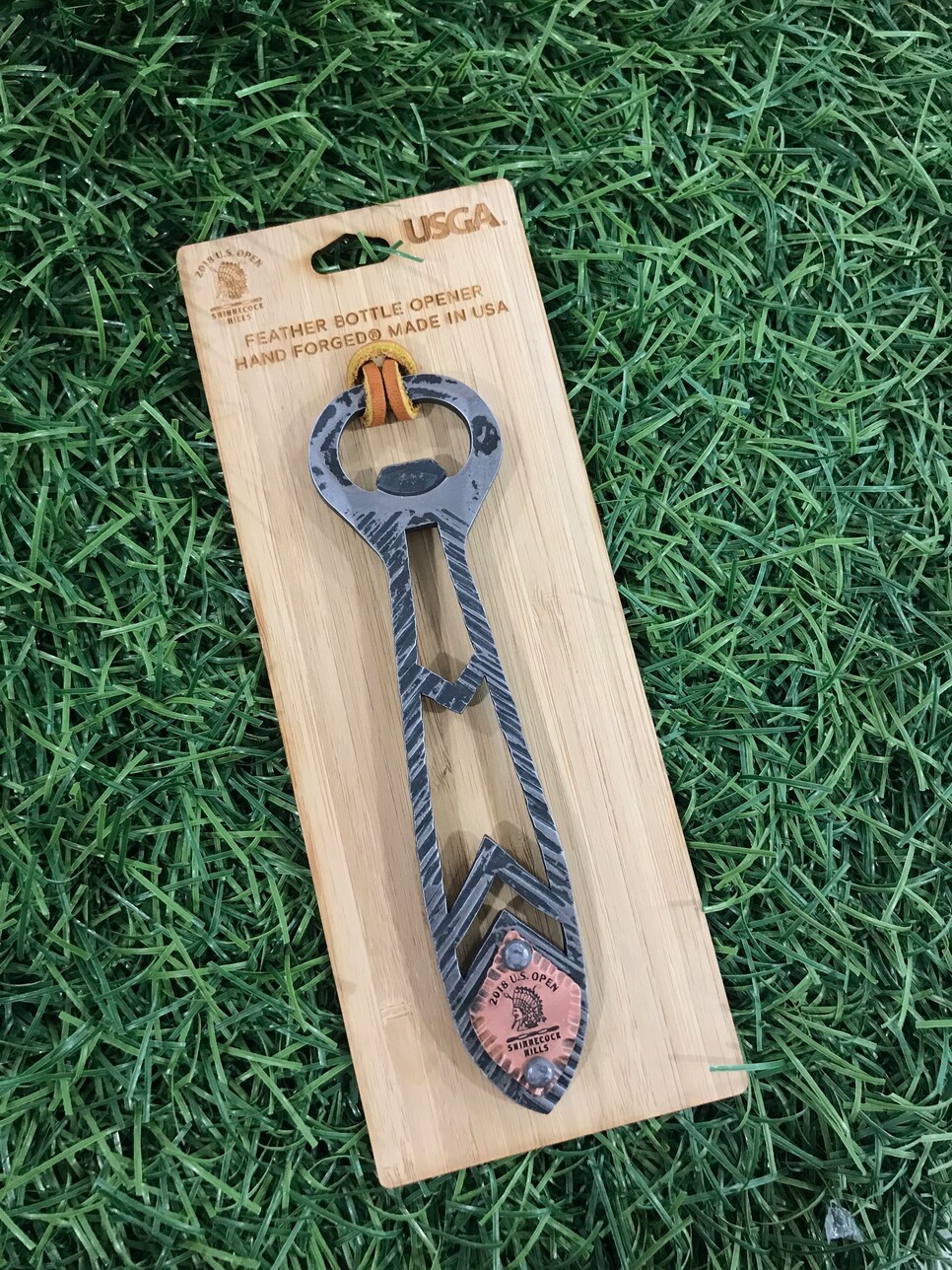 Seamus has become a mainstay on the major merchandise tent tour. The company releases timely, unique and durable accessories that will impress all your friends. This hand-forged bottle opener ($95) is fashioned after the feathers in the headdress on the Shinnecock Logo and will be one of those souvenirs you'll keep forever.
The bucket hat your friends will envy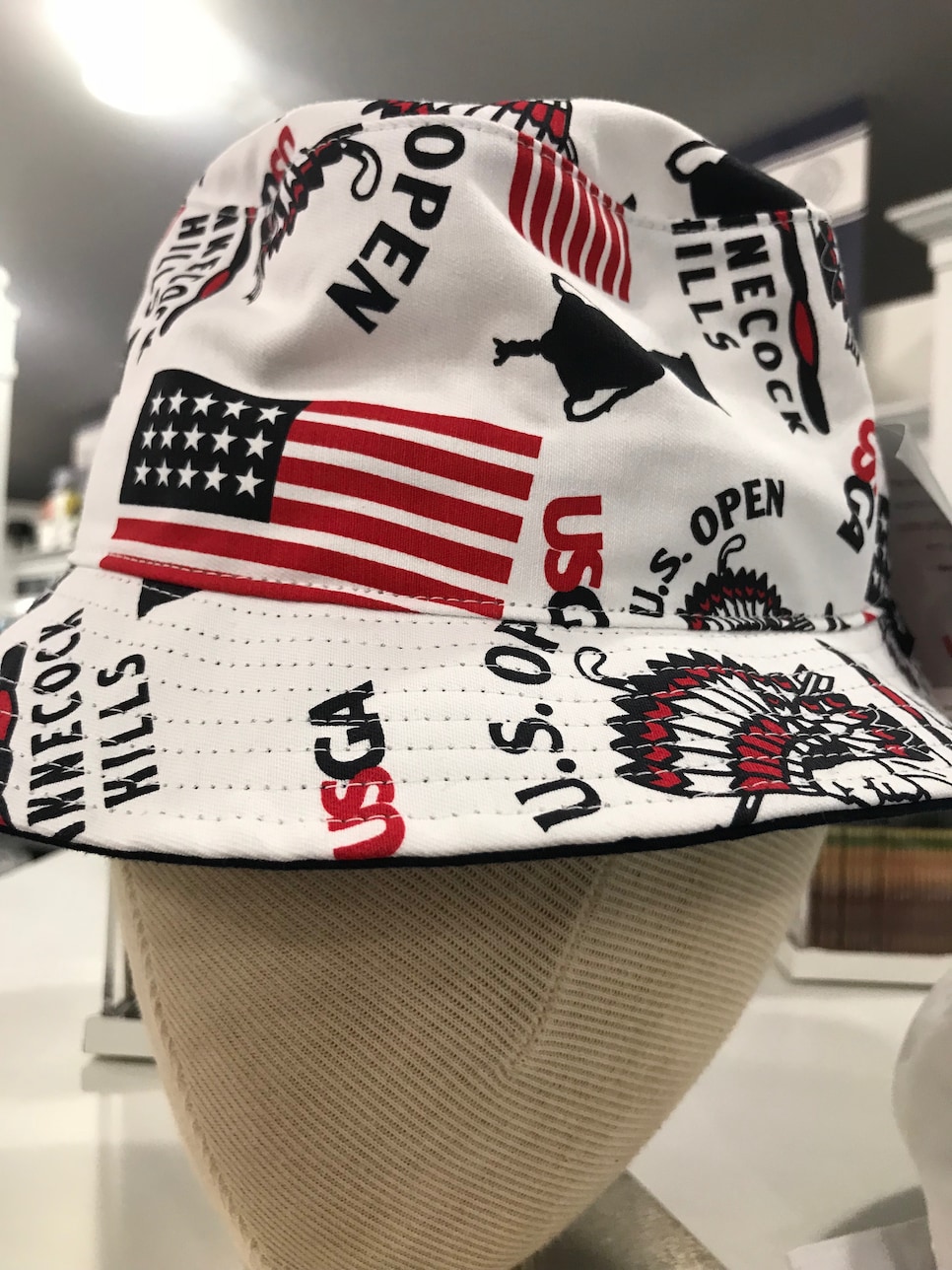 Whether you like it or not, bucket hats are back in style and cooler than ever. The caps are great for sun protection and give you the opportunity to show some real personality on the golf course. This Bravado Bucket Hat ($35) is fun and patriotic, perfect for summer.
The Vineyard Vines classic tote is the ultimate summer bag. The pink silk trim on this bag ($97) features the Shinnecock Logo in a fun way without overtaking the bag, so you'll want to carry it everywhere.
Graduation party-approved golf shirt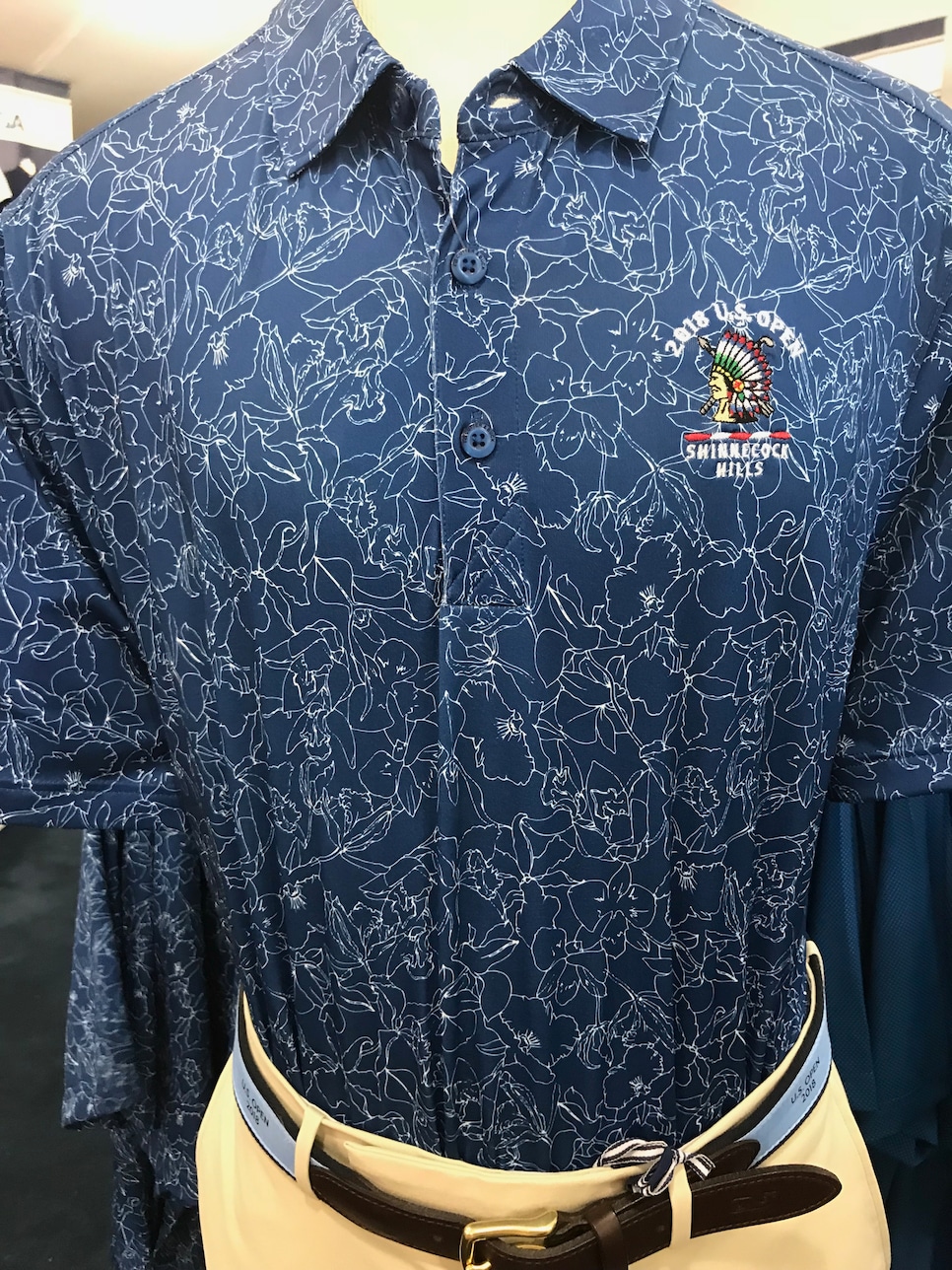 With all the solid golf shirts that you own, it's likely time to switch things up with a fun patterned shirt like this Cutter & Buck Serene Print Polo ($69). It's got UPF 50+ sun protection and is ultra-lightweight. The geo-print is unique and is great for all those graduation parties you'll be attending when you'd rather be on the golf course.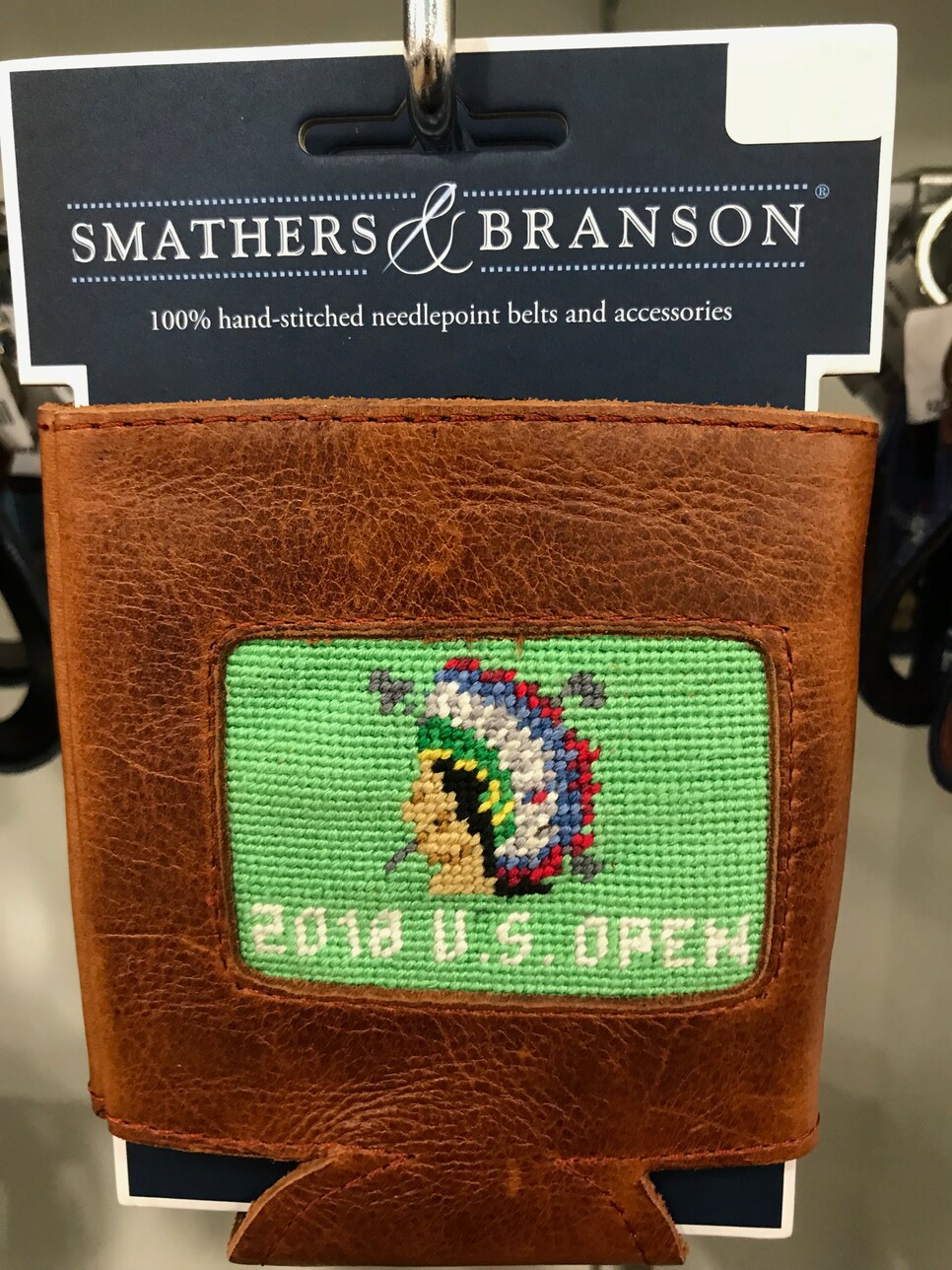 The Shinnecock logo looks even cooler in needlepoint and when it comes to needlepoint, Smathers & Branson is the go-to company. This hand-stitched can cooler ($28) is made from Italian Full Grain Leather with a neoprene liner to keep your drinks cold in the most luxurious way.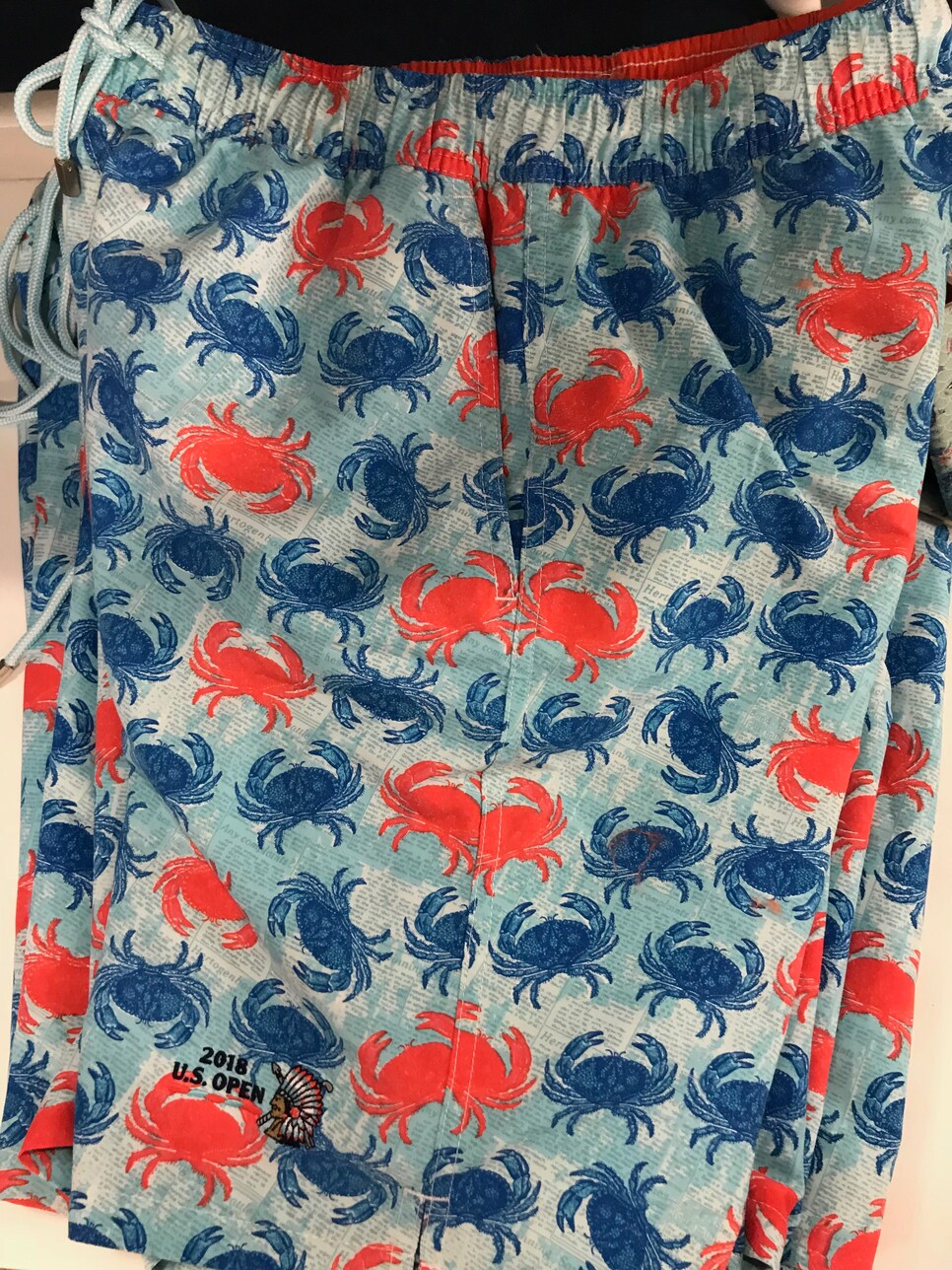 Shinnecock Hills Golf Club is based in Southampton, N.Y., home to some of the most beautiful beaches on the east coast. These Peter Millar swim shorts ($69) are great for beach days and the patriotic colored crab pattern make them perfect for crab boils and simmer babeques. The U.S. Open logo gets a little lost in the vibrant pattern, but it's a fun touch regardless.
Imperial throwback corded hat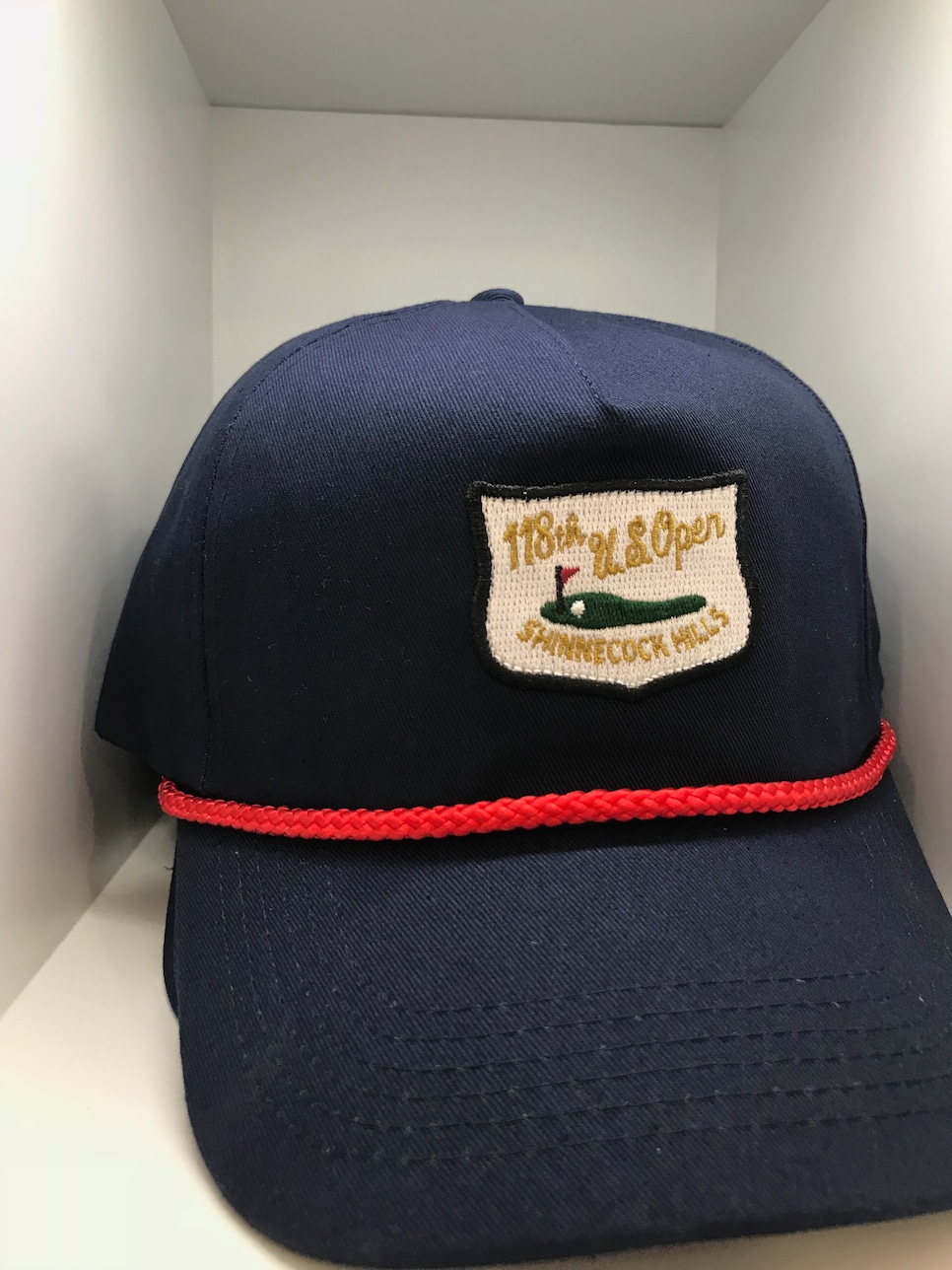 A hat is the typical gift everyone buys at golf tournaments because they're affordable, easy to carry and you can never have enough hats—just ask Merchandise Mary. Hat options at majors are endless, so opt for a unique design, like this Imperial Infinity Patch corded hat ($28). The old-school style is very on trend and the U.S. Open patch is unlike any other merchandise piece we've seen, so bonus points for individuality.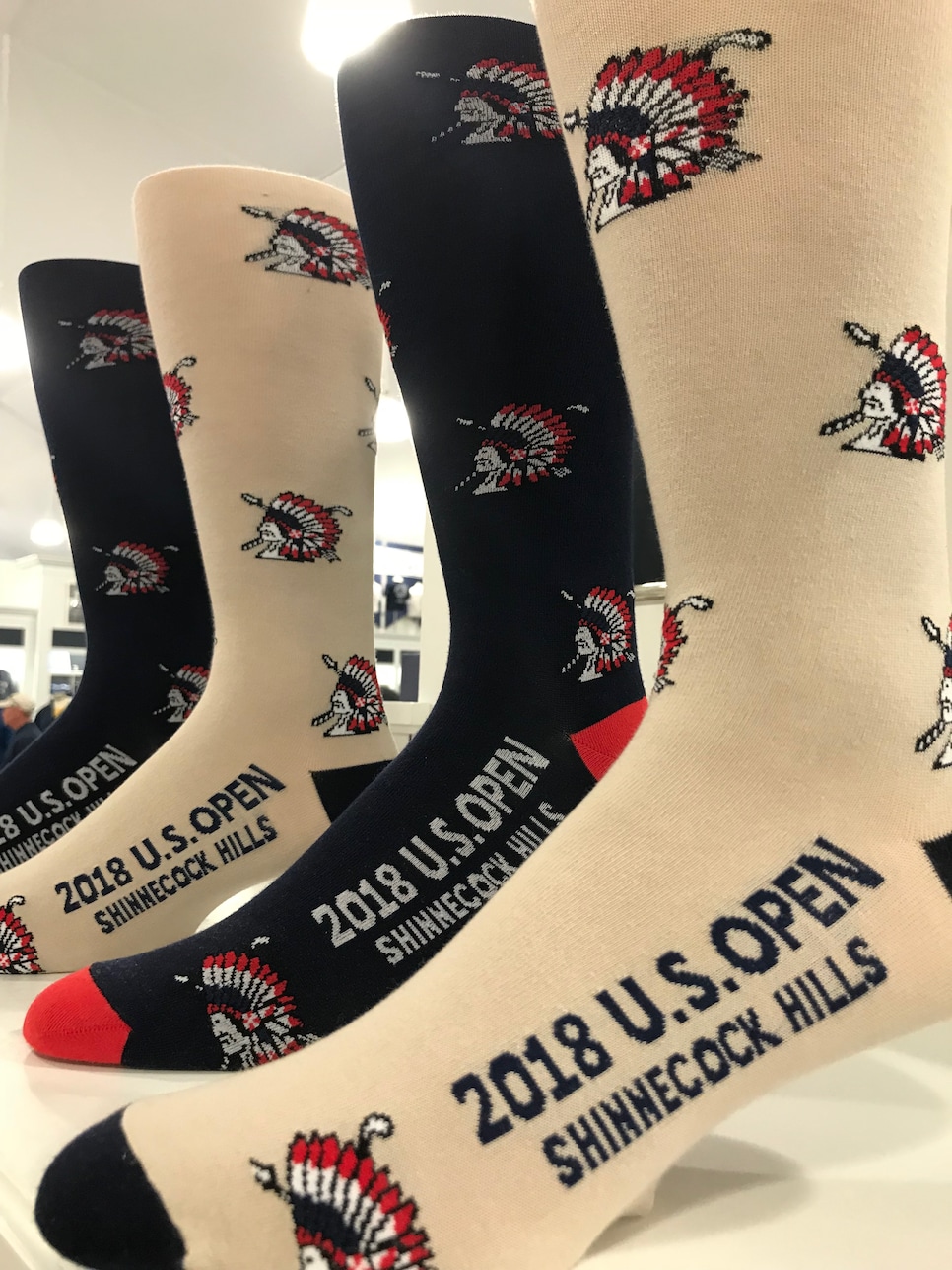 For a more subtle souvenir, these JL The Brand Needlepoint Socks ($26) are classic and stylish. They're American made with Pima Cotton, which is durable yet soft to the touch. A great addition to any sock collection.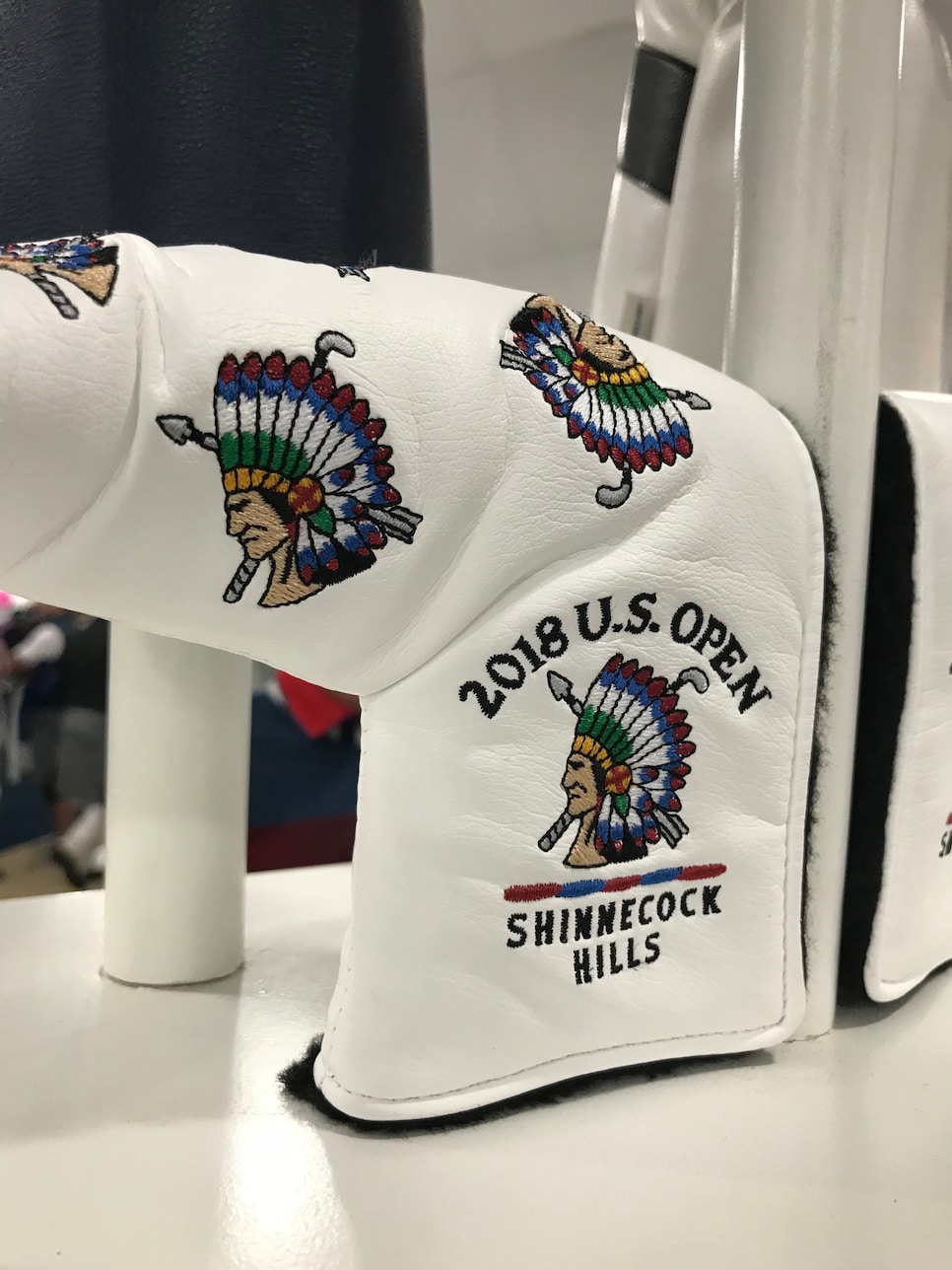 We can't guarantee that these putter covers ($49) will help you putt like a U.S. Open winner, but it will certainly help you to look the part. The embroidery takes ten hours to finish and the extra effort shows on this seriously impressive blade cover. They've also got mallet covers and driver headcovers available.
The coolest clubhouse umbrella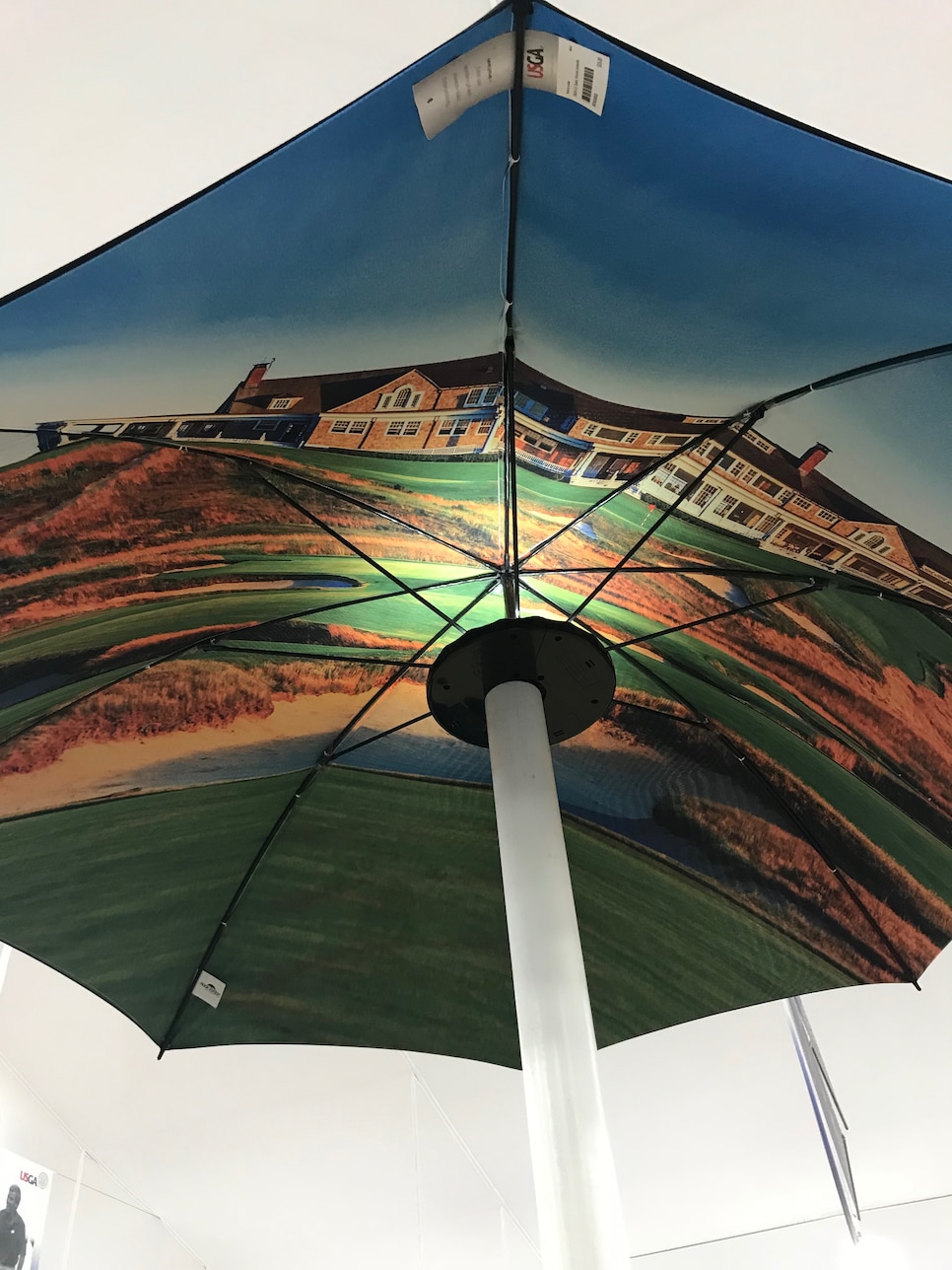 The Shinnecock Hills clubhouse is iconic and beautiful. You can try your hardest to snap a photo with you iPhone, but you never can quite capture it's majesty. Leave it to the professionals to take the best picture and then transform it into an umbrella ($55) so even under the rainiest skies you'll have a great view.