News
U.S. Open 2018: The beautiful contrast of Southampton Golf Range and Shinnecock Hills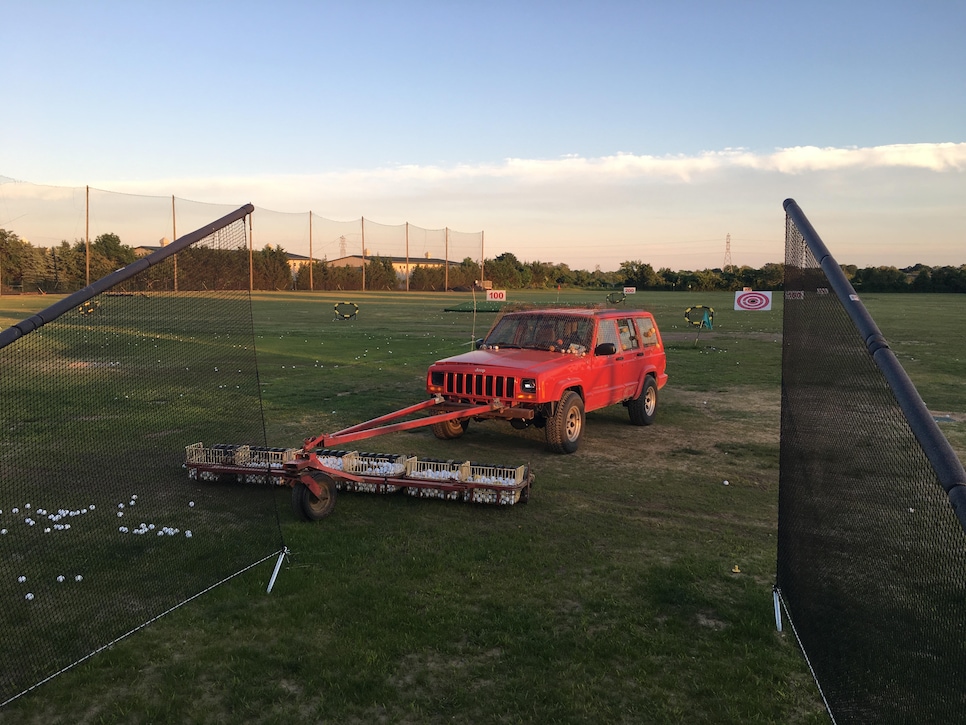 SOUTHAMPTON, N.Y. — It's the type of joint you'd expect to see Roy McAvoy honing his game at, with a sweating Budweiser nearby. A place used for a USGA public-service ad. Both spartan and decorated, old-school and contemporary. It will never be confused for Shinnecock Hills, and for that, it's beautiful.
"It" being Southampton Golf Range—also not to be confused with Southampton Golf Club—a mom-and-pop, hole-in-the-wall driving range, filled with a cast of characters one envisions at such an establishment. Its existence, operating outside three of the world's most prestigious clubs in Shinnecock, National Golf Links and Sebonack, is almost clichéd. After all, how many movies have used the "rich guys attempt to buyout neighboring common man's hangout to turn into parking lot" plot line?
But truth is often stranger than fiction. Especially when Reid Hanson has watched that story play out on an annual basis.
"I lost count on how many offers we've received," said Hanson, owner, operator and instructor at SGR. "Real-estate developers, businesses, other clubs. This land is worth a lot of money, and running a range was probably the least profitable use of it. But we love it and could never close it."
It is the antithesis of the links that surround it. The conditioning of Shinnecock, National and Sebonack are pristine incarnate; SGR is half dirt. They are three of the toughest tests in golf; SGR has a mean closing putt-putt hole. The Southampton clubs' have strict dress codes; at SGR, you get weird glances if you're not wearing gym shorts or jeans.
"Yeah, we don't see many guys from Shinnecock or the like," said Tommy Garrison, who works at SGR. "This is a family place. You'll see people who've never played before coming out or who just want to goof around. It's laid-back around here."
The range has been in the Hanson family since 1957. Which seems right, because … "Until last year, most of this place looked like it was from 1957," Hanson says, beating you to the punchline.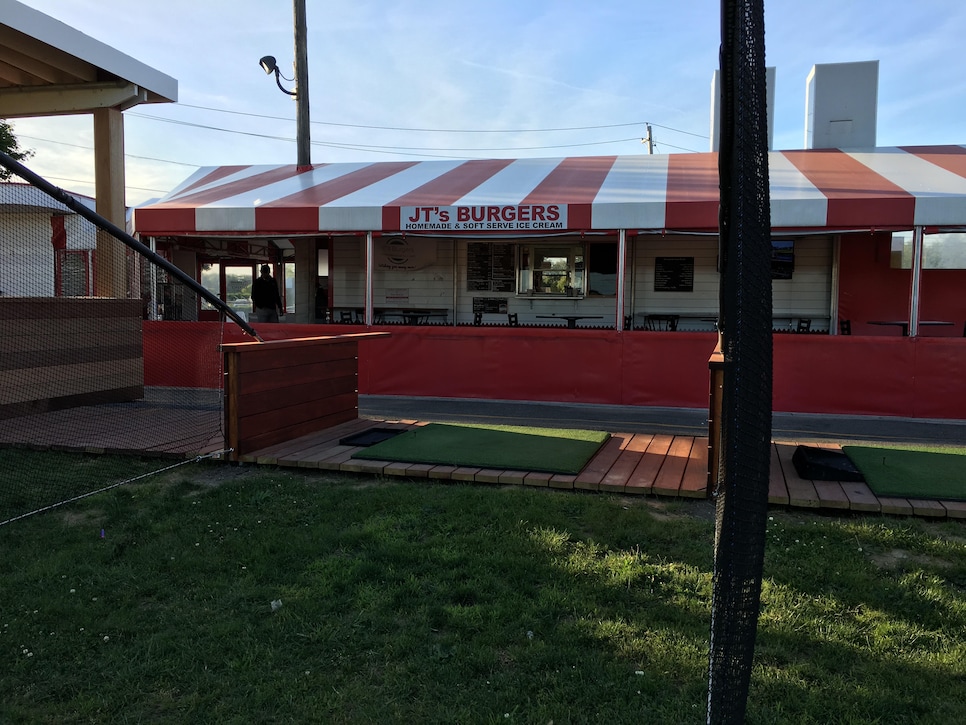 Except, the range still appears like a property lost in time, in the most positive connotation possible. Attached to the range's front desk—which is the size of a starter's shack—is a hamburger stand, with a red-and-white striped awning evoking a different era. The driving-range cart is just an old Jeep with a picker attached to the bumper. It's a cash-only business—millennials, cash is that green stuff that's not your credit card—and the shop doesn't have bags filled with new merchandise to sell, just a rack of old, beat-up sticks for those who forget their clubs.
"I love it," said Martin Lopez, 34, of Stony Brook. "It's welcoming. Great for people with kids. I feel 'on guard' when I bring them to a golf course. Here, they can be themselves."
Lest we wax too poetic, you're not going to find amenities here, because "amenities" isn't in the vocabulary. Like other public ranges, the balls appear to be from the Reagan Administration. There are wooden planks under some of the mats which, if you catch the artificial grass heavy, will make your shoulder scream for days. On both Monday and Tuesday night, the bathroom didn't have soap.
But in a romantic way, the lack of features makes SGR all the more charming.
"There's nothing overly fancy about it, which I like," said James Heinz, who lives in Huntington but works in Southampton. "You don't find many setups like this, especially out this way."
Which hits a harsh reality, as thousands of courses and ranges have succumbed to golf's changing economic landscape. Pressures that are especially tough in Southampton. One of the richest areas in America, yes, but those with access to the swank facilities of local gemstones don't look twice in SGR's direction.
Yet there is a desperate need for places like SGR. Golf is accused of being an aspirational sport, and it unfortunately presents itself as such from time to time. But at its heart, it is a game for all. Which is why the town of Southampton recently struck a deal with Hanson, giving his family financial backing for upgrades and capital while ensuring it stays a driving range to serve the community.
"This is a meeting place in town," Hanson says. "Without it, there's not much to do out here for the average person."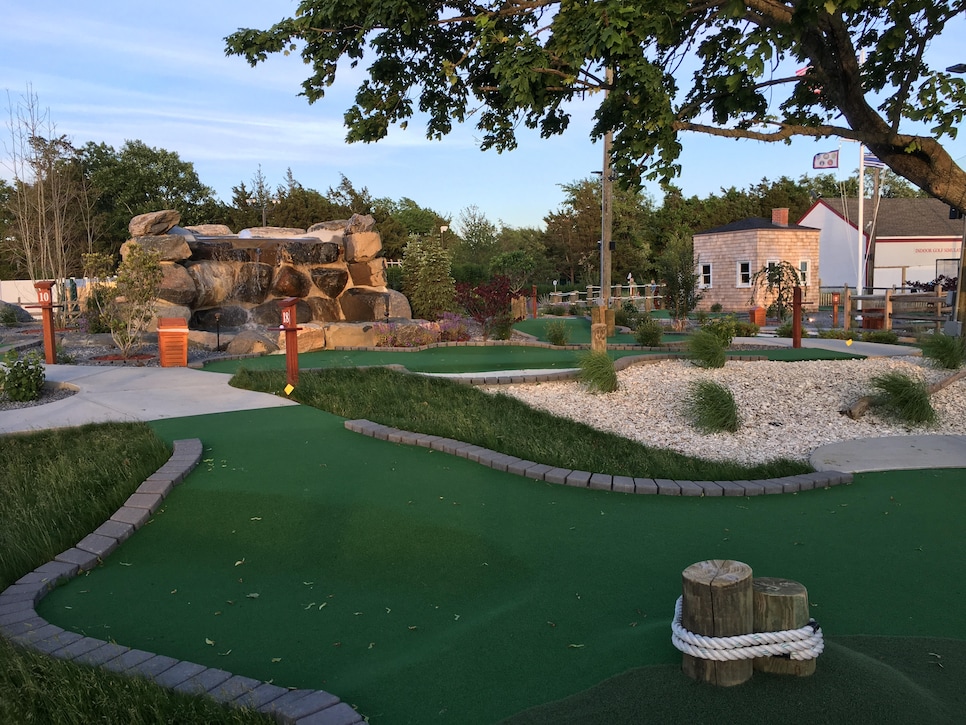 Hanson has used the money to bring in new mats, add fire pits, refurbish the putt-putt, all while keeping the throwback ambience intact. "It's tough, because so many people love the nostalgia factor," Hanson says. "You want to keep everyone happy."
Hanson shouldn't worry about that, because all in attendance on Monday night seemed to be having a hell of a time. A mother watched in delight as her children tried their best to send golf balls as far as possible, which included a baseball-like toss by the youngest. A horde of college kids who had worked the U.S. Open practice round were reliving their day over a few buckets, while an older couple complained and hassled each other like older couples are prone to do. Garrison, a college student himself who didn't consider himself a golfer before starting at SGR, looks out and understands why so many are enchanted by this range.
"It's just so fun to be here," Garrison says. "You don't see anyone not smiling and having a blast."
Thanks to Shinnecock and National, as well as prestigious clubs like Maidstone and Atlantic, the stretch along the south fork of eastern Long Island is often referred to as the cradle of American golf. But it's places like Southampton Golf Range that keep the cradle rocking.