News
U.S. Open 2018 live blog: Dustin Johnson cards third-round 77, still tied for the lead through 54 holes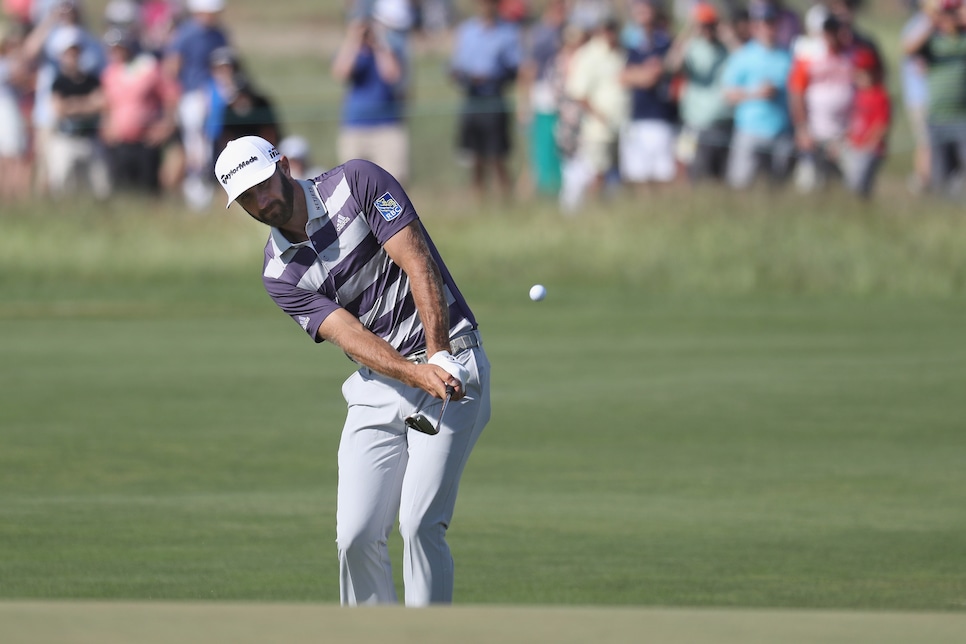 SOUTHAMPTON, N.Y. — While the likes of Tiger Woods, Rory McIlroy, Jordan Spieth and Jason Day failed to make the cut, the weekend still promises to be an exciting spectacle at Shinnecock Hills. The weather is perfect Saturday, and the New York crowds are out in full force, none bigger than the horde following the early third-round pairing of Phil Mickelson and Andrew "Beef" Johnston. The over/under for thumbs up from the duo is set at 500.
But the real main event, Dustin Johnson, will not tee off until 3:10 p.m. ET, as he looks to build on his commanding four-shot lead. But as we know, especially this week at Shinnecock, that gap can be closed very quickly with one bad hole and some good play from his pursuers. Scott Piercy and Charley Hoffman, both at even par overall, can certainly chase him down, but it's the names that lurk that will be particularly intriguing to watch. The duo of Henrik Stenson and Justin Rose, each in search of their second major title, are at at one over, and will tee off together at 2:48 p.m. and attempt to apply some pressure to Johnson.
Others chasing include Tommy Fleetwood (+1), defending champion Brooks Koepka (+1), Ian Poulter (+1) and Rickie Fowler (+2). Keep it right here for all the important updates from Saturday at Shinnecock.
7:42 p.m.: After sliding his birdie putt seven feet past, Johnson missed his par putt and bogeyed for a seven-over 77. Somehow, that's still good enough to be in a four-way tie for the lead at +3. Remarkably, Tony Finau and Daniel Berger will play in the final pairing after beginning the final round in a tie for 45th, 11 shots off the lead. Johnson and Koepka will go off in the penultimate pairing, and Rose and Stenson will meet again in the third-to-last tee time.
Check back here tomorrow for all the final-round updates from what should be another fascinating day at Shinnecock Hills.
7:30 p.m.: Johnson hits a majestic shot into the 18th green that rolls 16 feet past the hole. As we've seen late in the day, he'll be lucky to two-putt for par.
7:23 p.m.: Another green in regulation and another two-putt par for Dustin to remain at +2. He might shoot 76 and still lead the U.S. Open.
7:14 p.m.: DJ's birdie effort tracked the whole way, but stopped just short. He heads to the par-3 17th with a one-shot lead. Both Stenson and Rose bogeyed the 18th, giving Rose a three-over 73 and Stenson a four-over 74. Rose heads into Sunday in solo fifth at +4, and Stenson in solo sixth at +5. What a wild day.
7:10 p.m.: Stenson's ball hit the green at the par-4 18th, but came rolling all the way back down the fairway. From there he chipped one up about 15 feet below the hole where he'll look to save par. Rose's approach went over the 18th green, leaving him tricky downhill putt for birdie.
Back at 16, Johnson is on in three, facing an uphill birdie putt to get to +1.
6:58 p.m.: Stenson escapes the 17th with a par to stay at +4, and Rose two-putts for par to remain at +3. Brooks Koepka is in the clubhouse with a two-over 72 thanks to a gutty par putt at the 18th. He's tied for second with Finau, Rose and Berger.
6:55 p.m.: Johnson's putt just misses at the 15th, and he falls back to +2, still good enough for a one-stroke lead. His playing partner Scott Piercy was the 15th green's latest victim, as his birdie putt rolled off the back of the green. Should be some interesting comments to come from the final groups about the 15th green.
6:46 p.m.: Two-putt par for DJ at the 14th, but his drive at the 15th found the fescue and he had to hack it out back in the fairway. He did hit a very good third shot into the green and will have a good look at an all-world par save.
Koepka three-putted for bogey at the par-3 17th and Rose bogeyed the 16th. That means they are now tied for second with ... Tony Finau and Daniel Berger, who entered the final round 11 shots back of Johnson. Those two 66s could go down as some of the best rounds in U.S. Open moving day history.
Stenson stopped the bleeding with a par at the 16th, but his tee shot at 17 just found a green side bunker. He's at +4 for the tournament.
6:36 p.m.: Johnson hits the green in two at 14 and will look to become the only player to birdie the hole in the third round. Good luck. Koepka, up at the par-5 16th, just misses his uphill birdie putt and should back the comebacker for par to remain at +2. Also at +2? Justin Rose, who made his second birdie of the day and his first in 12 holes. He's hit just five greens, but continues to grind out a one over round with three holes to go. Gritty performance from the 2013 U.S. Open winner.
Stenson has gone backwards, making three consecutive bogeys to fall to +4 for the championship, three back of Johnson. Charley Hoffman is flying under the radar at +5, in case anyone was wondering.
How about Jim Furyk? The Ryder Cup captain just posted a two-over 72, which puts him at +6 overall, tied for eighth with Reed, Aphibarnrat, and Scott Piercy.
6:20 p.m.: Guess who just took back the outright lead? Dustin Johnson, despite being five over on his round, is alone on top once again thanks to Koepka's bogey at the par-4 15th. But things could change quickly, as they have throughout the day, because Johnson is heading to the difficult 14th.
6:06 p.m.: Rose hits his third green in regulation at the 14th, of course. Golf, man.
Back at 12, Johnson pulls his birdie putt and then sneaks in the par save to stay in a tie for the lead.
6:01 p.m.: WOW. After hacking out his second and chipping on, Koepka had 61 feet left for his par save and drained it. Incredible putt on what's been by far the toughest green on the course on Saturday. He's stays tied for the lead at +1 with Johnson, who just found the green at the par-4 12th. Stenson made bogey at the 13th and is now in solo third at +2.
Rose continues to plug along despite hitting just two of his first 13 greens. He just made a nifty par save at the 13th to stay at +3 with Berger and Finau.
5:55 p.m.: If you're wondering why we haven't mentioned Rickie Fowler, it's because he's completely ejected from the tournament. He's 10 over through 14 holes, dropping him to +12 overall. Doesn't look like he's getting that first major this week.
5:52 p.m.: Johnson finally gets one to go at the 11th for birdie. He's now in a three-way tie at the top.
5:51 p.m.: Perhaps the par-3 11th is just what the doctor ordered for Johnson, who has made two birdies on the hole so far this week. He just hit a pitching wedge to seven feet and will look to make it a third in a row. Desperately needs it, although he's still just one off the lead despite being six over on the day.
Koepka is in some trouble at No. 14, where he missed the fairway left and found the high fescue. It's hard enough to make par on that hole from the fairway, so Koepka has a lot of work to do.
Patrick Reed and Kiradech Aphibarnrat have arrived safely in the clubhouse at +6 through 54 holes. Aphibarnrat carded a three-under 68 and Reed a one-over 71.
5:40 p.m.: Justin Rose finally gets his second look at birdie of the day and it lips out. He's two over through 12, +3 overall. Stenson also made par to remain tied at +1 with Koepka, who just made par at the 13th.
5:29 p.m.: Remember Ian Poulter? The Englishman just made back-to-back birdies to get to +3, putting him two off the lead. Imagine he hadn't made that triple yesterday?
Stenson's tee shot at the 11th left him about five feet for birdie, but he missed to stay tied at +1 with Koepka. Daniel Berger and Tony Finau must be popping bottles on the couch right now. They could be leading by day's end.
5:23 p.m.: Johnson's short birdie effort comes up short, and he turns in six-over 41. Ouch. Still in it, but he needs to stop the bleeding at some point with a birdie. Meanwhile, Koepka bogeys 11 and Stenson bogeys 10, meaning every player in the field is now over par. The U.S. Open is BACK.
5:14 p.m. Koepka converts and is now tied for the lead with Stenson at even par. Johnson looks to stop the bleeding at the par-4 ninth, where he just put his approach to 12 feet. A birdie would be a huge momentum swing heading to the back nine for DJ.
5:05 p.m.: Up ahead at the par-3 11th, Shinnecock's version of a postage stamp green, defending champion Brooks Koepka sticks one to five feet. If he can make, he'll tie Stenson for the lead. Big-time shot.
Johnson makes his third consecutive bogey and his fifth of the day at the par-4 eighth. After the missed putt, FOX's mic'd cups picked up Johnson saying "really!?" Just about sums up his round so far, as he's six over on the day and fallen all the way to +2 overall. Fortunately, that keeps him within two of the lead.
5:01 p.m.: From the thick fescue Rose puts his third to five feet, but misses the par putt. Still, a one-over 36 with just one green in regulation is pretty impressive. Stenson two-putts for par and a bogey-free 35 to remain at even overall, meaning Rose is only two back.
At the eighth, DJ has another tester for par from about seven feet.
4:55 p.m.: Another bogey for Johnson, meaning Stenson is now the solo leader at even par. The Iceman just hit a majestic approach shot into the ninth green and will have 27 feet left for birdie. Rose had no such luck, missing his eighth green of the day. Remarkable that he's even par for the round.
4:50 p.m.: At the par-4 eighth, Rose and Stenson each faced long looks at par, and Stenson was able to convert:
Rose walked away with bogey. Stenson and Johnson are now tied at the top, but that could change quickly as DJ has a slippery par putt at the par-3 seventh coming up.
Brooks Koepka just made the turn, carding a front-nine 35. He's tied for third with Rose at +1.
4:40 p.m.: Another bogey from DJ. We've got a three-way tie at the top. It's all happening now!
4:33 p.m.: After a par at the fifth, Johnson's approach at the par-4 sixth sails well right of the green. He's scrambled beautifully all week, but getting up and down from there isn't going to be as easy as he's made it look over the first two days. Another bogey and he'll drop into a three-way tie for first with Rose and Stenson, who are each one under through seven and even par for the tournament.
Then there's Koepka hanging around at +1, good enough for solo fourth at the moment. Tommy Fleetwood just made his first bogey of the day, but is alone in fifth at +2. Everyone is in striking distance now, including Berger and Finau. Their 66s are getting more impressive by the minute as the conditions look extremely difficult on Saturday. So difficult that Zach Johnson, who you'll never hear a bad word from, was quoted as saying that the USGA "has lost the golf course." Oh boy.
4:13 p.m.: Mickelson spoke with FOX's Curtis Strange after a U.S. Open career-worst round of 81, and oddly defended his actions, explaining he was using the rules to his advantage. Here's full video of the interview:
Back on the course, things are getting a little chaotic, as Dustin Johnson has now dropped to -1 for the tournament with bogey at the par-4 fourth. Henrik Stenson and Justin Rose are just one back at even par.
3:44 p.m.: While we were away trying to make sense of the Mickelson debacle, the U.S. Open flipped on a dime. After a wayward drive at the par-3 second, Dustin Johnson three-putted four double bogey, dropping him to -2 for the championship. His playing partner, Piercy, also doubled to fall to +2, which has him tied for sixth with Marc Leishman and Charley Hoffman.
Meanwhile, Justin Rose got to within two of Johnson's lead thanks to this classy play:
He's one under through four, even par for the championship.
Henrik Stenson, Brooks Koepkaand Tommy Fleetwood are quietly lurking, all three at even par on the day and +1 for the tournament.
3:13 p.m.: While the Mickelson situation is going to dominate the headlines, there is still a tournament going on. Everybody is out on the course, including the final pairing of Dustin Johnson and Scott Piercy, who each made par on the opening hole.
In addition to Berger, the other big move of the day came from Tony Finau, who also carded a four-under 66 to move a tie for 11th at +3.
2:50 p.m.: According to FOX's Joe Buck, Mickelson's gaffe is being recorded as a 10. Since the shocking move, Mickelson has gone about his business like nothing even happened, thumbs upping and smiling at every fan in the gallery. Should be interesting to hear what he has to say afterwards. He's now 10 over on his round, +15 for the tournament.
2:24 p.m.: What. Just. Happened:
It appears Phil Mickelson just briefly lost his mind. We'll keep you updated on what his score was on the hole, as even the FOX commentators are unsure at the moment. Not the best birthday for Phil.
2:16 p.m.: Berger flirted with the U.S. Open record of 65 at Shinnecock, but a bogey at the par-3 17th brought him back to four under. He parred the last and posted a 66, which currently has him tied for 11th at +3. Strong day from the two-time tour winner.
1:15 p.m.: Berger rebounds from his first bogey of the day with back-to-back birdies at the 12th and 13th holes, which gets him to four under on his round and +3 for the tournament, good enough for T-11. He'll need to get up-and-down from a tough spot at the 14th to stay there, though. Still early, but he might be putting himself in good position to notch his best result in a major. In 11 major appearances, he has just one top 10, which came at the 2016 Masters.
Also making a move is the reigning Masters champion, Patrick Reed, who is two under through four with three birdies and a bogey. Reed is tied with Berger and Scotland's Russell Knox, who just birdied the opening hole to get to +3.
Meanwhile, it doesn't look like there will be any Saturday surge for Mickelson. Lefty has made two bogeys in his last four holes after making his first birdie back at the fourth. He's back to +7.
12:50 p.m.: Well, just as we published our first update, both Mickelson and Berger made bogeys. Mickelson is back at +6 overall and Berger +5. The curse of the live blog.
12:24 p.m.: After making pars on his first three holes, Phil Mickelson makes his first birdie of the day at the 481-yard par-4 fourth to move into the top 30 at +5 overall. He's got work to do, but with the N.Y. faithful behind him, and wishing him a happy birthday every step of the way (Lefty turned 48 today), perhaps he can build some momentum and get himself back in the championship heading into Sunday.
The best round on the course belongs to Daniel Berger, who posted a three-under 32 on his opening nine without a bogey. He's now tied for 14th at +4.