News
U.S. Open 2018: How much easier did Shinnecock Hills play on Sunday?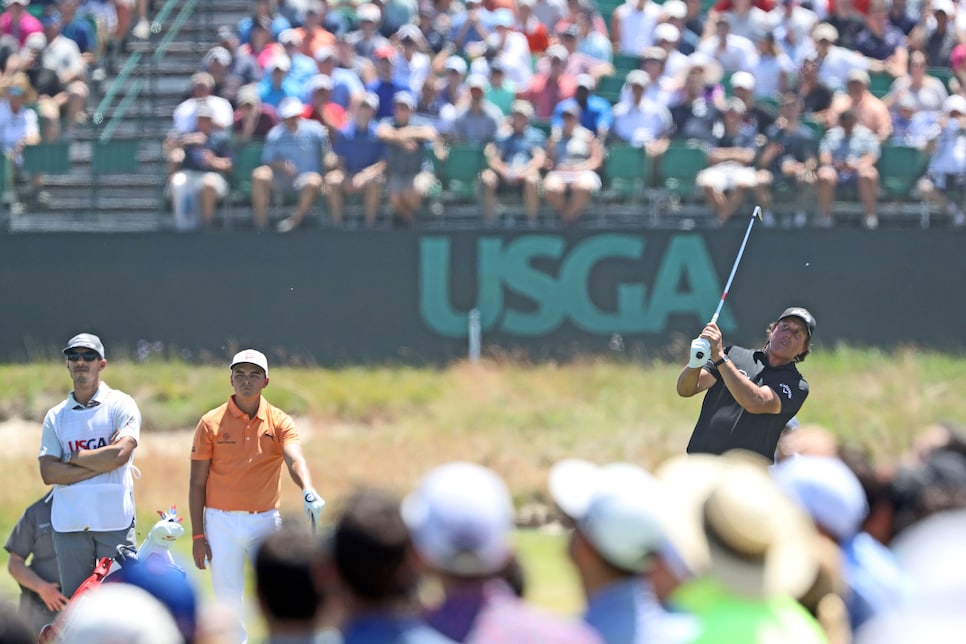 David Cannon/Getty Images
SOUTHAMPTON, N.Y. — Yeah, a day can make a big difference.
The 118th U.S. Open, engulfed in controversy just 24 hours earlier, featured open water faucets and benign pin positions for Sunday's final round, dramatically changing course conditions and scoring. Call it a transfusion and a transformation. How to document it? Let's go to the numbers, fellow stat geeks.
—It didn't take long to notice things were different. The first 19 players to finish Sunday under the more docile setup—the USGA estimated that green speeds were generally 10-12 inches slower than Rounds 2 and 3—improved by an average of 7.63 strokes versus the day before. After an 84 on Saturday, Rickie Fowler rebounded with a five-under-par 65, the 19-stroke swing marking the biggest improvement from Round 3 to Round 4 in Open history. Patrick Rodgers was better by 16 shots (83-67) and Hideki Matsuyama by 13 (79-66). Fowler's playing competitor, Phil Mickelson, beat his previous effort by 12 (81-69) after some drama on Saturday, when he shot his highest score in 27 years of Opens. (You might have heard about that.)
—Tommy Fleetwood, teeing off 14 groups before the final pairing, shot a seven-under-par 63 to match the all-time low for a U.S. Open shared by Johnny Miller (1973 at Oakmont), Jack Nicklaus and Tom Weiskopf (1980 at Baltusrol), Vijay Singh (2003 at Olympia Fields) and Justin Thomas (2017 at Erin Hills).
—Fleetwood made eight birdies but missed an eight-footer for another one on the 72nd hole, leaving him one stroke shy of winner Brooks Koepka hours later. A ninth birdie by Fleetwood would have matched the Open record for a round shared by Miller, Thomas (whose round last year at Erin Hills included an eagle), Rives McBee (1966 at Olympic) and Gary Koch (1982 at Pebble Beach).
—The first three rounds produced 21 scores in the 60s; 15 players broke 70 on Sunday.
—The field scoring average improved more than three strokes from Saturday (75.327) to Sunday (72.179). And there was certainly no rerun of the Shinnecock Shambles in 2004's final round, when the field averaged 78.727. Before this year's Open, USGA officials promised there would be no repeat. Saturday came close. But Sunday? It was another day.