News
U.S. Open 2018: After 66, Tommy Fleetwood could be poised for his biggest step yet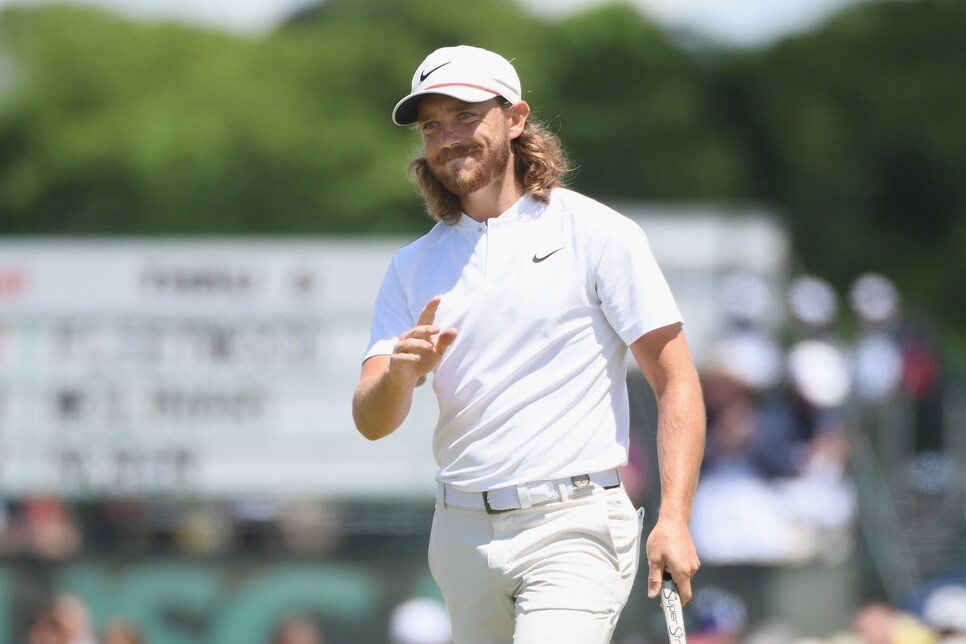 SOUTHAMPTON, N.Y. — Six-over par through 15 holes of his first round in the 188th U.S Open at Shinnecock Hills, things weren't looking too good for Tommy Fleetwood. Four bogeys in the previous five holes had the 27-year old Englishman thinking more about finding a way to survive the halfway cut than winning his first major title.
Now fast forward to the end of the second round. Seven birdies and two bogeys later, Fleetwood has somehow hauled himself back to one-over par for the championship. All thoughts of not playing on the weekend - something he has done only once in 11 PGA Tour starts this season - have gone, replaced by dreams of Grand Slam glory. Which is no real surprise. Despite the five-shot gap between himself and Dustin Johnson, Fleetwood is a legitimate contender, a man on a steady and seemingly inexorable rise.
Consider his progress since he first picked up a club in his hometown of Southport in the northwest of England. English Amateur champion. Check. Walker Cup player. Check. Number-one on European Challenge Tour money-list. Check. Winner on European Tour. Check. First on European Tour "Race to Dubai." Check. Ryder Cup player. A racing certainty later this year.
Just about the only thing the significantly hirsute Fleetwood hasn't done recently is get a haircut. Or trim his beard. Neither is likely to happen any time soon either (he is a cinch to play the cross-country running Forrest Gump if that Oscar-winning movie is ever re-made).
"The hair has become kind of my thing now, especially in America," he says with a smile. "It makes me recognizable. And the beard makes me look a bit older than I am. I like that. Aging me a bit is a good thing."
Also working in Fleetwood's favor is the fact that he and Johnson have some on-course history, with things so far pretty even. Last year, Fleetwood beat out the world number-one to claim the Abu Dhabi Championship (a title he retained in January). Then, two months later, Johnson reversed those finishing positions at the WGC-Mexico Championship. So there will be no feeling of inferiority emanating from Fleetwood in the second half of this event.
More pertinent over the next two days, however, will be the obvious strengths Fleetwood brings to the course every day. Tee-to-green, few players on either side of the Atlantic are more consistent. That he hit 13 of 15 fairways and 16 of 18 greens in his second round 66 - low score of the week so far - was no surprise to those familiar with Fleetwood's oh-so repeatable and orthodox action. Perhaps his only idiosyncrasy is his habit of gripping down on the shaft of every club, even his driver.
His attitude is another asset. Fourth in this championship last year at Erin Hills, Fleetwood clearly has a propensity for U.S Open conditions and an ability to cope with the unique pressures that come with being in contention at one of golf's four most important events.
"I do like the set-up at the U.S Open," he says. "It is the ultimate test of golf in more ways than one. It tests your long game. It tests your short game. It tests every aspect of you, mentally and physically. With three holes to play yesterday I just had to keep my head down. You have to keep going. I had just made a bunch of bogeys, but I made a birdie in the last three holes and with a round like today I'm back in it. It just shows that you have to keep going."
Fleetwood applied that same philosophy during his second round too. Through the worst of the morning weather, he played five holes —16-17-18-1-2—in one-under par.
"All I was trying to do was survive," he says. "It was windy and it was cold and the rain was coming down. I was literally counting holes down and make pars. I did that and, when things brightened, I made some birdies towards the end. Suddenly, I was walking off with 66. But, overall, I just played really solid."
That he will need to do so for two more days is not in doubt. But Fleetwood, one of the most pleasant individuals amongst the game's upper echelon, is unlikely to back off. A major championship victory is, after all, the next thing on his list of things to do in golf.