News
U.S. Open 2017: What Erin Hills got right
The first U.S. Open at the Wisconsin layout wasn't perfect, but there were enough positives to earn another shot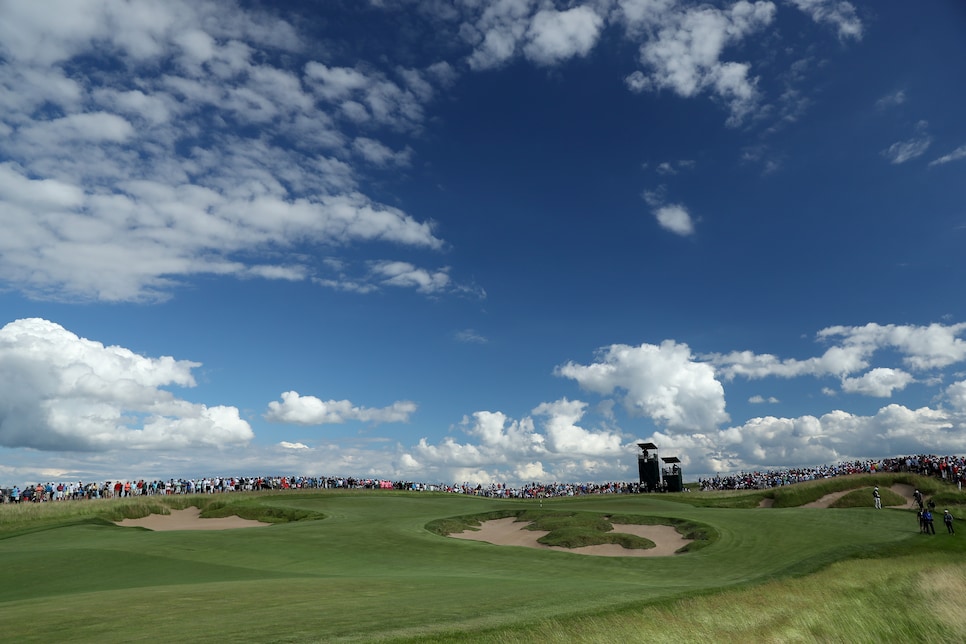 ERIN, Wis. — At some point within the next 20 years, the U.S. Open should return to Erin Hills.
Sure, it would have been nice if in the Wisconsin course's debut, it hadn't been so rain softened. Or the wind had blown more. Or the fescue bordering the fairways had been thinner. Or if the Sunday battle for the 117th championship had been closer.
But overall, Erin Hills did very well. The big course produced, in Brooks Koepka, a winner with a well matching big game. It did so without any rules controversies, or furors over the setup. Instead, the course got almost universal praise from that vital jury, the players.
We should remember that this was an Open where healing was a priority in the hope the USGA would get its mojo back, and a spirit of diplomacy was palpable. The USGA bent over backward to be fair, making sure there was no chance, even if the dearly missed strong winds had finally arrived, the place would become goofy.
The placated players—many of them still feeling burned by the greens at Chambers Bay and the Dustin Johnson rules fiasco at Oakmont—showed their appreciation.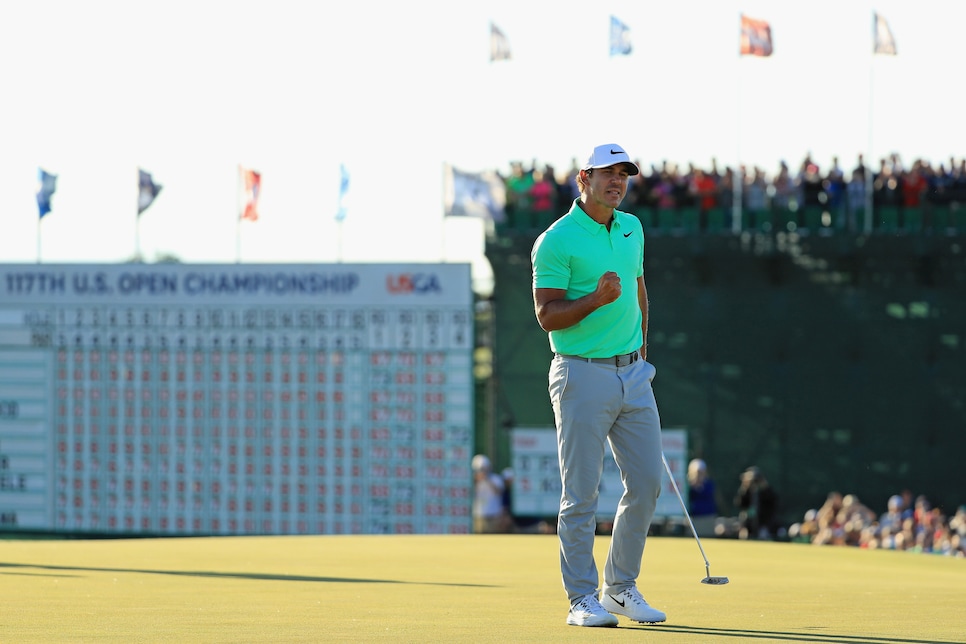 "I thought that the USGA did a phenomenal job this week of allowing the golf course to be what it is and play the way it's supposed to play. …no unfairness whatsoever," said Jordan Spieth, who finished T-35. "I thought the USGA did a fantastic job coming back this year, and I know that they really wanted to."
And Spieth, who has been granted unofficial spokesman status among his peers, endorsed Erin Hills for future U.S. Opens. "I think it's an awesome golf course. I think that's been the consensus from everybody. In my opinion, I would like to see another one here down the road, sure."
Let's make clear that Erin Hills was far from perfect. Even if it had played firm and fast, the fairways were too wide. Koepka, who was seventh in driving distance with an average of 322 yards, also hit 88 percent of the fairways (fourth in the field), an impressive statistical combination that allowed him to hit 62 of 72 greens in regulation, a phenomenal 86 percent that led all players.
Yes, it was very nice to see drivers come out. But it was obvious that slightly flared drives, a soft-landing miss that is a "safety shot" for the longest hitters, weren't sufficiently punished.
True, really bad drives went into the extremely tall and thick fescue, which carried a much higher penalty than conventional U.S. Open rough, to the point of being virtually unplayable. But for the most part, the fescue caught the players who were hitting the ball with a crookedness that would have kept them out of contention anyway. Remarkably, that group included pre-tournament favorites and conspicuous bombers Dustin Johnson, Rory McIlroy, Jason Day, whose failure to make the cut marked the first time that had happened to the top three players in a major since the Official World Golf Ranking began in 1985.
But it was notable that rather than complain, they praised Erin Hills. "Not your typical U.S. Open setup," said McIlroy, "but I'm a big fan."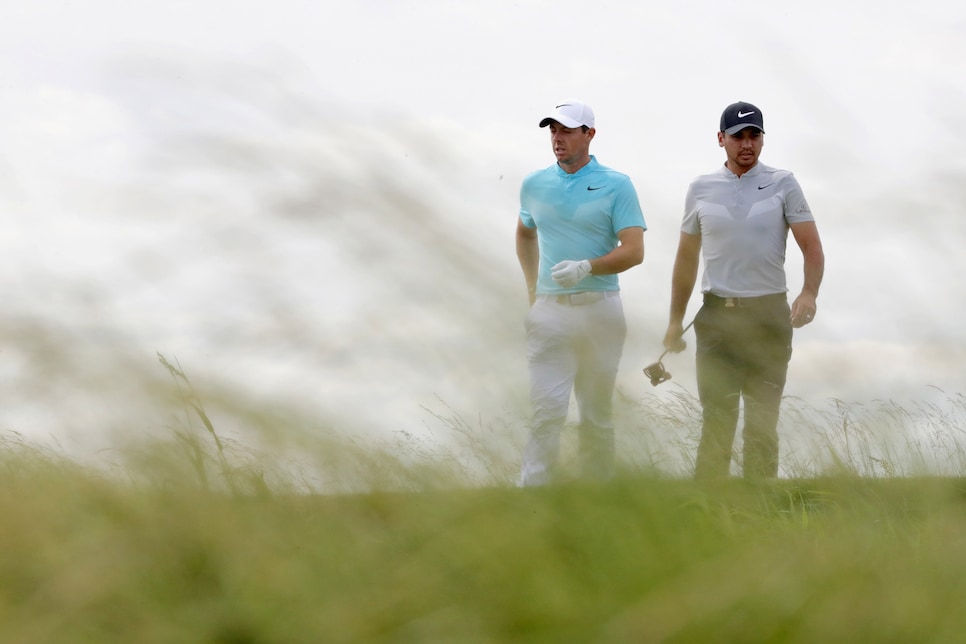 Added Day, "The golf course is actually really beautiful. Unfortunately, I just didn't execute."
But among the leaders, even with the Sunday pressure, the fescue didn't offer enough threat.
Still, this was the first playing. Much was learned, and will be implemented if Erin Hills gets another chance. "I would think they'd want to change a few things," said Steve Stricker, also a fan of seeing Erin Hills get another U.S. Open. "I'd like to see the fescue a little bit thinner and the fairways a little bit narrower, so it's not a full shot for hitting into the fescue, but it's going to be harder to hit fairways."
Even by the exacting standards of what it takes to host a U.S. Open, Erin Hills proved it has more than enough to work with.
But even if Erin Hills was fair and visually impressive, still up in the air is whether it passes the U.S. Open's ineffable atmosphere test. It was widely felt that over all, this Open felt a little flat.
I'd agree, but would put lack of urgency down to the cautious setup and the unluckiness in getting wet, windless weather. Erin Hills was too friendly, perhaps unavoidably so, but it didn't provide the truly edgy test of skill and mental strength that most differentiates the U.S. Open.
"It would be a lot of fun to see this place firm and fast," said Rickie Fowler, T-5. "It might just be a little bit more of a mental headache if we do get to see that."
To its credit, Erin Hills at any time offers the chance for a shots that might not be tried amid the tighter confines of more traditional Opens. The most vivid memory of the four days will be Justin Thomas' majestic 310-yard wood to 6 feet and an eagle for 63, which until further notice is the greatest second shot to a par 5 in the history of the U.S. Open.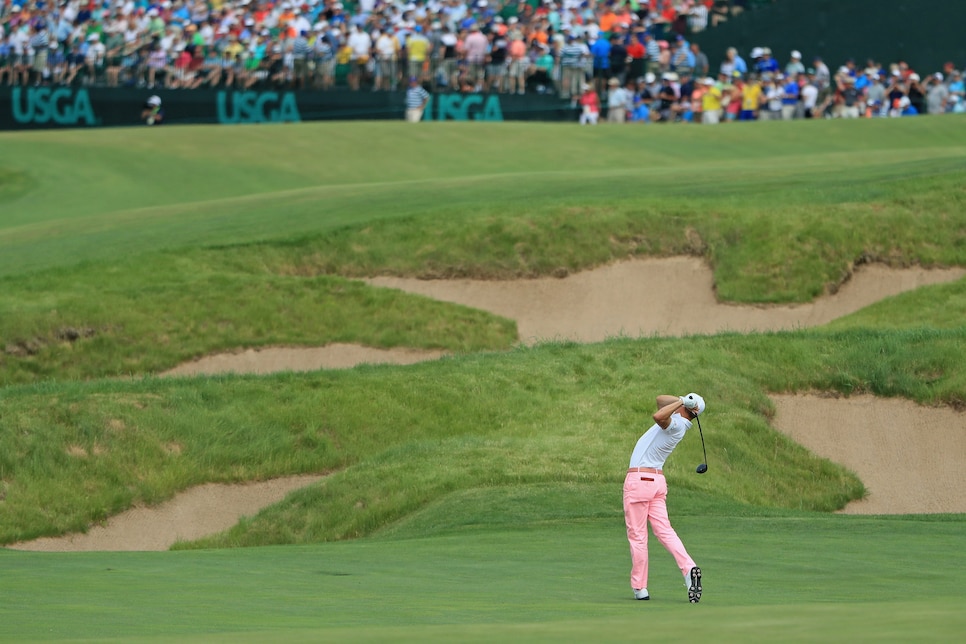 I happened to like that the relatively flat greens weren't particularly confounding and also opened up more opportunity for the spectacular. I've tired of faster and faster speeds on golden age slopes causing extremely defensive putting and with it, a glacial pace of play. Give the best players in the world a better chance to make putts. It adds excitement and gives the competition a brisker feel.
So where does Erin Hills fit in the future?
It's well positioned if the USGA is truly committed to moving the championship around the country. At the moment, there is a vacuum in the Midwest. Medinah and Olympia Fields in Chicago don't inspire, and former USGA mainstays Hazeltine National and Oakland Hills have become more aligned with the PGA of America. The same with Whistling Straits, which has had two PGA Championships and is slated for the 2020 Ryder Cup.
And in an unofficial competition comparison with another minimalist style public course that is vying to be deemed a modern classic, Erin Hills has come off better than Chambers Bay near Seattle.
Erin Hills, with sheer bigness that requires less retrofitting for distance than older courses, and a brawn accented by humpy land and jagged bunkers that can make for exciting golf, offers a welcome but only occasional—maybe once every 20 years—change of pace from the traditional Golden Age classics.
On the eve of the Open, USGA executive director Mike Davis will head up the post-championship evaluation, but it appears Erin Hills will be in good stead based on his pre-tournament comments.
"We like a firm, fast golf course, where you really have to think about what happens when that ball lands," Davis said. "But we're likely not going to get that this week. ... We will take player feedback as part of it. We'll use our own observations. Outside the ropes, how did the community, the state and the country embrace the event?"
Even by the exacting standards of what it takes to host a U.S. Open, Erin Hills proved it has more than enough to work with.