News
U.S. Open 2017: Six-hour rounds?!? Why everyone should brace themselves for pace-of-play issues at Erin Hills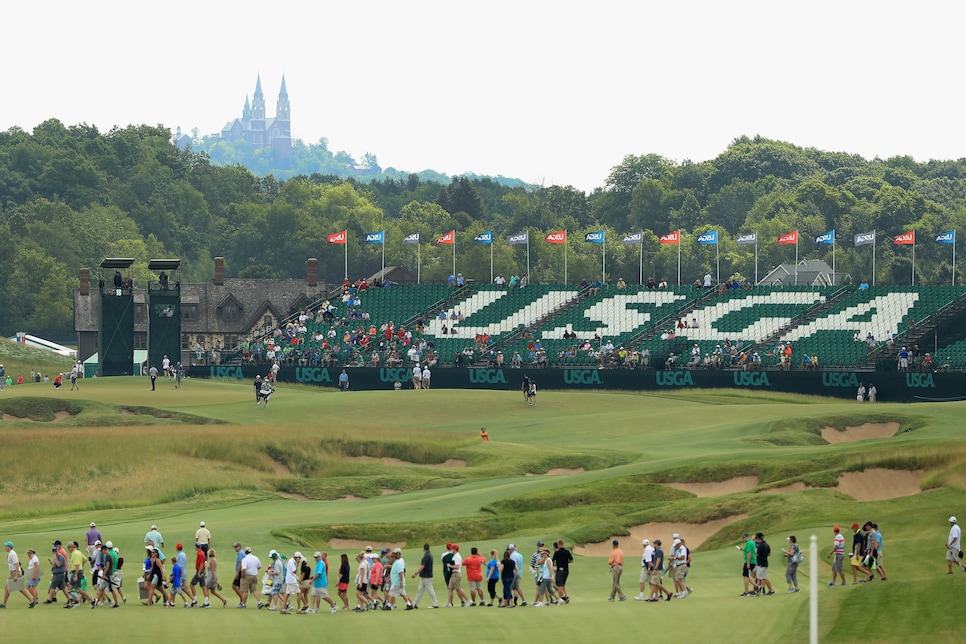 ERIN, Wis. — Sitting on 650-plus acres of land and listed at 7,741 yards, Erin Hills Golf Course is officially the second-longest golf course to host the U.S. Open. Before the championship is over, however, this course is likely to become the longest course in championship history with regards to the time it will take to play.
During the USGA's Wednesday morning press conference, championship officials said that the allotted time for threesomes during the first two rounds Thursday and Friday will be four hours and 52 minutes. For twosomes play, the time is quicker, but still comes in at an eye-opening four hours, 16 minutes.
How exactly are these times determined? According to Jeff Hall, USGA's Managing Director, Rules and Open Championships, the numbers aren't pulled out of thin air but very much data driven. They take into account the length of each hole and the distance from green to tee.
What it doesn't take into account, however, are other variables which might make those numbers balloon even higher, meaning that Thursday and Friday rounds would easily go north of five hours. Listen to some of the caddies during practice rounds, and they're predicting threesome rounds will be closer to six hours. And maybe longer.
For context, the time par for the 2015 U.S. Open at Chambers Bay, which was the longest course in U.S. Open history, was seven minutes quicker than this year.
The biggest issue with pace will be course setup. While 7,741 yards is the official number, USGA executive director Mike Davis says that it's unlike the course will play that long on any given day. Multiple tee boxes on each hole provide flexibility. However, their selection will be critical from a pace-of-play standpoint specifically when accounting for the winds. If the USGA sets up certain holes for a certain wind, and that wind doesn't materialize, players potentially will have a difficult time even reaching the fairways or landing areas on various holes.
Said Davis: "Think about it, the tee shot at 1, the tee shot at 8, the tee shot at 10, tee shot at 11, tee shot at 12, if we get that wrong … for instance, if we set 8 up [a nearly 500-yard par 4] thinking it's going to be a southwest wind and all of a sudden you get a northeast wind, now the players can't even reach the top plateau, which is certainly not what we want."
Davis joked that he and Hall have already had a conversation with Jake Swick, the USGA's chief meteorologist, stressing the importance that he "bring his A game" this week.
"It's nerve wracking," Davis said, "honestly more than most Opens sites."
Additionally, the decision on whether to make certain par 4s drivable, and the potential back-log that can create on tee boxes is another issue. So too is the forecasted rain and the resulting wet conditions, which will slow things down further.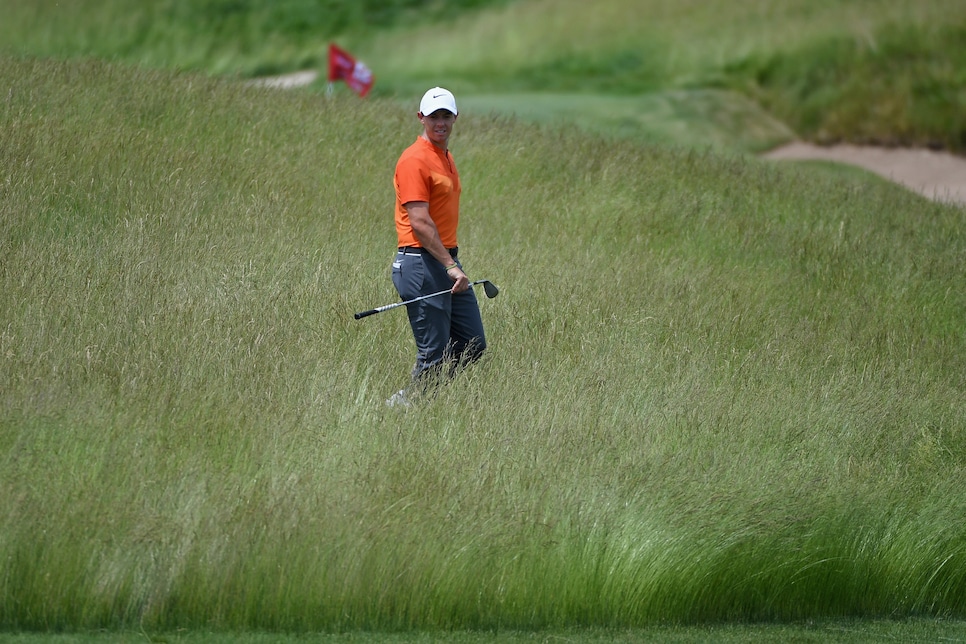 Ross Kinnaird/Getty Images
Even if they get the winds right, the number of blind shots and the fescue grasses all around the course will make finding balls more challenging than at other venues, which … you guessed it … will add more time as well.
On the lost ball front, Hall says that they are taking action to be prepared for such a scenario.
"We have 5,000-plus volunteers and a large number of those are part of our marshal crew," Hall said. "And we have marshals that we can pull into our needs if we find because of weather conditions a particular hole is creating challenges with errant tee shots, whatever it may be, we'll get the resources to those places to help us find the golf ball and keep things moving."
Indeed, USGA officials will do everything in their power to get players around the course as quickly as possible. But in the end, they know that they can only do so much, particularly given what's at stake for the players.
"This is the United States Open," Hall said. "This is a very stern test of golf. It's that ultimate test of golf and the pace of play is going to reflect that."