News
U.S. Open 2017: Justin Thomas takes a swing at history, and he nails it
On a day ripe for scoring, Justin Thomas eclipsed Johnny Miller's U.S. Open mark with a nine-under par 63 at Erin Hills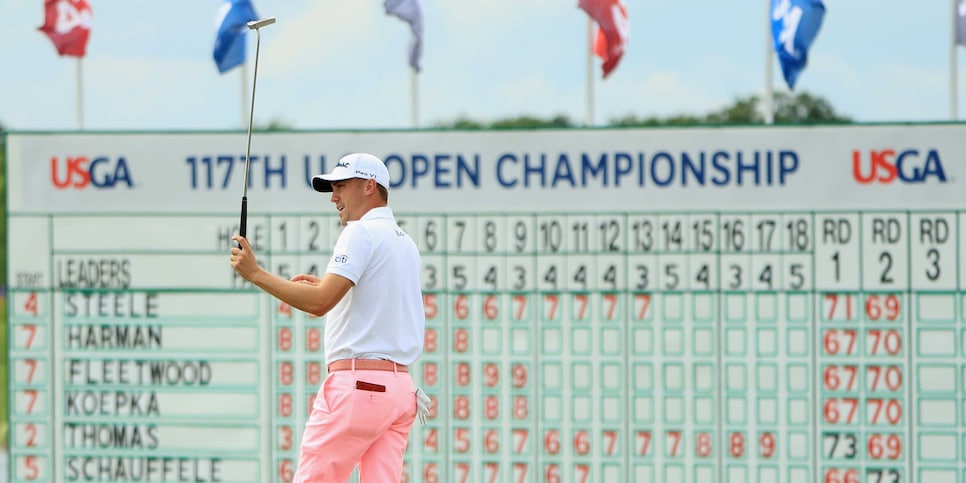 Photo By: Andrew Redington
ERIN, Wis. – Justin Thomas "smoked" that 3-wood and he "nuked" it, as he also said, and he called it "pretty sweet," and it was 293 yards to the front of the 18th, 310 to the hole cut in a treacherous spot, and by the time the little guy's body came unwound from his wicked lash at the ball, he saw the thing in flight and he knew he'd done it, and he said to his caddie, Jimmy Johnson, "Oh, gosh, Jimmy," and he spoke as well to the ball disappearing in the distance, "Be good." Here the caddie asked a silly question, "Did you hit it?"
Hey, dude. He crushed pured smoked busted nuked nailed and launched it.
A butterfly alighting on a flower, the ball touched down a couple steps short of the flagstick and rolled to a stop eight feet and an inch behind the hole, leaving Thomas a putt that if it weren't dead-straight, it was only a tiny bit downhill, moving only a tiny bit left to right. Easy putt. Most times.
Except, walking to the green, Thomas knew what awaited.
To his caddie he said, "Let's try to become part of history here."
"Yeah," Johnson said, "let's do it."
Make the putt, it's an eagle on the 667-yard 18th. Make it, he goes nine under par for the round. In the previous 116 U.S. Opens, no one had ever gone so low. Make the putt, it's for 63, matching four other 63s including Johnny Miller's eight under round that won the 1973 Open at Oakmont.
Then he had to wait. His playing partner was away. Then he waited more. He sat on his golf bag. He held his arms straight out and shook them because, he said later, he was hungry and he'd been shaky and it was time to make some history, and he didn't want to get all quivery over a putt he could kick in if, say, he was on vacation in the Bahamas hanging out with his bros Jordan Spieth and Smylie Kaufman and Rickie Fowler, Fowler famous there for his T-shirt reading, "Hope Your Day Is As Nice As Your Butt."
Time to putt, Thomas barely breathed on the thing and it rolled into history.
He'd made nine birdies and the eagle. He was 11 under for three rounds and, at the moment, the tournament leader by two shots.
"An awesome day," he said.
It hadn't sunk in, the significance of all this history stuff. He said, "But I'm just so excited to give myself a great chance to win this golf tournament."
By day's end, Thomas, a four-time winner on the PGA Tour, was a shot behind the leader, Brian Harman, one of a dozen players that blitzed Erin Hills with rounds in the 60s on a shootout kind of day following overnight rain that left the course soft with only its 7,818 yards as its defense – and even Thomas, the smallest of bombers at 5-foot-10 and 145 pounds, said, "You can't make courses more difficult today by making them longer. They have to have firm greens, narrow fairways and thick rough."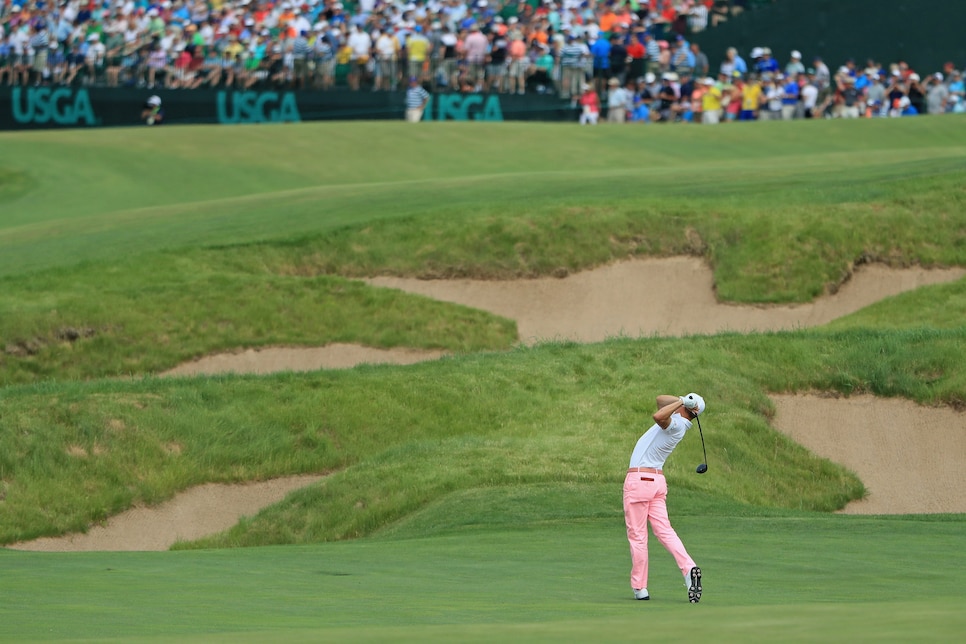 Harman is a 5-foot-7, 150-pound left-hander who has won twice on tour. At age 30, he is the oldest of the five players within two shots of the lead. Thomas is 24, Brooks Koepka 27, Tommy Fleetwood 26, and Fowler 28—causing Fowler to say, "It's going to be a really cool day for someone tomorrow. I'm looking forward to my shot at it." He saw a leader board he liked: "A lot of young guys, lot of great players—someone has a very good chance of ending up with their first major tomorrow." (That is a near-certainty. Of the first 25 players only Louis Oosthuizen, eight shots behind, is a major champion.)
Though Harman's 67 and 68s by Koepka, Fleetwood, Fowler and Si Woo Kim were extraordinary efforts on an Open Saturday, it was Thomas's 63 that electrified the Erin Hills galleries. "I was blown away by the support that I got today," Thomas said. "It was really cool, to be honest."
He earned it the hard way. A 6-iron off a sidehill lie above his feet at the third, 204 yards off a wind from the left, saved a par. It did another thing, too, perhaps more important. "Something about that shot kind of calmed me, and it made me very comfortable." Then, at the fifth, his ball sitting in the first cut off a steeply pitched green, he invented a birdie putt that only the most creative of magicians might have imagined. He putted away from the cup, on a line parallel to the hole, moving the ball two feet and allowing gravity to turn it 90 degrees right, down the incline, into the cup.
If Thomas thought he had an awesome day, he was not alone in the thinking.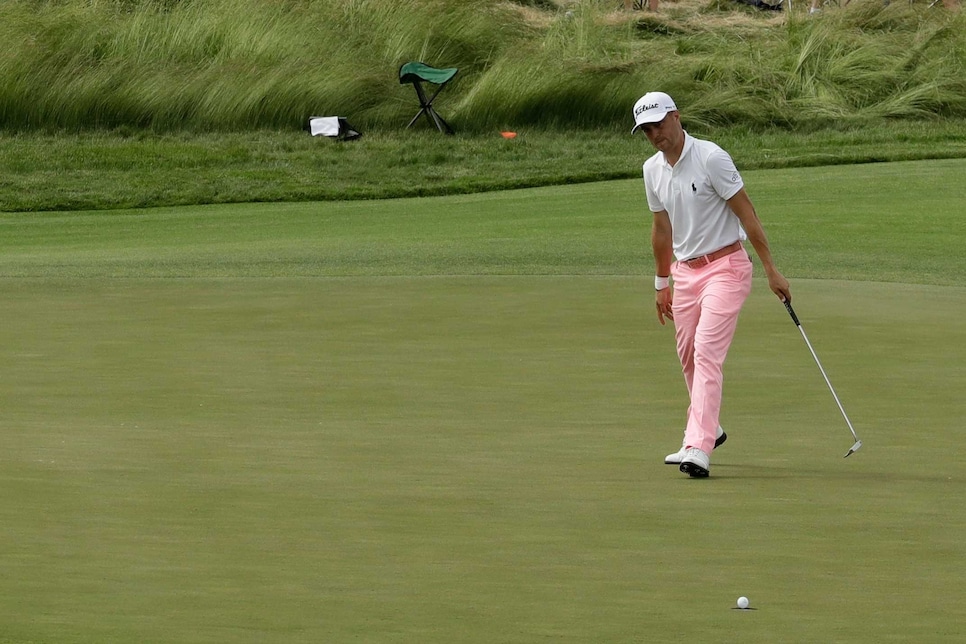 His Bahamas bro, Fowler, playing two hours behind Thomas, said, "I saw J.T. going 5 under, 6, 7, 9, 11." Still, he hadn't expected a 63, for who expects such a thing? "But that was cool to see. Definitely inspiring to see him get off to a good start and motivating to want to get myself to go out and play well."
Once upon a Hogan-Snead-Nelson time, pros shared car rides bouncing around America. The encyclopedia of golf, a.k.a. Dan Jenkins, remembers the pro Johnny Bulla, a pilot, flying six or seven players to the next stop. "They said, 'If that plane goes down, they'll have to close down the tour,' " Jenkins said. Now, it turns out, the Bahamas bros not only do vacations, they room together—sort of.
Here Fowler and Thomas are sharing a rental house, Thomas upstairs, Fowler in what he called the basement area.
And how might they celebrate tonight?
Fowler smiled brightly. "We'll have a good time," he said. "I think we'll be able to sit back, relax."