News
U.S. Open 2017: How will Erin Hills fare? One prominent local isn't even quite sure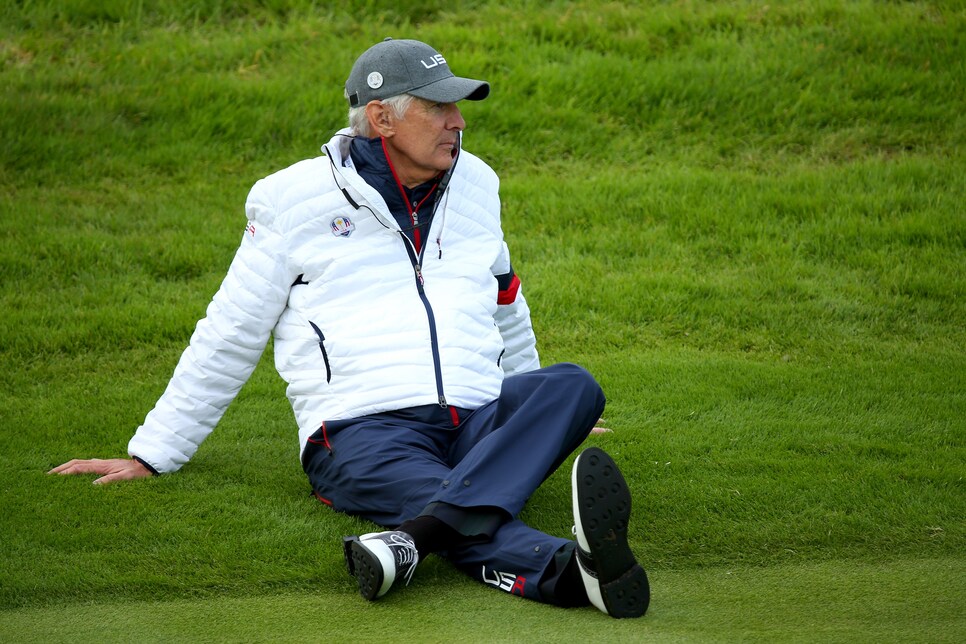 Mike Ehrmann/Getty Images
ERIN, Wis. -- Andy North played in 21 U.S. Opens during his career, winning two of them in 1978 at Cherry Hills and 1985 at Oakland Hills, so he has seen his share of courses and set ups. He's also serving as an analyst for ESPN this week. So what does he expect this week at Erin Hills, which is hosting its first U.S. Open, and the first ever held in North's home state of Wisconsin?   "Will the winning score be four over, will the winning score about 20 under?" North said. "No one has any idea.
"It's a different type of Open set up. Is it right? Is it wrong? I don't know. It's a situation to where the fairways are as wide as you've ever had at a U.S. Open. There's not any rough around the greens. And I think wind is going to have a huge impact on what happens. Yes, there's a lot of fescue out there, but you've got basically an area of 50-plus-yards wide to drive the ball to keep it out of the fescue."
Ultimately, different is the key word there.
Erin Hills is nothing like Oakmont last year, or the run of future venues that includes Shinnecock Hills, Pebble Beach, Winged Foot, Torrey Pines, The Country Club outside Boston, Los Angeles Country Club and Pinehurst.
To say North prefers what's ahead is an understatement. He's a traditionalist and most of those are classic Open tracks.
Yes, North is proud to have the national championship in his backyard but listening to him talk about a course that opened in 2006 hosting one of golf's four biggest events was … interesting.
"I think that's one of the surprises when it was announced, that here's a golf course that's so new," he said. "I've always felt like such a big part of the championship is the history that goes with it. To go to Oakmont and know that these guys won there before, that Arnold did that and Johnny Miller shot this score, that's really neat for the player. Then you actually have some idea what it takes to win there. Ideally, I tried really hard to figure out what the score I needed to shoot when I came to one of these events. And then you try to fit your game plan around trying to get to that score at the end of the week. When you don't have any idea, it makes it much more difficult."
Particularly given constantly changing weather, not to mention what tees and hole locations the USGA will use come Thursday when the championship begins in earnest.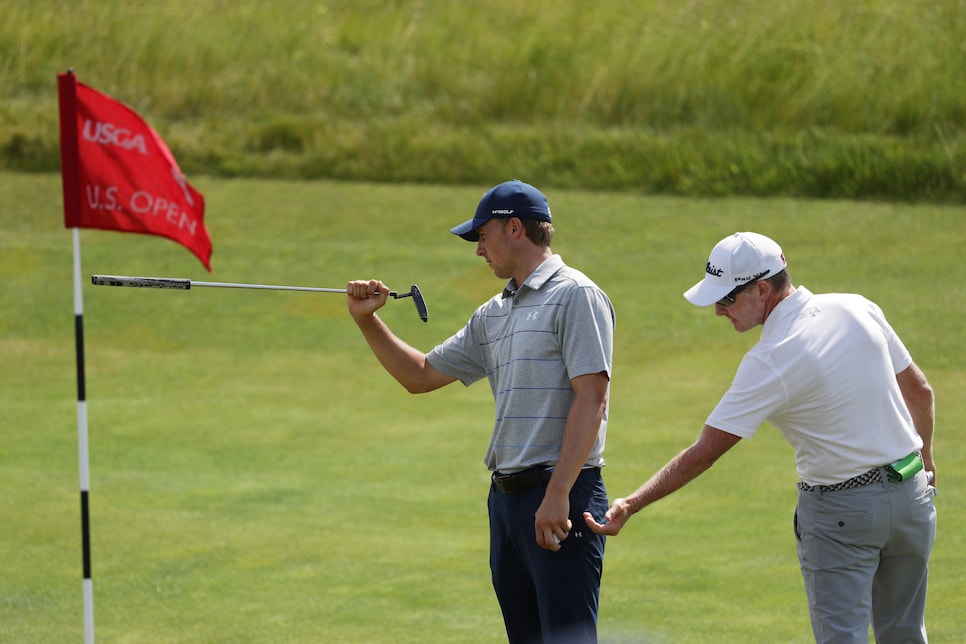 Streeter Lecka/Getty Images
A few players in the field this week have seen Erin Hills before this year. The course played host to the U.S. Amateur back in 2011. That doesn't necessarily add up, however, to any sort of advantage.
"It's weird, I don't remember much from 2011," said Jordan Spieth, who, along with Peter Uihlein, reached the quarterfinals of the championship six years ago.
What he did remember was that he won a U.S. Junior title a few weeks before; the par-5 first; and the last four holes, including the par-5 18th where he went bunker-to-bunker-to-bunker to lose his match against Jack Senior.   Coming back this year, Spieth didn't turn to old notes—he doesn't even know where they are—or re-watch the event. Instead, he started from scratch with his preparation.
It's probably a good idea given a few changes to the course.   "I needed to do some extra work," he said, working with instructor Cameron McCormack (above) during practice rounds. "That was six years ago and we didn't do the same kind of homework that I do these days with golf courses. … We just started over."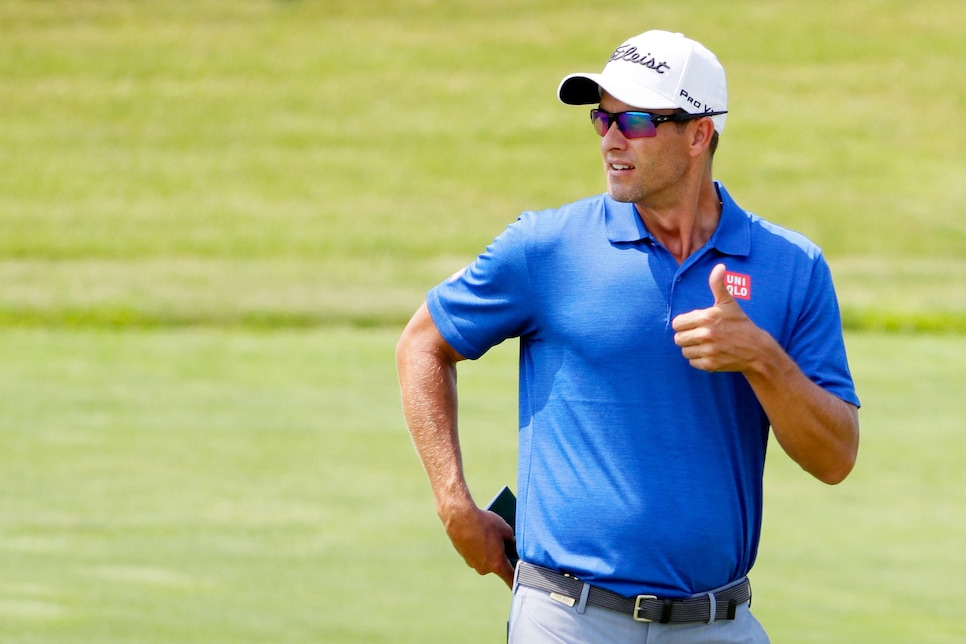 Jamie Squire/Getty Images
The last six majors have been won by players who had never previously won a major.
Winning the first one is tough. Getting the second can be easier, or harder, depending who you ask. Only 37 players have won two career majors, compared to 135 one-timers.
Adam Scott won his first major four years ago at the Masters. It came at age 32 and after more than a decade on tour. He's still waiting for his second.
"My real focus on actually believing I could win a major was cut short, even though it took me a long time," Scott said Tuesday from Erin Hills. "It was only in '11 that I really started performing well in majors and I actually had a real belief inside me that I would do it. So it was only a couple of years, and it's been longer than a couple of years since I won the Masters.
"I wouldn't say I'm frustrated, but if we're having this conversation in another year, maybe."
Scott has taken a different approach recently in an effort to add his name to the list of multiple-major winners, playing the week leading into a major as opposed to taking it off like he has done in the past. In the first major of the year, he tied for ninth at the Masters.
"I'm seeing progress in my game where I want it," Scott said, noting the sharpness of his long irons. "This is the week I want to peak. I'm glad to see my long game at the level I like to see it, especially here at this course where it will be tested more than anywhere else this year probably. And generally my short game improvements this year have been good. So it would be a great week to put it all together and show those improvements in my short game when it's needed around here."
As for the trend of first-timers? It's anyone's guess.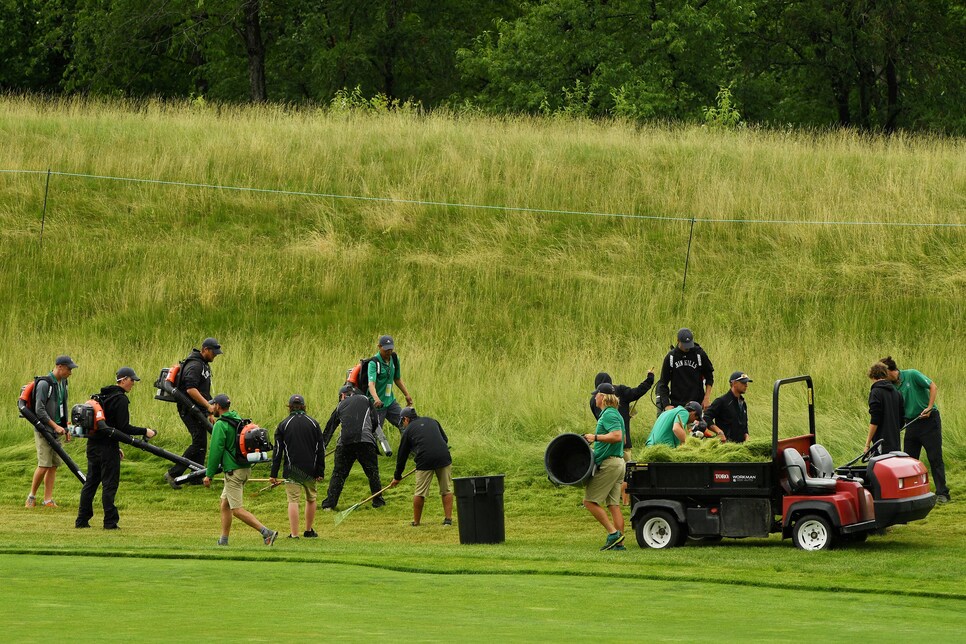 Ross Kinnaird/Getty Images
Reaction to the USGA mowing fescue Tuesday on holes 4, 12, 14 and 18 ran the gammet. "Really?!" said Rory McIlroy. "We have 60 yards from left line to right line. You've got 156 of the best players in the world here, if we can't hit it within that avenue, you might as well pack your bags and go home." Added Jason Day: "I think they needed to because it was getting a bit out of control in some spots." The USGA's response was that it was done as part of the plan based on weather conditions. They didn't say it, but they also want to avoid controversy and a parade of lost balls, an image that in talking to Paul Azinger the USGA did not want to have. …
Some are still holding out hope that Phil Mickelson could attend his daughter's graduation and make it to Erin Hills in time to play a "weather-delayed" Thursday afternoon round. Maybe the golf gods will reward a guy who has finished second six times in this event, but it seems unlikely given the forecast. …
Under par, probably more than a few under par, will win this year's U.S. Open.
Erin Hills isn't just a big ballpark, it's a huge piece of property. It's a long walk and you can expect rounds the first two days to stretch near the six-hour mark. With that in mind, look for the power hitters to have an advantage: Dustin Johnson, Rory McIlroy and Jason Day all come to mind. McIlroy is coming off a month-long layoff, though, and Day seemed to have trouble gauging some of his sightlines on the featureless horizon where landing areas appear tighter than they are. That leaves Johnson, a player who doesn't overthink it and is a terrific ball-striker as well. This place seems made for him.