News
U.S. moves six points ahead, only 2 1/2 points short of victory in the Walker Cup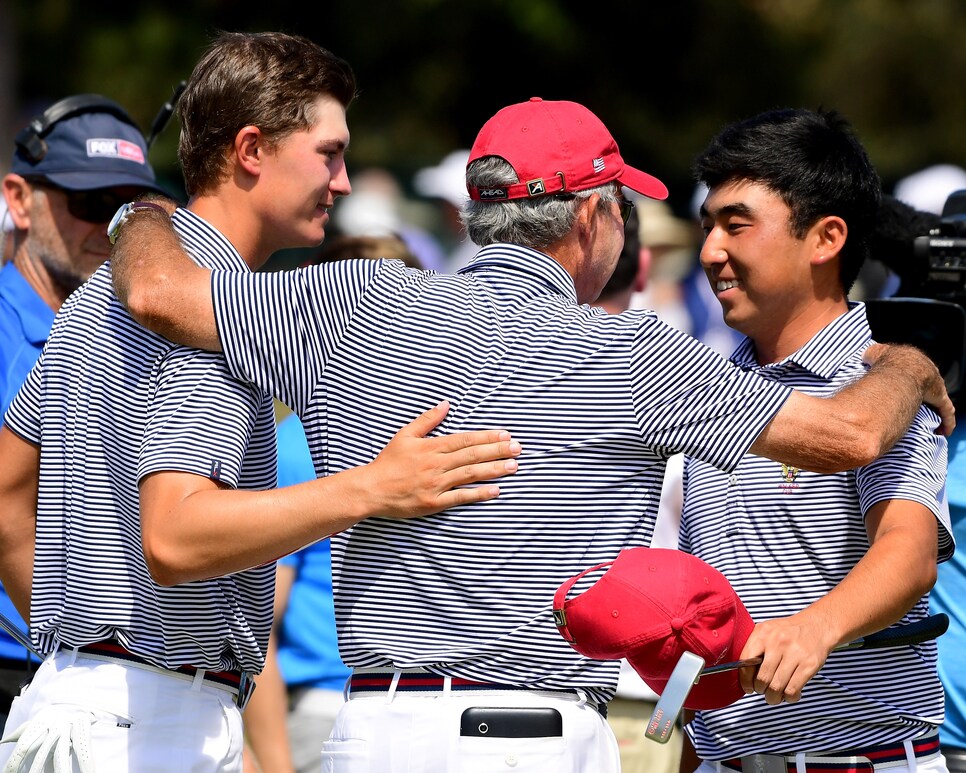 LOS ANGELES — Mathematically, the Great Britain & Ireland team still has a chance, but this isn't a calculus exam. Realistically, the Walker Cup is over.
The United States won three of four matches in Sunday morning's foursomes at Los Angeles Country Club to expand its lead to six points, 11-5. It now needs only 2½ points from the 10 singles matches to be played Sunday afternoon to win the cup.
"We have got a big task ahead of us," GB&I's Scott Gregory said. "But there's more points on the board than we need, so we just need to go out there and get points straight away, get up early and try and rattle them a little bit. It's not going to be easy, but it's possible."
Great Britain & Ireland has not won the Walker Cup in the U.S. since 2001.
Americans Will Zalatoris and Cameron Champ posted the most lopsided victory, 6 and 5, over David Boote and Jack Davidson, a margin of victory that parallels the dominance the U.S. team has demonstrated in this competition.
A foursome of Americans remained undefeated in the matches, running their records to 3-0. Norman Xiong and Collin Morikawa defeated Connor Syme and Paul McBride, 2 up, while Maverick McNealy and Doug Ghim defeated Matthew Jordan and Robert McIntyre, 3 and 2.
"We didn't come out here like it was going to be an easy match," Morikawa said. "Those guys were coming for us. We kind of went back and forth with them and then got a little ahead."
Only the American team of Braden Thornberry and U.S. Amateur champion Doc Redman lost on Sunday morning, 2 up, to Jack Singh Brar and Gregory.