News
U.S. dominates Concession Cup, defeats Great Britain & Ireland, 23 ½ to 4 ½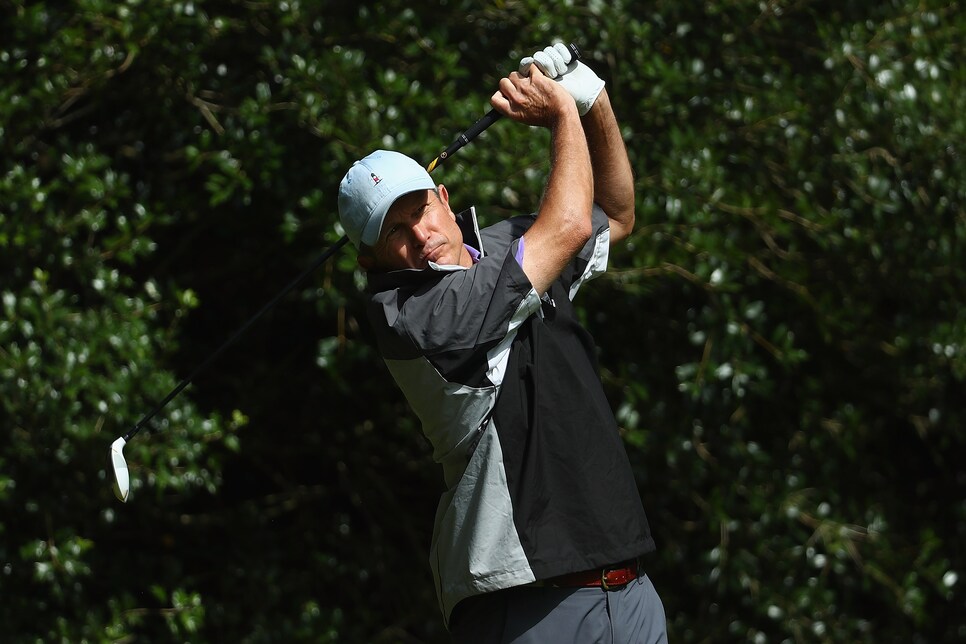 BRADENTON, Fla. – Peter McEvoy wasn't inclined to make excuses.
The captain of the Great Britain & Ireland team in the Concession Cup, McEvoy had just watched his squad battle valiantly but all too much in vain against a loaded United States squad, and the outcome was as predictable as it was emphatic, a 23 ½ to 4 ½ American victory at The Concession Golf Club that kept the Sir Michael Bonallack and William Campbell Trophy in American hands for another two years.
Needing just two points Saturday among 14 singles matches to win this biennial amateur team event for the third time in as many tries, the U.S. poured it on by winning 11 points, including miraculous rallies by Paul Simson and Matthew Sughrue that underscored the arduous task facing the visiting squad throughout the three-day competition.
"We suffered a heavy defeat, but I have to say that I was really proud of my team for the way they hung in," McEvoy said. "It's no disgrace to have lost to a team like the United States team were this week. He [U.S. captain Vinny Giles] did warn us at the beginning of the week that he had a particularly good team, and I cannot believe there has ever been a better United States team representing these age groups, ever."
Fashioned after the Walker Cup, the Concession Cup is confined to teams comprised of Mid-Amateurs and Senior Amateurs, and the U.S. side was as decorated as they come. Giles, a fielded a squad that included the last three U.S. Mid-Amateur winners – Matt Parziale, Stewart Hagestad and Scott Harvey – five-time USGA winner and three-time Walker Cupper Nathan Smith, Todd White, who won the inaugural U.S. Four-Ball Championship with Smith in 2015, and reigning Senior Amateur champion Sean Knapp.
Handicapping the GB&I side was its third trip to The Concession Club at a time of year when its members haven't begun their golf season. Furthermore, they aren't used to the hot weather, and there's the time change to consider, too.
"To be honest I don't want to make any excuses. We were simply outplayed, and that happens," McEvoy said. "We didn't play badly at all, but they just played magnificent golf. And that's really what it came down to, nothing more."
"These guys are so good … just a ton of talent, and they all played well," Giles said of his squad. "Good gracious, we had as strong a team as we could possibly put out here at this level."
Simson, a two-time U.S. Senior Amateur winner from Raleigh, N.C., scored the clinching point for the Americans by winning the last three holes for a 2-up victory over Adrian Morrow of Dublin, Ireland. "Today, we were in a good position, obviously, to win," Simson said, "and I thought maybe I could get that winning point, which is really cool."
Simson's effort was nothing compared to the fast finish by Sughrue. The Arlington, Va., golfer was 4 down to Ireland's Garth McGimpsey but won the last six holes for a 2-up win.
"I'm very proud of the way I played down the stretch," Sughrue said. "I'm going to use this someday down the road. If I get in a tough spot I'll think about this day, how it's important to never give up."
The next challenge in the Concession Cup is staging it overseas. All three have been held at The Concession Club, and after three decisive U.S. victories, it appears the time has come for the matches to move across the Atlantic.
"It has to," Giles said. "In my opinion it has to go overseas to maintain credibility. But we have to go over there and see how we fare and see what this GB&I team can do when they get to play at home."
McEvoy couldn't agree more. "All of these types of matches are meant to be home and away, and I think in order to strengthen the event we should be hosting the next one," McEvoy said. "It's a wonderful event, and we love coming over here. It's a great facility, great weather. But perhaps it is time that we play in a sideways sleet and see what happens."