News
U.S. Amateur: The only thing crazier about that 24-man playoff at Pebble Beach was the way it ended
Following 36 holes of stroke play on Monday and Tuesday at Pebble Beach and Spyglass Hill, 63 players had safely advanced to the match-play portion of the U.S. Amateur, which was set to begin on Wednesday. But first, the final spot had to be determined in a wild, 24-man playoff for ONE spot on Wednesday morning, and the only thing crazier than the amount of guys in the playoff was how it ended.
Those expecting an all-day affair did not get their wish, as the playoff took under two hours to complete. It began at the par-3 17th at Pebble Beach, where players went out in groups of four. With the pin tucked away in the back left portion of the difficult green (think, Tom Watson chip-in territory), birdies would be at an absolute premium, and par would feel like a good enough score to advance. Four players in the first two groups did make par, but they were promptly eliminated when Jacob Bergeron, who just announced he's leaving LSU early to turn pro per Golfweek, stuck his tee shot to within five feet and made the only birdie out of the first 12 players. Check out how close he was courtesy of the USGA's periscope of the playoff: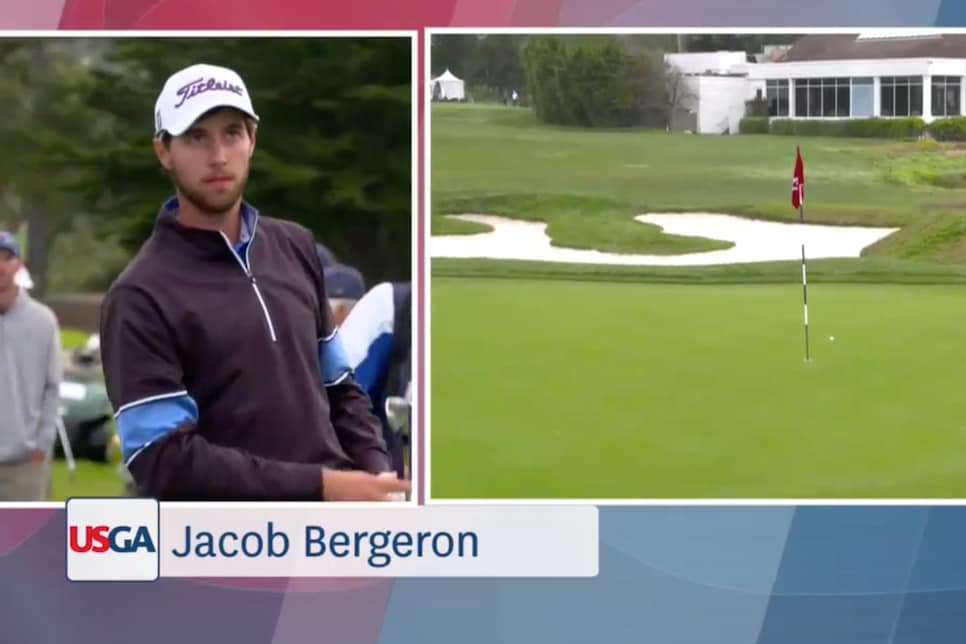 Bergeron, who shot a 33 on Spyglass Hill's back nine just to get into this playoff, could now breathe easy, barring an ace from one of the final 12 players. A two at the very least locked him in for another hole, and it was nearly good enough to get him the final spot as all eight players in the next two groups failed to make a birdie.
With one foursome/bullet left to dodge, Bergeron had to like his chances. That's when Peter Kuest, who earned a spot in the playoff by making birdies at the 15th and 17th holes at Pebble Beach on Tuesday, stepped to the 17th tee with a 5-iron as the last man of the 24 in the playoff. The last guy! Kuest hit his 5-iron to here: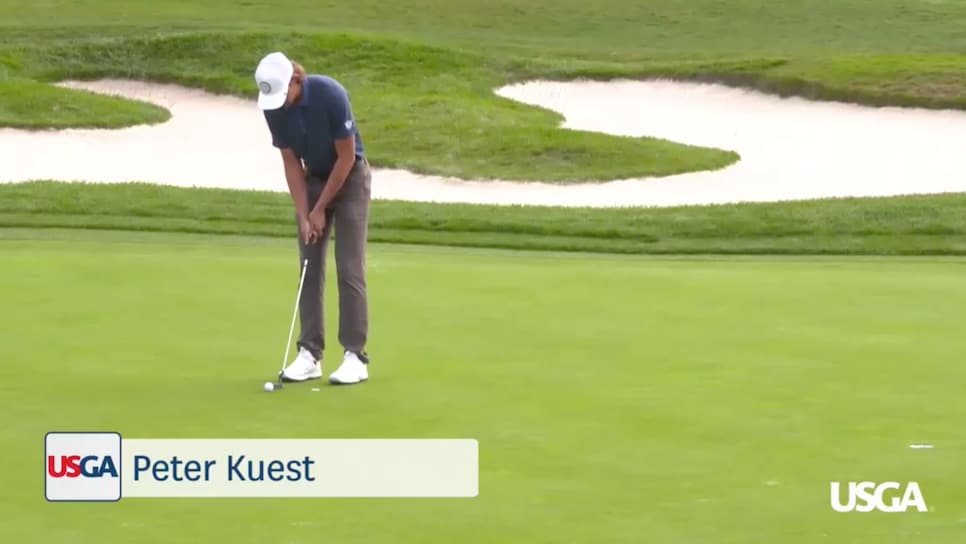 Much to Bergeron's chagrin, Kuest made the putt. Talk about CLUTCH: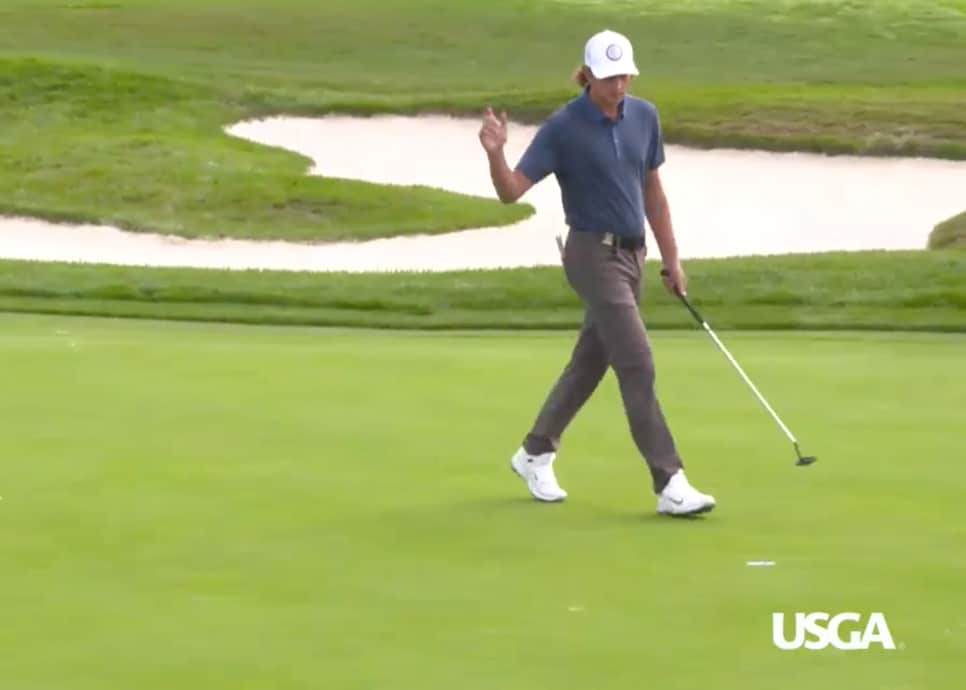 Just like that, what was expected to be a marathon playoff was down to the final two players, Kuest and Bergeron, and they provided even more drama at the par-5 18th hole. They both found the fairway, each putting themselves in prime position. Here's where they ended up (Kuest's drive on the left):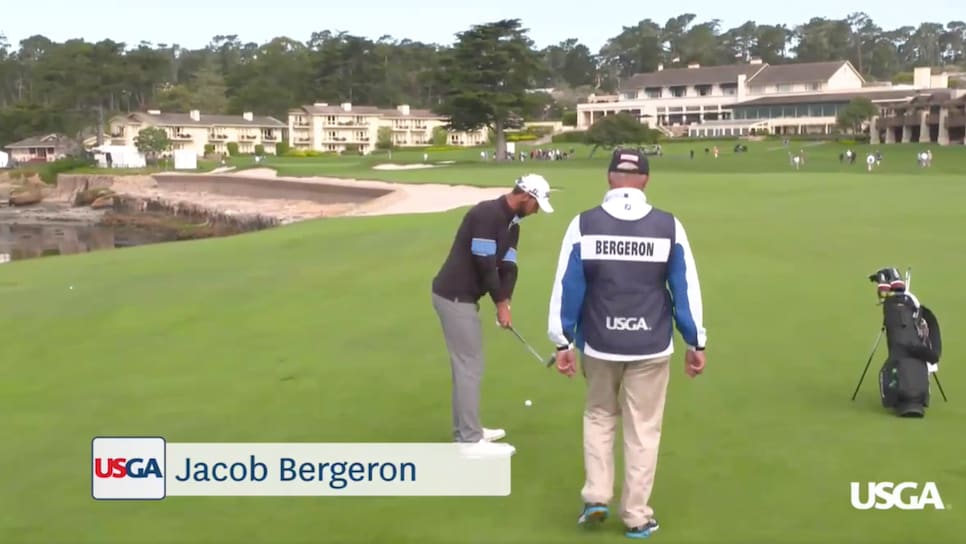 Bergeron went with the safe play, laying up, but it ended up costing him, as his ball came to rest behind the tree right of the 18th green setting up this difficult look: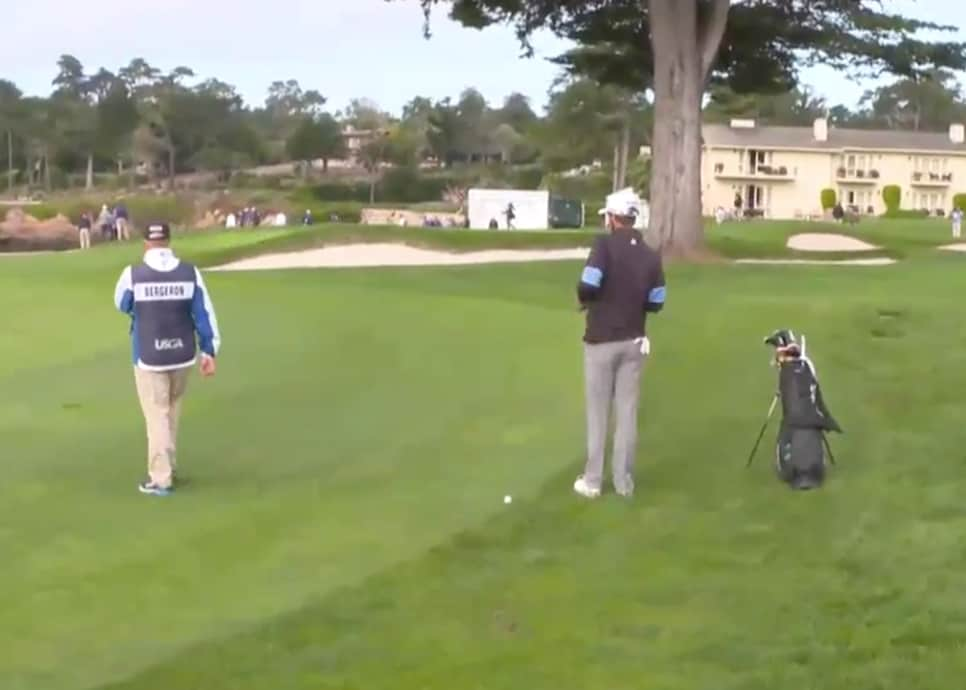 From 206 yards, Kuest went for the green and pulled it into the Pacific:
As Kuest weighed his options and went back into the fairway, Bergeron hit first, playing an extremely safe shot away from the tree and the bunker and chipping it back to the center of the fairway to get a better look at the flag for his fourth. Kuest had been preparing to play from a drop zone all the way behind the bunker down the left side during this time, but Bergeron was still supposed to go first because of where Kuest's ball went in the hazard, not where he was dropping it, meaning that technically Bergeron was away. That set the stage for Kuest to play his fourth shot from here, and ended up just short of the green: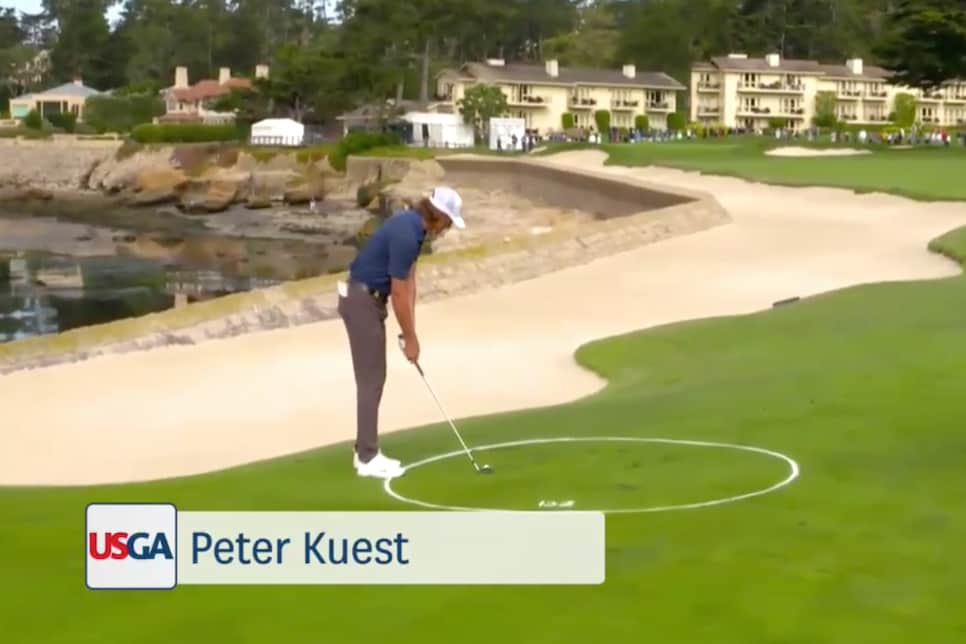 So now Bergeron was playing his fourth from here after his safe play, while Kuest's fifth was from short left, which you can see in the top left corner: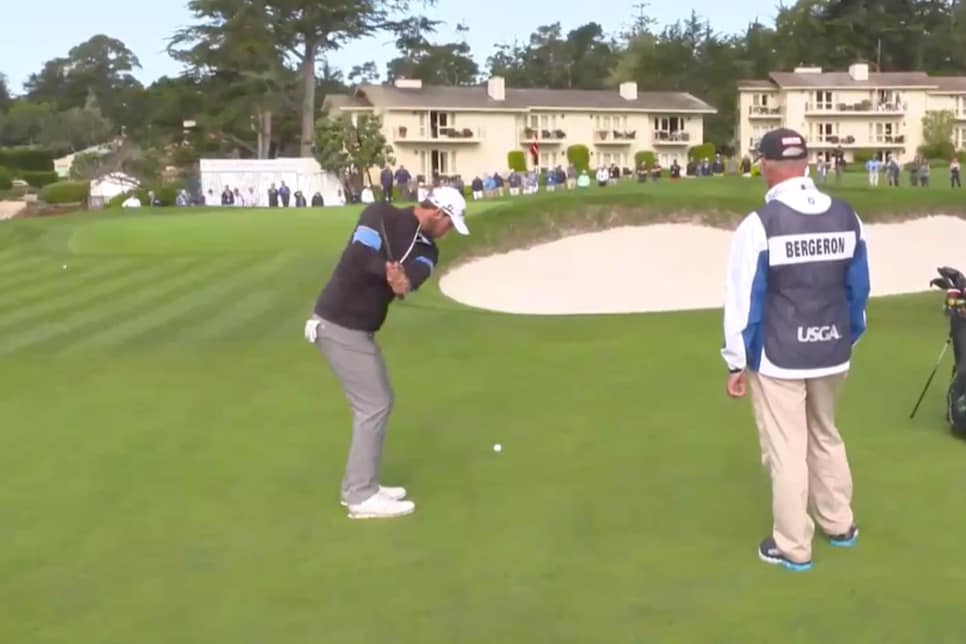 Bergeron played his chip above the hole, leaving him a testy putt for par and giving Kuest a chance to hit his fifth shot close to really add some pressure: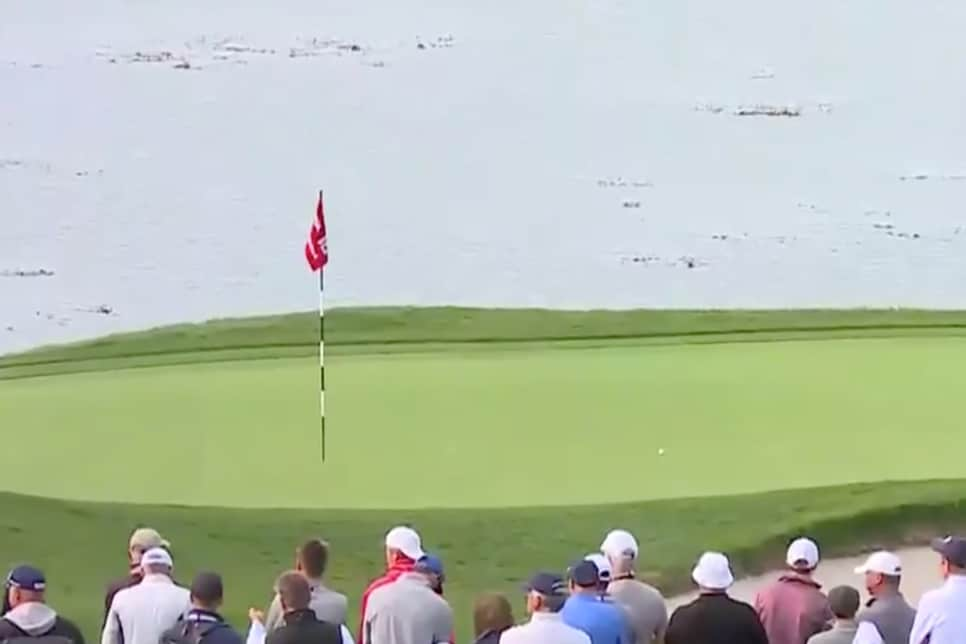 Here's what Kuest did with his fifth: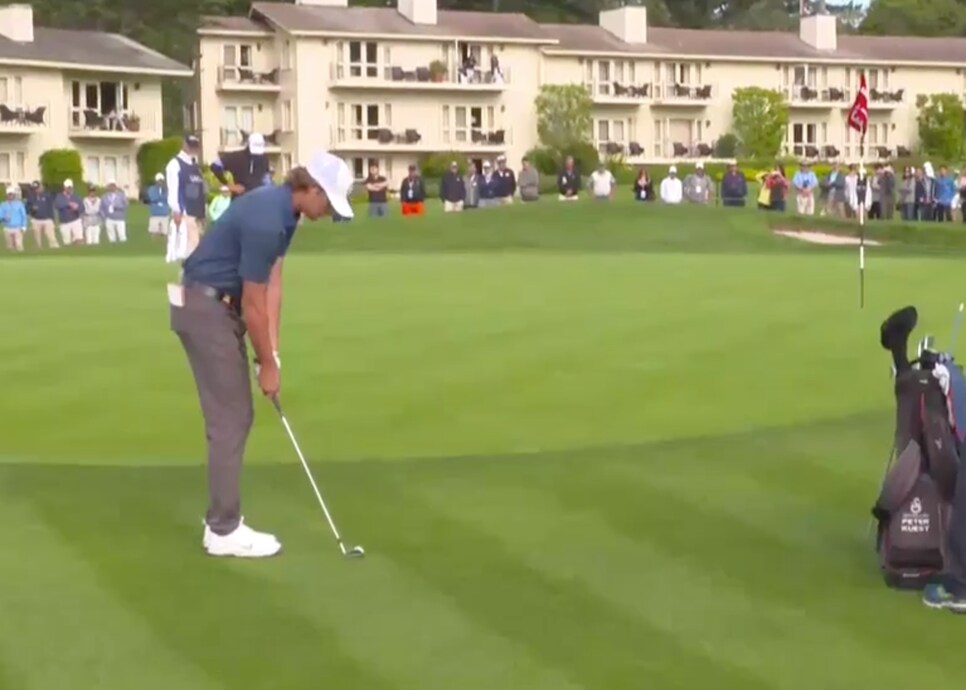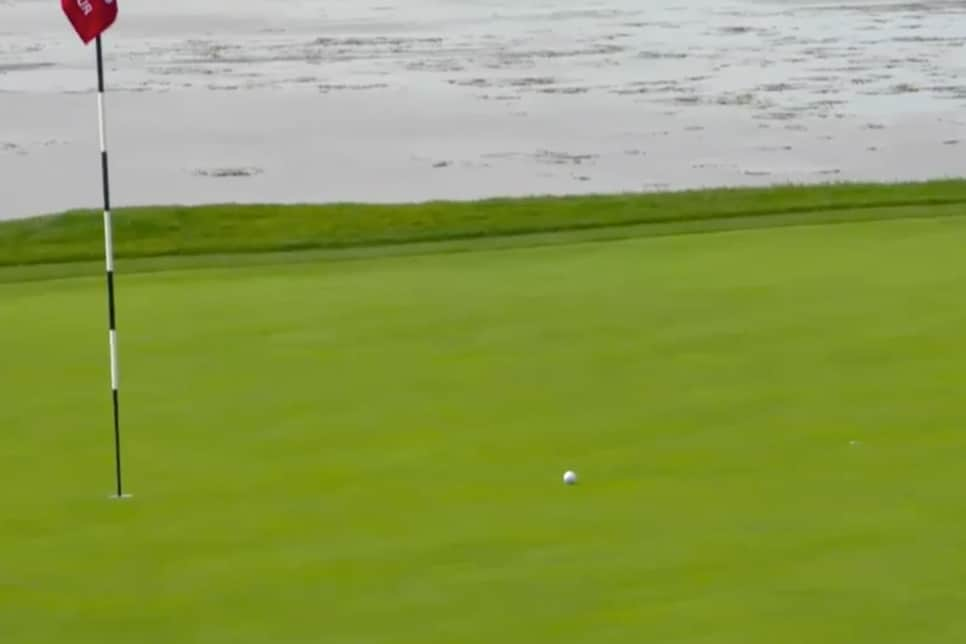 Bergeron missed his putt, leaving himself a tap-in for bogey that he marked. Kuest pretty much had to make his, and he lipped out and missed the next for an unfortunate triple-bogey 8 to end his hopes. Painful: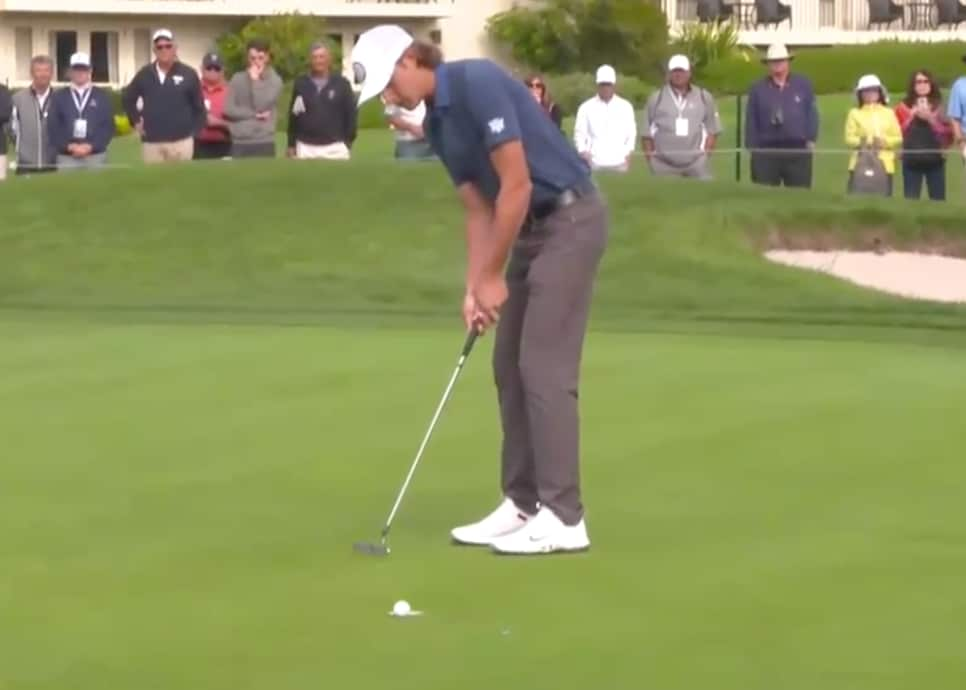 That miss allowed Bergeron to tap in, meaning a bogey eventually won the 24-man playoff. Bergeron will now have plenty of time to relax, as he goes off in the final match of the day at 2:10 p.m. West Coast time. He'll face off against New Zealand's Daniel Hillier, the No. 1 seed that carded rounds of 67 and 70 in the stroke-play portion of the bracket, tying Cole Hammer for first. We'll see if Jacob can keep this magical run going.