BLOOMFIELD TOWNSHIP, Mich. — Curtis Luck had just begun the afternoon 18 of the championship match on Sunday at the 116th U.S. Amateur about as miserably as you could imagine. In the right rough off the tee on the match's 19th hole, the par-4 first at Oakland Hills Country Club's South Course, the 20-year-old Australian chunked his second shot, the ball advancing a mere 40 yards and staying in the rough. He then sniped his third over the green and stubbed his fourth barely on to the putting surface. Rather than risk doing more damage with his putter, he conceded the par putt of his opponent, Brad Dalke, and walked off 1 down.
At that moment, Luck heard a voice offer some meaningful, albeit straightforward, advice.
"OK," said Stuart Luck, Curtis' 46-year-old father who doubled this week as his caddie, "now we need to play some good golf."
The brief moment of levity—"He usually likes being very obvious with his statements out on the golf course," Curtis would say later—helped the No.7 ranked amateur in the world shrug off the stumble and re-set himself.
Curtis proceeded to listen to his old man. On the 20th hole (the par-5 second), he reached the green in two and rolled in a 15-foot eagle putt to square the match.
On the 21st hole, Luck won again, this time with a two-putt par, to go 1 up.
And then he won again on the 22nd hole, and the 23rd, and the 24th, and the 25th, and the 26th, and the 27th.
As the two were walking down the 28th fairway, Luck with a commanding 7-up lead, it finally hit the soon-to-be Amateur champion what had just happened, the astonishing run he had gone fueled by two birdies and five pars, and which turned the 36-hole finale into a blowout.
"I thought, 'Hang on, I'm 7 up, and I was 1 down through the first hole of the second 18,' " Luck said. "I turned to dad, and I said, 'I've just won eight holes in a row,' and Dad said, 'Yep, you've got to win a few more in a row, too.' "
While Dalke, a 19-year-old rising sophomore at the University of Oklahoma, finally snapped the streak, winning the 28th and 29th holes, it was too little, too late. The outcome wasn't in doubt, just the final score, which turned out to be, 6 and 4.
Afterward, Dalke and Luck both pointed to the 25th hole as the pivotal point in the match. Four down after losing the previous five holes, Dalke hit his drive on the par 4 into the rough but slugged his approach out of the dicey lie to four feet, receiving huge applause for the large gallery that hoped the match wouldn't become a runaway.
"It was ridiculous how good that shot was," Luck said.
Luck, meanwhile, hit his approach from the fairway to 22 feet. It appeared Dalke would finally stop the bleeding, but instead Luck rolled in his birdie effort. The classic match-play reversal was complete when Dalke missed his short try.
"I was just kind of waiting for that one spark to happen, because 4 down is attainable. You can come back from 4 down," Dalke said. "I was just waiting for that spark, and I thought that might be it. Then he made a great putt, and I misread the putt, and all of a sudden I lose the hole and I'm 5 down. I think that was a turning point in the match for sure."
As he watched his son win the biggest amateur prize of his career, becoming just the third Australian ever to win the title and the sixth international winner in the last 10 years, Stuart smiled but didn't shed any tears. "It probably would have been more emotional if the match had been tighter," said Stuart, who works as a wholesaler back in Perth. "But I like this better. It gave us some time to savor this."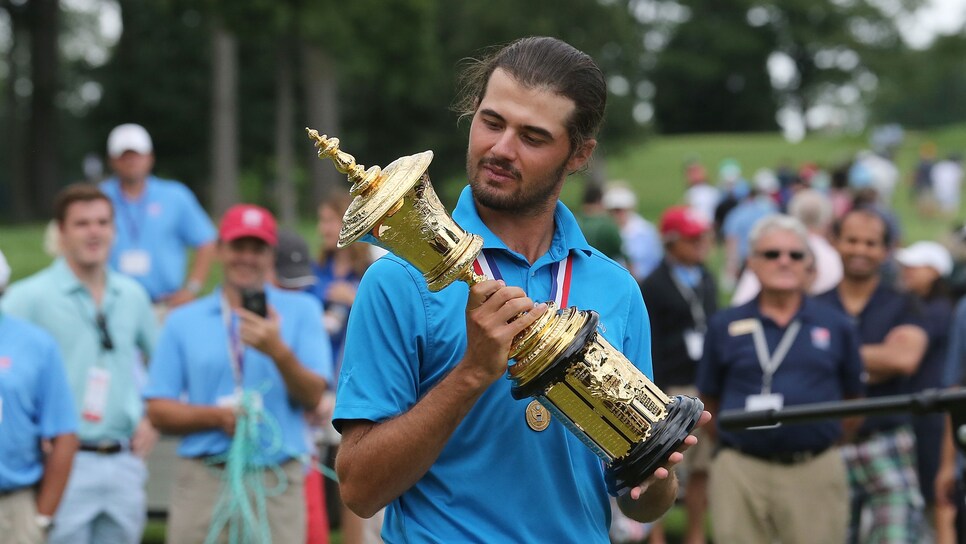 The Lucks had considered hiring a local caddie, but decided Stuart was the better fit. He and his wife, Jody, were always planning on coming to the tournament, first stopping in Canada for a mini-vacation, then flying with Curtis and Stuart's parents to Michigan.
"A local would have course knowledge, but Curtis is his own guy out there, and probably wouldn't listen to him anyway," Stuart said. "It's better to have me to push him along, somebody he can kind of yell at if he needs to."
Curtis is quick to recall the first time Stuart looped for him, taking the bag at a junior event in Australia when he was 11 or 12.
"So first of all, they got lost, my parents, on the way down there, so I rocked up to my tee time very late with only like 20 minutes, 25 minutes to spare," Curtis said. "Dad felt so bad that he went and bought me some balls to use for the day. We went out, and the day got called off two or three separate times because of bad weather, and I had the highest score I think I've ever had to this day.
"It was a great day" Curtis added. "It was sensational. I enjoyed it a lot, and I walked off the golf course in tears."
More recently, Stuart caddied for his son in June at the ISPS Handa Global Cup, a Japanese Tour event in which Curtis finished T-5, tying Charl Schwartzel and beating Padraig Harrington and Victor Dubuisson. The event was just a few weeks after Curtis had won the WA Open on the Australasian Tour, a victory that helped Luck decide in his mind he was ready to turn pro later this year.
"It's fun to be with him out there," Stuart said. "It's been great to watch him mature as a golfer."
Curtis was equally grateful to spend the time on the course with his father.
"To share this experience with him here this week, I'm thankful that I wasn't crying on the last hole today," Curtis said. "It's just unbelievable sharing it with my family."
There will be more now to come. Rather than turn pro, Luck will hold off to take advantage of the spoils of winning the U.S. Amateur title, specifically his invites to the Masters, U.S. Open and Open Championship.
Stuart says he won't likely be on the bag for those tournaments. But there's a safe bet on who might be lending a hand during a certain Par-3 Contest at a certain tournament come next April.