Amateurs
This heartfelt story will have you rooting for Oakmont's unknown U.S. Amateur medalist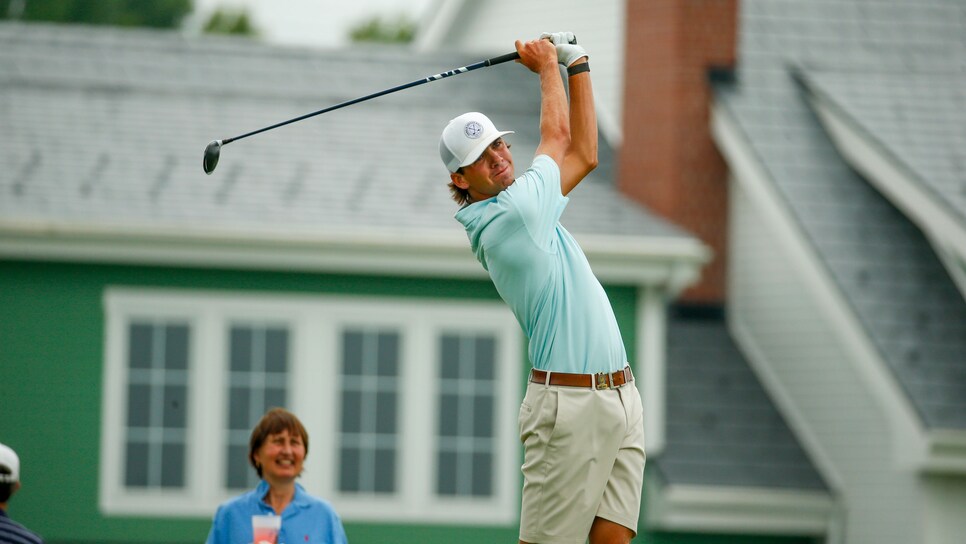 Mark Goetz hits his tee shot on the 10th hole during the second round of stroke play at the 2021 U.S. Amateur at Oakmont Country Club.
Justin Aller
OAKMONT, Pa. — The question washed over Mark Goetz as he stood on the terrace outside Oakmont Country Club late Wednesday morning, a handful of reporters interviewing the newly minted medalist at the 121st U.S. Amateur Championship as darkening skies swirled in the distance.
"What's the biggest tournament you've ever won?"
The 23-year-old senior-to-be at West Virginia University paused a few beats, his wrinkled eyebrows an outward sign of the gears grinding inside his head. The effort wasn't because Goetz has an abundance of victories to choose from. On the bio sheet he filled out for the USGA, under playing record, he lists just three "firsts": the Western Pennsylvania Amateur in 2019, the WPGA Open in 2020 and the Mountaineer Invitational in 2021.
There are a handful of reasons to root for Goetz this week as he moves on to match play in the USGA's oldest championship (Mother Nature willing). He lives 40 minutes from Oakmont in Greensburg, Pa., so locals will appreciate the son of the Keystone State representing (expect a flood of folks from Hannastown Golf Club, which had four players qualify for the U.S. Amateur this year, to be onsite and cheering him on). When nightfall interrupted his second round of stroke play on Tuesday, he didn't hesitate to pull out of Oakmont's parking lot and pull into a McDonalds a few miles away for a quick dinner. And, most importantly, there is no visible sign of a chip on the either of his shoulders.
But arguably the best reason to root for Goetz was the answer he gave to the question at hand.
"I'd have to say it's the college one I got this past year," he explained. "College golf for me has been very, very difficult. I was very fortunate to get the opportunity to play at West Virginia. I was not heavily recruited. And I pretty much went from square one there. I had to earn my spot and prove myself. I really wasn't on a scholarship up until my sophomore and junior year."
Each year you watch a batch of 18-to 22-year-olds playing in the U.S. Amateur, their games crisp and sharp, their swings dialed in, their destinies seemingly already defined. You see Viktor Hovland go from holding up the Havemeyer Trophy at Pebble Beach in 2018 to being a two-time PGA Tour winner 28 months later, or Collin Morikawa winning two major championships two years after turning pro, and it all looks so easy.
But it's not, not for many in the field at Oakmont. The 312 players competing this week all have supreme talent to qualify for the biggest amateur golf tournament in the world, but they aren't all world beaters.
"Going from square one, to being left at home [not in WVU's starting lineup] and really struggling, to being able to get a win in college and helping my team out, it's kind of like comeback complete in a sense," Goetz said. "That did a lot for me, for sure."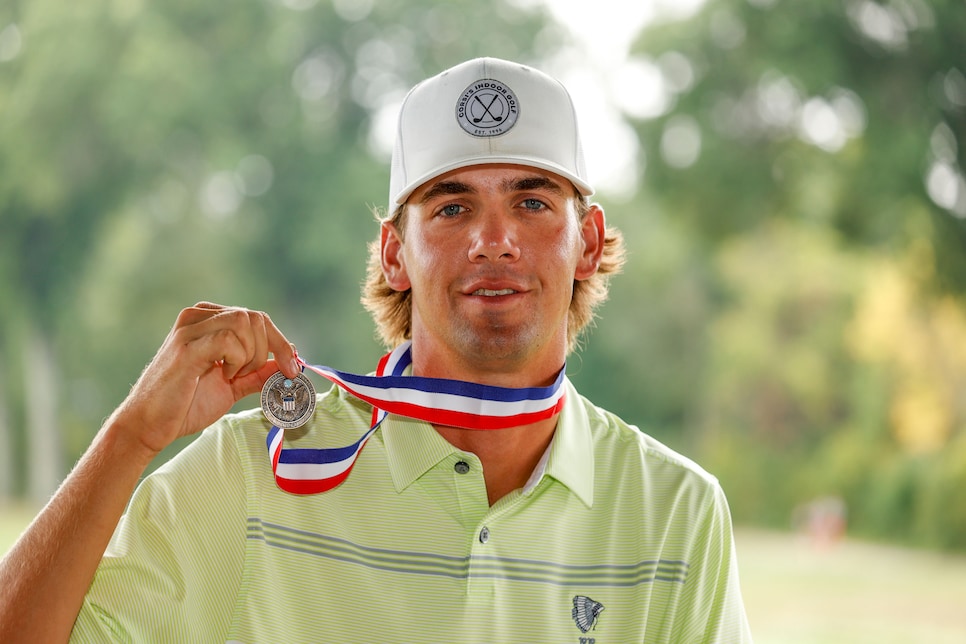 Goetz poses with his award for being medalist after 36 holes of stroke play at the 121st U.S. Amateur.
Chris Keane
So now the fun begins. With a newfound confidence, and a medal in hand for shooting an eight-under 132 in stroke-play qualifying—making just one bogey over 36 holes (the par-4 fifth hole at Oakmont when he returned to play on Wednesday morning)—Goetz heads to match play hopefully unaware that no medalist has gone on to win the championship since Ryan Moore did it in 2004.
Living so close to Oakmont has afforded him a handful of rounds on the brutally difficult W.C. Fownes track, enough to gain some local knowledge that could prove handy before the week is done. That and his incoming group of followers can hopefully counteract the negative medalist mojo.
After his interview, Goetz waited to see who his first-round match play opponent would be. But another rain storm delayed the start of the Round of 64 and the 12-for-1 playoff for 64th spot for nearly four hours. Eventually, Sweden's David Nyfjall advanced to match play, and he and Goetz started their match at 7 p.m., grateful to get in at least a few holes. When darkness ended play again, the duo was tied through four holes.
So Goetz waits for Thursday, anxious to see just how long he can make this dream week last. What he's got going for him is this: Dark skies have followed him before. But he knows the sun can come out again