Amateurs
James Piot takes 1-up lead in ragged start to U.S. Amateur championship match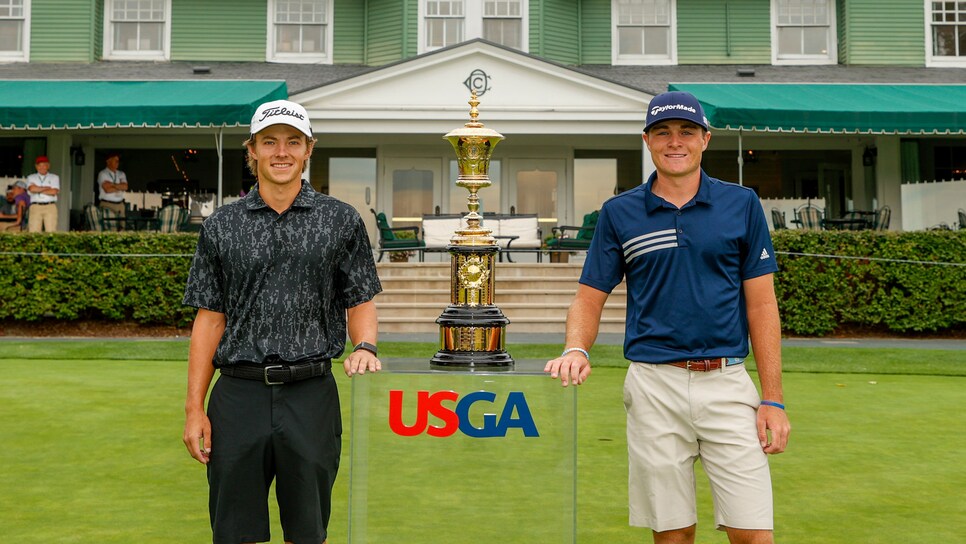 James Piot and Austin Greaser pose with the Havemeyer Trophy before the start of the final match at the 2021 U.S. Amateur.
Chris Keane
OAKMONT, Pa. — Seven rounds in six days, with more than 10 hours of rain delays mixed in, while playing a becoming-treacherous-again Oakmont Country Club, appears to finally have caught up with Austin Greaser and James Piot. The finalists in the 121st Amateur both struggled finding fairways and greens in the opening 18 holes of the scheduled 36-hole championship match Sunday.
Piot holds a 1-up lead despite shooting the stroke-play equivalent of two-over 72. The 22-year-old fifth-year senior at Michigan State won the ninth, 10th and 11th holes to go from 1 down to 2 up, then lost the 12th, 14th and 15th to fall back to 1 down, before winning the 16th and 18th to retake the lead. All told, just seven of the opening 18 holes were halved.
Over the first nine holes, just one birdie was made between the pair, Greaser holing a bunker shot on the par-4 fifth hole.
Piot got the first of his two birdies after sticking his approach on the par-4 11th to 15 feet but having it conceded when Greaser was in with bogey. His second birdie was also a conceded putt, this time though from four feet after Greaser three putted from 45 feet.
Through his first five matches this week Greaser, a 20-year-old rising junior at North Carolina, trailed for just six holes, never being more than 2 down. But he trailed on five holes during the opening 18, shooting the stroke-play equivalent of five-over 75.
After days of thunderstorms taking much of the fire out of Oakmont, the course looked as if it was finally becoming its old normal self. To wit, on the par-4 337-yard second hole, Greaser used driver and hit it roughly 15 yards short of the green. His wedge approach chased up to about seven feet from the hole, but not high enough to avoid catching the slope on the false front and rolling 15 yards off the green. His third shot also got within six feet but rolled back to 25 feet. A three-putt from there resulted in his first double bogey of the week.