The Loop
Up for Auction: Vintage Oxford Golf Spikes
eBay, the Interweb's premier market place, is an absolute gold mine for golf gear. I've scored everything from vintage visors to mint condition 3-woods on the site and I'd like to start sharing the fruits of my foraging with the GolfDigest.com community. "Up for Auction" is my periodic installment of wacky to worthwhile golf auctions that may just pique your interest. However, like the amateur golf swing, reliable and repeatable eBay is not. The electronic bazaar is often flush with quantity but short on quality. As such, I endeavor to comb the crap so you won't have to. Check in early and often to see what's trading.
Black/White Vintage Oxford Golf Spikes, Men's Size 8 E__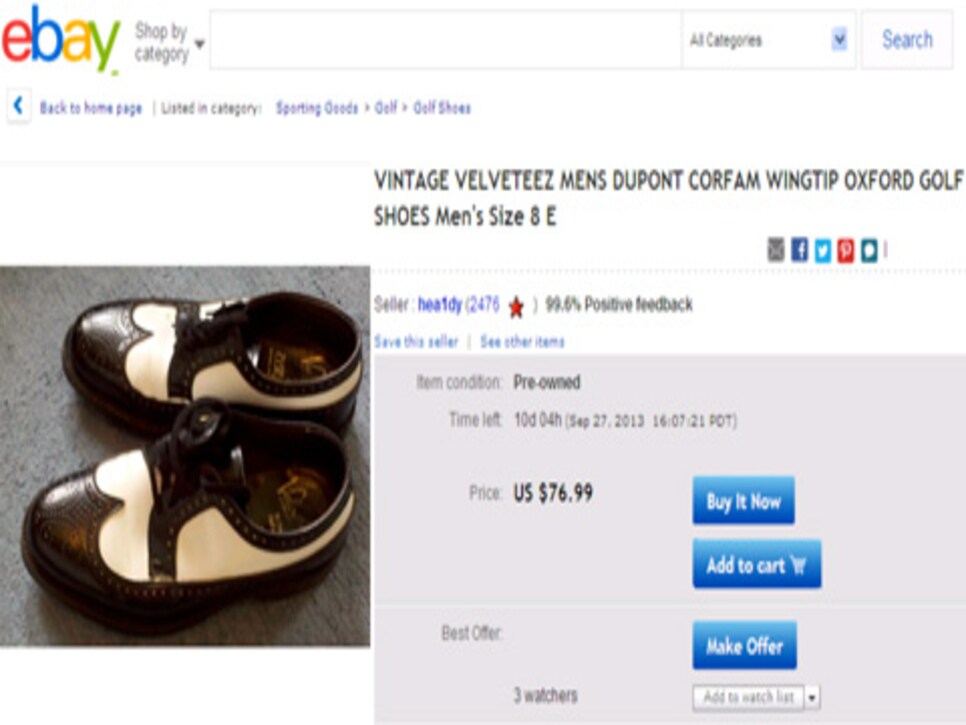 If you've got diminutive feet and colossal confidence I'd consider throwing your hat in the ring for these swanky spectators (pictured above).
The shoes look like they're in great shape and, the patina of age may be their greatest virtue. When these originally came out of the box, likely in the early '60s, the leather was probably polished to a show-stopping shine. Over time, the leather softened in tone and texture creating truly saturated colors. These are already fitted with soft studs and won't cause any issues at your local club, which likely doesn't allow metal spikes. The shoes ship in their original box and come with a vintage steel divot tool and ball markers, both stamped with the word, "Champ."
Make no mistake about it, these are statement shoes that can add some serious sartorial swagger to your stroke. Just remember to keep everything else in your outfit safe and solid. Pair these vintage classics with some navy trousers and a gray sweater and you'll turn some heads with fancy footwork.