Apparel
Unpacking Bogeybox: A Smarter Way To Shop For Clothes
Clothes in a box? Seems interesting.
You may have heard of monthly box deliveries for everything from dog supplies to wine clubs, but how does it work for golf apparel? Enter Bogeybox Golf Club, a customized service that takes the hassle out of buying golf clothes for guys who love the game but hate clothes shopping. Bogeybox doesn't just pick great clothes, but they offer very personalized service and allow golfers the flexibility of only paying for the clothes they like and keep.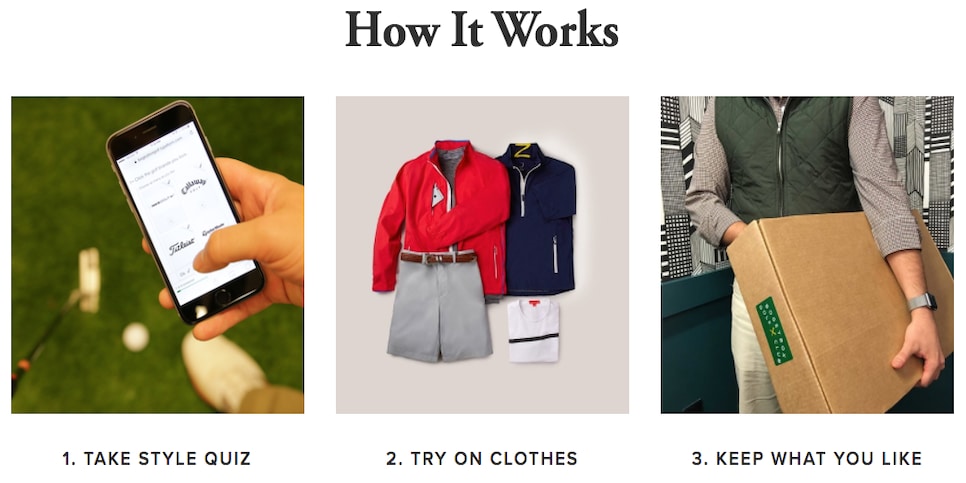 Click here to start by filling out the easy-to-follow style profile (it takes no more than 2 minutes; just a few taps). After the style survey, the site asks you for your shipping and billing info. It's $20 to sign up, but that amount goes toward your purchase, so there's no real "fee" or added cost to try the service. Plus, when you submit the $20 style deposit, you receive a $40 sign-up bonus that you can use toward your first two boxes. It's a great value, and takes the risk out of giving Bogeybox a try. You won't be locked into a subscription; you'll only get a Bogeybox when you request it.
Total items: 4 Average Cost Per Item: $100
Before your box arrives, you'll be invited to have a brief phone call with a Bogeybox Pro to go over your immediate clothing needs and preferences. For instance, you can tell your Pro whether you prefer patterns or solids, natural or tech fabrics, and traditional or more modern looks. If there's something you really DON'T like, you can tell him that too. Your Bogeybox will arrive within a week, with four great items tailored to your style and needs.
Have an issue with fit? Your Bogeybox Pro will pinpoint the kinds of cuts (loose, fitted, "slightly" fitted, etc.) that work best with your body type and make everything in your box follow that style. Odds are the clothes chosen for you will fit so well that you'll end up wearing them to the office, too.
"I ended up keeping three out of four items in my first box," says Bogeybox customer Matt S. "All of them were great, but three really looked good and fit perfectly. These clothes should last me through the winter until I need a Bogeybox for the spring. That's the best part of the service: I only pay for the clothes I keep and only get shipments when I want them."
If you need new clothes, but hate shopping, then this service will make your life easier. It's incredibly convenient, and at the end of the day, you're saving money. Shipping is free both ways, and the $40 trial credit is a great way to try the service.
Click here to learn more about Bogeybox Golf Club, and to sign up for you first trial box.