The Loop
Unofficial Guide: Cigars, barbecue and NASCAR in Charlotte
It's a shame Miguel Angel Jimenez isn't in the Wells Fargo field this week in Charlotte. He'd feel right at home at Cutter's Cigar Bar in the Marriott City Center. Not only is Cutter's one of the last legal cigar bars in the state, it also has a stash of legal pre-Castro Cuban cigars. Of course, it would also help to have made $432,000 at the Masters. Fifty-three-year-old Cubans start at $500 apiece. Pair it with a shot of Remy Martin Louis XIII and you can put your bartender through his next semester at UNC-Charlotte just on the tip.
After investigating the heart of Texas barbecue country last month in conjunction with the Tour's Texas swing, it would be meat malpractice not to mention the subject again the week of the Wells Fargo in Charlotte. The Piedmont-style barbecue found in eastern North Carolina (along with the contiguous regions in South Carolina and Virginia) features slow-cooked, chopped pork shoulder with a vinegar-based sauce. The historical epicenter is in Lexington, N.C., an hour northeast of Charlotte. You won't get a bad sandwich anywhere in town, but if you only have the time or metabolism for one, order the chopped barbecue sandwich with slaw (a cole slaw relative that has ketchup in it instead of mayo....just go with it) at Lexington Barbecue, near the intersection of state roads 52 and 70. A sandwich, fries, soda and slice of pecan pie will run you less than $10.
If you can't venture that far from the tournament venue in South Charlotte, Block & Grinder is on the cutting edge (so to speak) of a different kind of meat. Owner Jed Kampe had a butcher shop in Charlotte and was interested in getting into the restaurant business. He combined the two, and Block & Grinder offers both fine cuts of meat to to retail customers and the freshest, most carefully prepared beef and specialty burgers in the region. Order the chopped steak burger topped with house-made pimento cheese and a fried duck egg and you'll start looking around for the rest of the herd.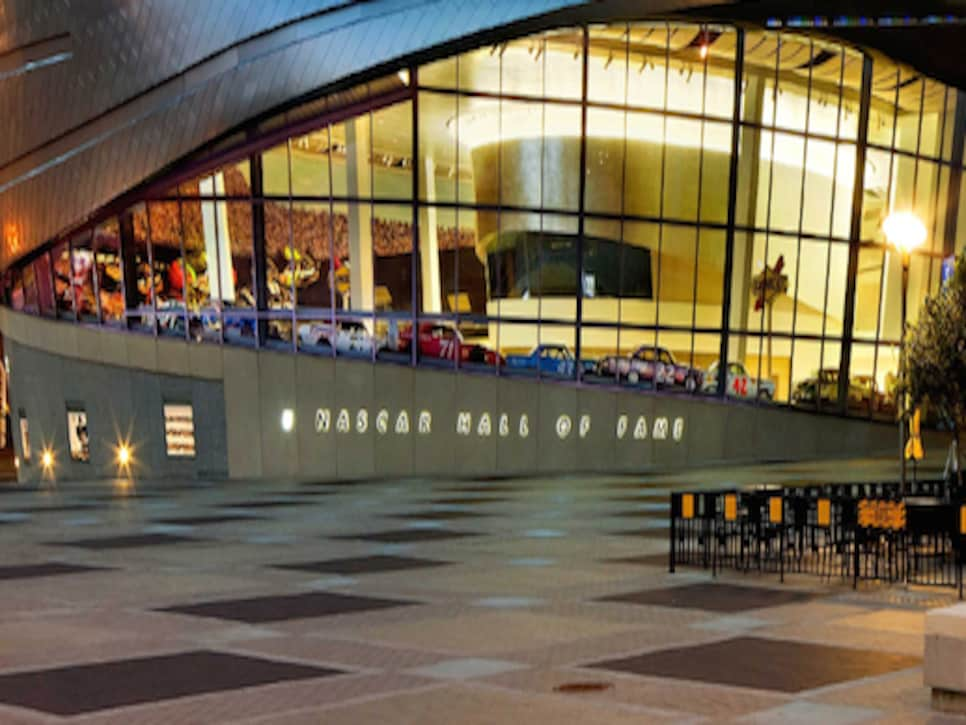 __Shake and Bake__NASCAR and golf don't have exactly the same fan demographics, but anybody with an appreciation for guts and glory would enjoy a quick pilgrimage to the NASCAR Hall of Fame in Uptown Charlotte. The 40,000-sq-ft hall is packed with memorabilia and complete cars from seven decades of racing. And if you have a child between the ages of five and 12, the Glory Road exhibit is a must-see. Marshall Teague's original 1952 ride--the Fabulous Hudson Hornet--is there, decked out in its iconic No. 6 grey, yellow and white colors. Your kids will know it as the inspiration for Paul Newman's Doc Hudson character in the animated movie Cars. You'll be impressed that people were brave enough to get inside what were essentially regular production cars and crash around at 120 miles per hour with bad tires and lap belts.