The United States staged a remarkable comeback on Sunday, overcoming the largest deficit in Solheim Cup history -- as well as a controversial call -- to win the 2015 event.
Team USA started singles play down four points to the European squad, which had won the previous two matchups in 2013 and 2011. And through the first seven matches -- the clubs halved 3 1/2 points in these competitions -- it appeared the Americans would suffer their third straight defeat.
However, thanks to a sweep of the final five matches -- with wins by Lizette Salas, Angela Stanford, Cristie Kerr, Michelle Wie and Paula Creamer -- the United States prevailed.
Alas, this Solheim Cup will likely be remembered and discussed for another matter that transpired Sunday at Golf Club St. Leon-Rot in Germany.
In a hotly-contested fourball match, Alison Lee of the United States had a birdie putt on the 17th hole to give the US a one-hole lead. The putt missed, with Lee's ball coming to rest inches past the hole. The group began walking to the 18th, with the umpire announcing the match was tied.
Yet, Suzann Pettersen of Team Europe claimed she had not conceded Lee's putt, and because Lee had picked the ball up, the hole was forfeited. The Europeans ended up winning the match.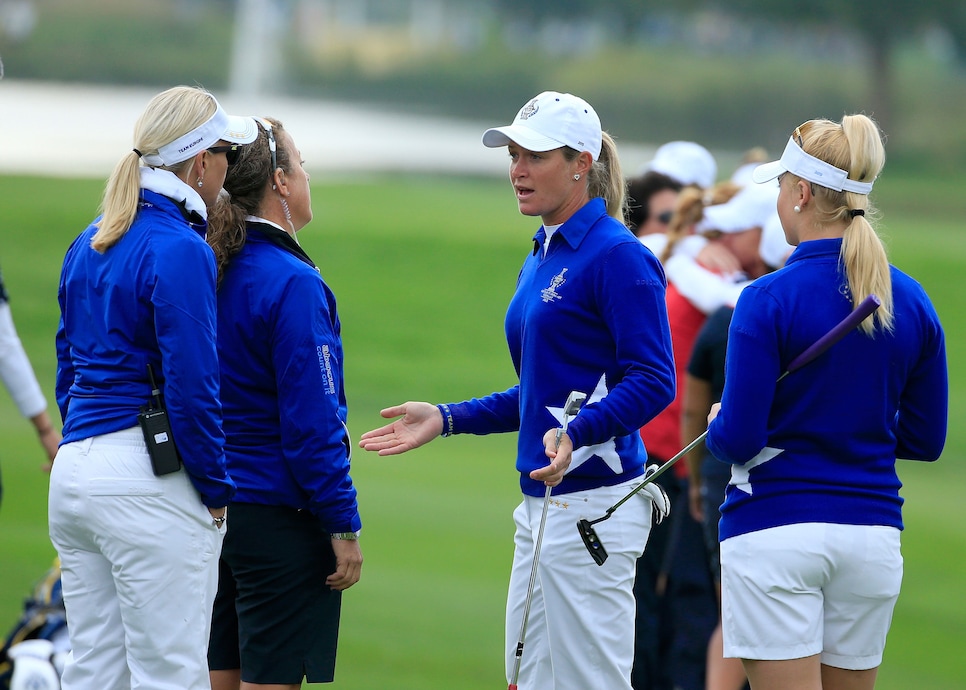 Afterwards, emotions flared. Pettersen's teammate, Charley Hull, disagreed with Pettersen's actions, breaking into tears over the issue. Lee additionally cried, presumably knowing her actions cost her team points.
"It's just BS," US captain Juli Inkster said on TV following the match's conclusion. "It puts a damper on the whole thing. No way they can ever justify that. It's just not right. I don't care what they say. You just don't do that to your peers.
"I have never seen anything like it in my career. It's disrespectful."
Even the European side acknowledged Pettersen's mistake.
"I'm disgusted," Laura Davies, a veteran of 12 Solheim Cups for the European team, told Sky Sports. "We have got our best player, Charley Hull, who has just won a point and she is in floods of tears. That tells you the wrong thing was done. "How Suzann can justify that I will never, ever know. We are all fierce competitors but ultimately it's unfair. We have to play week in, week out together and you do not do something like that to a fellow pro. Poor old Alison Lee must think 'I hope I never play a Solheim Cup again'. She has had food poisoning and now she has been wronged by one of the most senior players in golf and who used to be one of the most respected players.
"I know [Pettersen] is angry and justifying everything, but she has let herself down and she has certainly let her team down. "
It is the ninth win in the Solheim Cup's 14-event history for the United States. The 2017 match will be held at Des Moines Golf and Country Club in Iowa.