News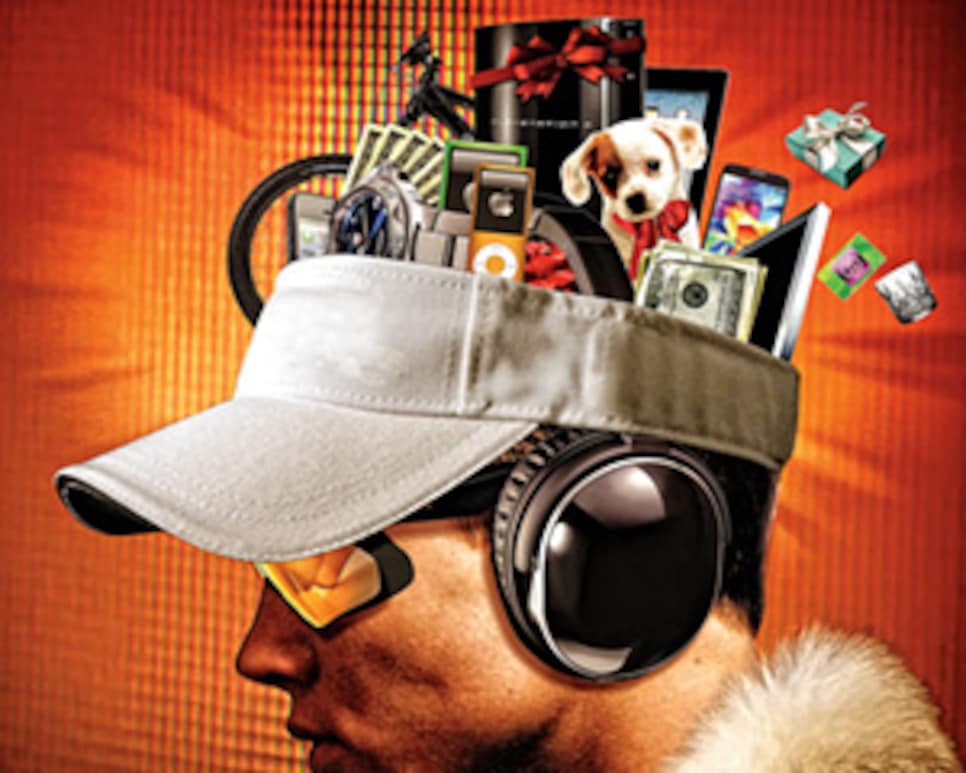 Where was all the free stuff back when I was playing mini-tours?
This portable speaker would've made a nice replacement for the blown ones in my old Nissan, but now I fly first-class to tournaments, sometimes private. Often I'm not home for three- and four-week stretches, and so the boxes pile up: iTunes gift cards, iPads, picture frames, random electronics. A tournament will mail these gifts, often several times a year, with little notes that say something like, "Compliments of the Travelers Championship. We hope you think of us when planning your tournament schedule this season."
More tournaments used to put gifts in your locker or have them at registration, but these could be a burden to fit into already tightly planned luggage. Not that most players weren't appreciative or we didn't get great stuff. One year at the Sony Open we got the PlayStation just as it was being released, which made my kids very excited. The AT&T at Pebble gave a set of Waterford crystal—four champagne glasses one year, four whiskey tumblers or wine glasses the next—which has grown to a wonderful collection my wife and I use regularly. Before the Viking Classic changed sponsorship in 2011, we got Viking cookware. Our kitchen is still stocked with much of it (some of it we re-gifted). That event is now the Sanderson Farms Championship. Last year they shipped a Big Green Egg grill to every player, which was a hit.
I didn't play in a charity event the year everyone got a Segway, but that was a really cool gift players talked about. For each Ryder Cup you play, you get an Omega watch. When Tom Lehman was Ryder Cup captain in 2006, every player on his team also got to order a custom mountain bike with no limit on the options.
As thoughtful as it all is, most regular tour events are figuring out the quality of the schwag has zero influence on getting top golfers to commit. Besides the hard fact of dates in relation to things like our kids' birthdays and majors, what we care about most is convenience. At Torrey Pines you take a cart to the range and back, the short-game area is virtually nonexistent, and the locker room is one of the lodge's conference rooms. But most guys are willing to overlook this because the course is so good. A similarly inconvenient setup at a lesser course doesn't garner the same willingness.
The Charlotte tournament at Quail Hollow was the first to really focus on player experience, and it has become the benchmark other tournaments strive to match. Two guys in blazers meet you at the valet and escort you to your locker. Laundry service is complimentary. Silly as it sounds, when you're on the road half your life, these welcoming touches really mean something.
Spa certificates and tickets to local ballgames make a tournament attractive to an entire field, but this has become standard. What each tournament really wants is to lure the marquee players who seriously boost attendance. This is why the PGA Tour should allow appearance fees. It's not like the practice doesn't already happen in roundabout ways. Star players never miss tournaments sponsored by companies with whom they have business relationships, and it's not illegal for a sponsor to pay a player a fee to work an outing that just happens to take place in the same city the same week of their tournament, thereby practically ensuring the player will stick around. Wink wink.
As long as appearance fees are regulated and don't detract from overall prize money, it would help certain events land the Tigers, Phils and Rorys every now and again. These guys have earned the right to have their pie sweetened a bit.
Of course, the way I've been putting lately, I might need to go buy stationery. If I don't win again soon, I could be writing notes to tournament directors that say something like "Would you please give me an exemption into your field?" Maybe I'll send a gift, too.