News
UL International Crown: Play continues, Team USA 2 back of South Korea entering singles matches
The typhoon forecasted to hit South Korea was downgraded to a tropical storm, but it was still enough to created an unscheduled intermission at the UL International Crown. Rains soaked Jack Nicklaus Golf Club, but after 37 hours of no play, the teams were able to go back out on Sunday morning (local time) and finish the third-round matches. The completion of the third round left the favorites, South Korea, in the lead with 10 points. Team USA, with Lexi Thompson and Cristie Kerr continuing their unbeatable streak, is in second with eight points.
The structure of the UL International Crown is such that the top two teams from each of the two pools at the completion of three matches moves on to the singles matches. In Pool A, that was South Korea and England. In Pool B, Team USA and Sweden. But it doesn't stop there. A final team is selected on as a wild card to also play in the singles matches. The third-place teams from each bracket participate in a sudden-death playoff for the spot, each team sending two of its four players. Australia was third in Pool A and sent Su Oh and Minjee Lee to the playoff. Japan and Thailand were tied for third in Pool B, sending Nasa Hataoka and Misuzu Narita, and Moriya and Ariya Jutanugarn, respectively. What began as a crowded 14th hole for the playoff was soon disassembled: Ariya Jutanugarn chipped in for eagle on the first hole to send Thailand to the singles matches.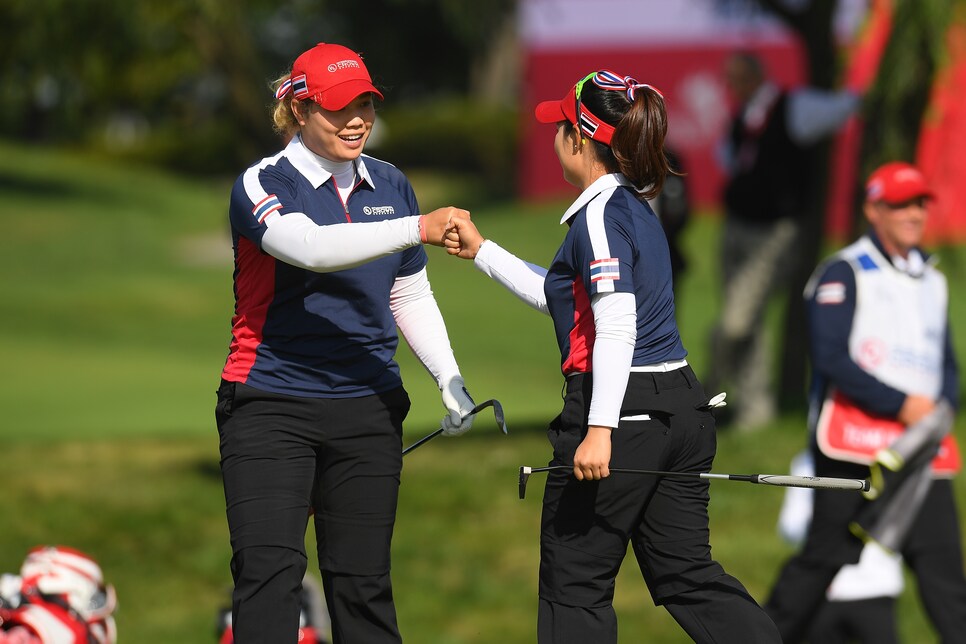 As the Americans try to gain enough points to overtake South Korea and defend their UL International Crown title, they'll have some difficult matches ahead of them. Most notably, Cristie Kerr will be playing Ricoh Women's British Open champion Georgia Hall of England, and Lexi Thompson will be playing South Korea's So Yeon Ryu in the final match. Thompson not only has the two-time major winner to play against, but the size of the hometown crowd that will come out to support Ryu will likely be significant. One of those major wins for Ryu is the infamous ANA Inspiration, where Thompson was given a four-shot penalty when she was leading the event. The two went to a playoff, which Ryu won.
The singles matches began at 10:45 a.m. local time, after the completion of the wildcard playoff.