FORSYTH RETIRES
UCLA women's coach Carrie Forsyth retiring after 24 years, 2 NCAA titles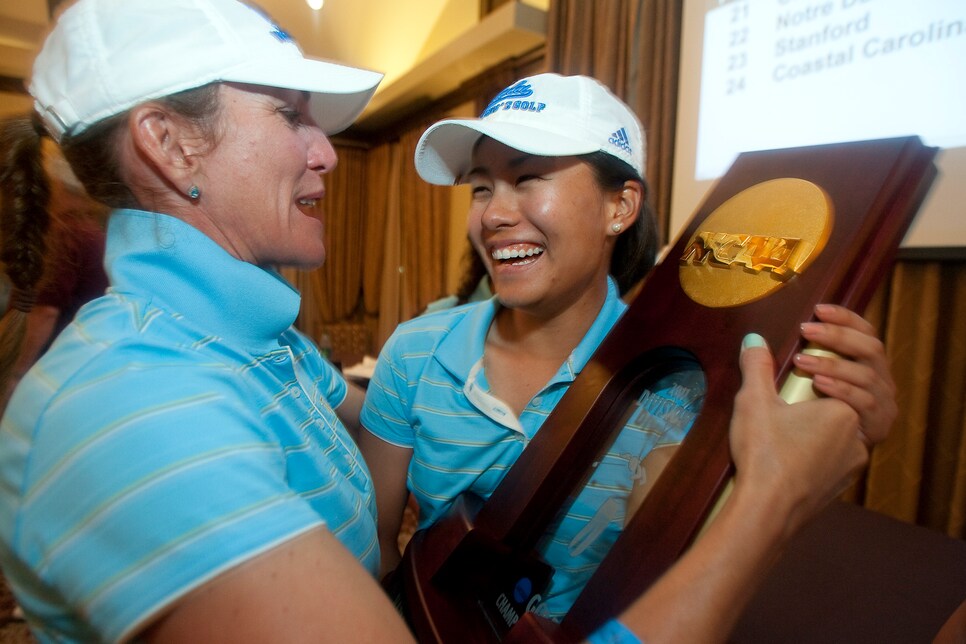 Carrie Forsyth holds the 2011 NCAA Championship trophy after leading the Bruins to their second NCAA title during her tenure.
NCAA Photos
Carrie Forsyth announced her retirement on Monday, saying that this season, her 24th as the women's head coach at UCLA, will be her last with the Bruins.
A new role was created specifically for Forsyth, and she'll become a special assistant to Martin Jarmond, UCLA's athletic director.
Forsyth became head coach in 1999 and guided the Bruins to NCAA championships in 2004 and 2011. Her teams finished in the top three at nationals eight times during her tenure. They also won nine NCAA Regionals and collected 74 tournament victories. UCLA won five Pac-12 Championships during her tenure.
"I have been blessed to call UCLA my home for 29 years," Forsyth said. "It has been a privilege to live out my dream as the head coach at my alma mater and carry on the legacy of our golf program at this world-class institution for more than two decades. I have had the opportunity to coach some of the most amazing and dedicated student-athletes in the sport, and I will forever cherish our journey together."
Forsyth's first NCAA title came five years into her career when the Bruins topped Oklahoma State by three shots at Grand National Golf Club in Opelika, Ala. It was UCLA's first team championship in 13 years. Seven years later the Bruins won the 2011 championship at the Tradition Golf Club in College Station, Texas, topping Purdue by four shots. She was inducted into the Women's Golf Coaches Association Hall of Fame in 2012 and was its National Coach of the Year in 2014.
"Carrie is elite, one of the most accomplished coaches in UCLA history, and I am excited to have her alongside me in this new role," Jarmond said. "Her knowledge of our Bruin culture and tradition of winning with two NCAA titles will be incredibly valuable as we build for our future."
Forsyth was a walk on for the UCLA women's golf program as a freshman in 1990 and later competed in the Pac-10 and NCAA Championships. She earned a scholarship her sophomore season and graduated in 1994 with a degree in psychology. She was coach at Cal State Northridge for four years before taking over the Bruins in 1999.
Fourteen UCLA players collected 27 First-Team All-American awards with Forsyth as their coach and three of her players have won LPGA majors, including Lilia Vu last week at the Chevron Championship in Texas.
UCLA has said that a national search for Forsyth's replacement will begin immediately.