News
Think Young, Play Hard: Bear Up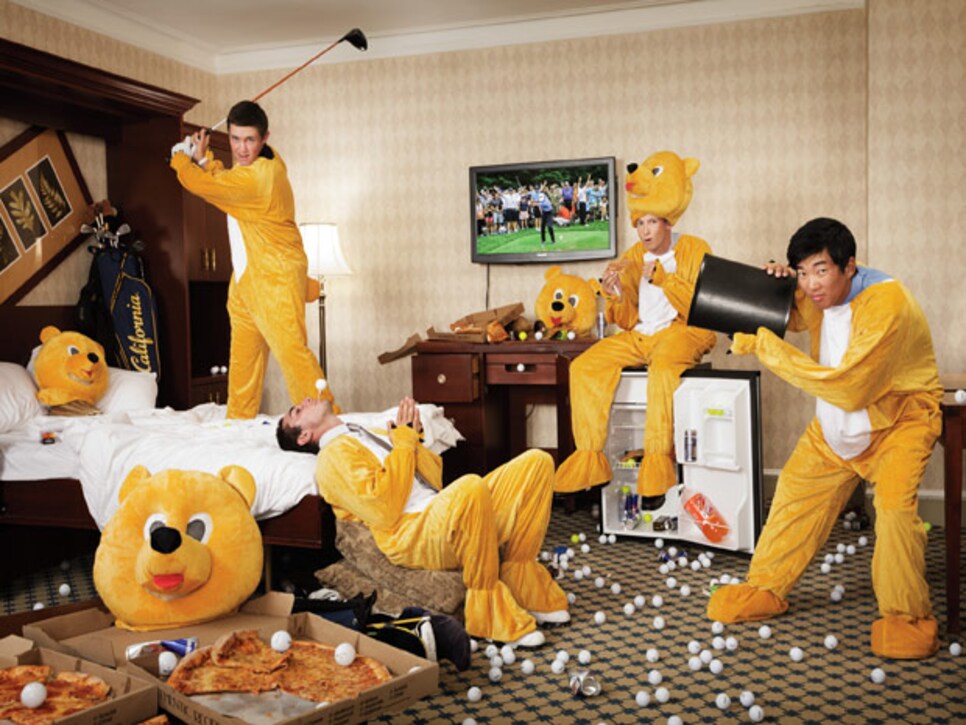 FROM LEFT: Michael Weaver, Max Homa, Brandon Hagy, Michael Kim.
Free-speech movements are still a regular thing at the University of California in Berkeley, but sit-ins do little to improve short games. "When professors would say it's OK to go out and support a protest, I'd say, 'Fine.' Then I'd go out and practice," says Cal senior Michael Weaver, one of the Bears pictured below, along with Max Homa, Brandon Hagy and Michael Kim. These four, and second-team All-American Joel Stalter, put together one of the greatest seasons in the history of college golf last year, winning 11 tournaments plus medalist honors in the stroke-play portion of the NCAA Championship (they lost to Illinois in the semifinals of match play). Of that group, only Homa is not competing for Cal this year. He turned pro. But don't be surprised if you see all of these guys on the PGA Tour someday.
BIO: "The businessman" was a first-team All-American who earned invitations to this year's Masters (missed cut) and U.S. Open (64th) because of his runner-up finish at the 2012 U.S. Amateur. Weaver was also co-medalist at the NCAA Regional in Pullman, Wash.
"I think it was the greatest season in college-golf history. It gives me chills to think about it, and what we did might never be repeated."
BIO: "The captain" was medalist at the Pac-12 Conference and NCAA championships. He also qualified for the U.S. Open (missed cut). The All-American turned pro after the Walker Cup and is preparing for the Web.com qualifying tournament.
"I just don't see anyone from last year's team failing. Everyone is capable of being out on the PGA Tour. And soon."
FROM: Westlake Village, Calif.
BIO: "The joker" was a second-team All-American after top-10 finishes in the NCAA Championship and Regional. Hagy shot 64-62-72 (15 under par) to win the Alister MacKenzie Invitational last season.
"We set a high bar last year. And sure, we want to try to equal our mark. But what we really want to do is finish it off and win the NCAAs."
BIO: "The iceman" was Cal's first national player of the year (Haskins and Jack Nicklaus awards). Kim was low amateur at the U.S. Open (T-17), won four tournaments for the Golden Bears and joined Homa and Weaver on the U.S. Walker Cup team.
"We have a lot of confidence in ourselves. The Cal team was never considered a powerhouse, but maybe in the future we'll be called that."