News
U.S. Solheim Cup Captain Pat Hurst names Angela Stanford an assistant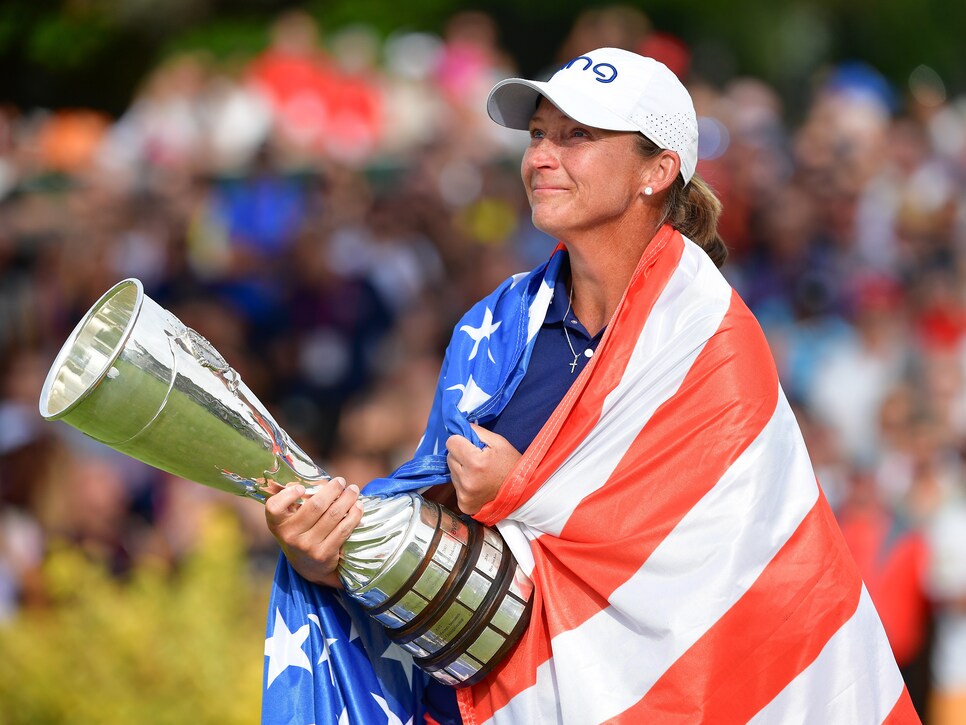 A strong resume counts, of course, but so does passion, and the latter was a key element in Solheim Cup captain Pat Hurst's decision to name Angela Stanford an assistant captain for the 2021 event at the Inverness Club in Toledo, Ohio.
"Angela and I are pretty similar in a lot of ways," Hurst said in a conference call with reporters. "We both have passion for the game. We love the red, white and blue, playing for our country. Angela, even playing for TCU, she's just the biggest supporter of them, and she's that way with representing the United States. That's the way I am and that's the way she is. She's determined. She wants to win. I see that in me."
Stanford, 42, has six LPGA victories, including a major championship (the Evian Championship in 2018), and she has played for seven U.S. national teams—six Solheim Cup teams and as an amateur on the U.S. Curtis Cup team.
Hurst actually let Stanford know of her decision on April 21.
"When she asked, I told her, it was kind of between tears and total excitement. And it was so hard because when you're in quarantine, I was bouncing off the walls the rest of the night and there was nobody there to enjoy that with me. As soon as I got off the phone with Pat, I called my parents and they were thrilled and super excited. So it was a pretty cool phone call.
"I think you always kind of dream about it, and you hope for it, and you hope that it's in the cards, and I've been very fortunate to play on six teams. I have loved all of my captains and I've loved the assistant captains, and I can't wait to be a part of Team USA in that capacity."
The fact that Stanford still actively plays the LPGA raised the obvious question about the possibility of her playing her way onto the team.
"Ultimately, I just want to be part of Team USA," she said. "I don't know what that's going to mean in the future. Right now I know it means I'm an assistant captain and I'm thrilled to have that role. I'm still a professional golfer and I'm still going to tee it up and try to win golf tournaments, and whatever that means in 2021, that's what that means.
"You know, I'm at peace with whatever happens when it comes to playing. If I make the team, I make the team. If I don't, I'm an assistant captain now, and I get to help Team USA in that capacity, and I am thrilled about that."
The European team won the last Solheim Cup, at Gleneagles in Scotland, by a point in 2019. The U.S. leads the biennial competition, 10-6.