U.S. Open
U.S. Open 2023: Why LACC played harder on Friday and will keep getting tougher this weekend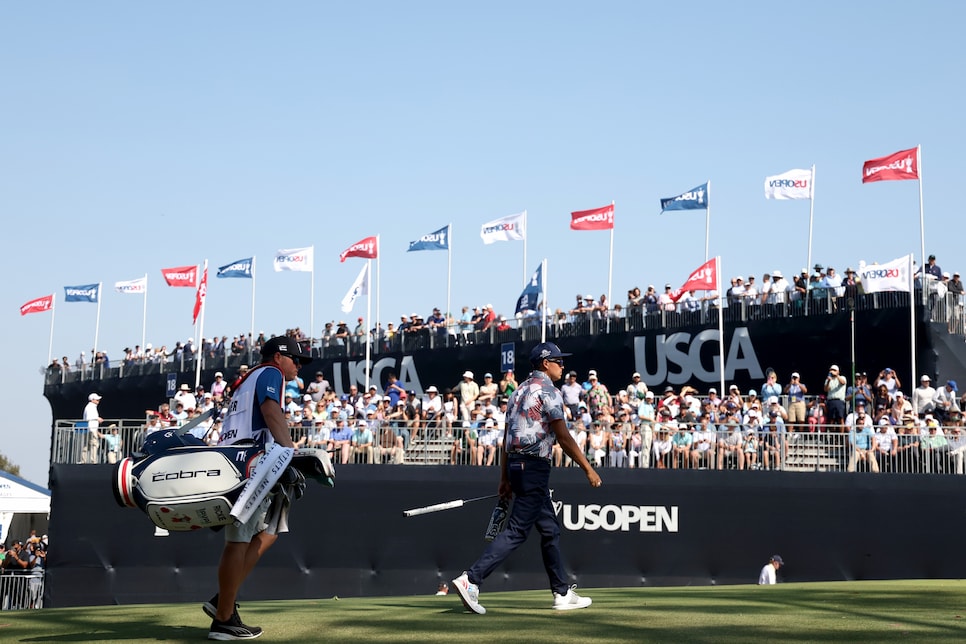 LOS ANGELES — The USGA's approach to Friday's second round course set-up was a reaction, but not an overreaction, to an historic opening round of scoring. Rickie Fowler and Xander Schauffele bagged the first ever 62s at the U.S. Open, and the scoring average (71.39) was lower than any previous first round. No player shot worse than 79, which had never happened. Many wondered whether the organizers of the U.S. Open would come down with an iron fist.
That didn't happen Friday.
The greens were again double cut and rolled, the stimping was in high 13s and hardly any water was applied.
So what was different about the second-round course setup, given it was already playing 0.7 of a stroke harder on day two? On Friday afternoon, day two's average score sat at 72.1.
The short answer is, distance. And more specifically, distance on four holes. On Thursday, the USGA used alternate (shorter) tees on Nos. 3 (400-yard tee), 7 (264 tee), 10 (376 tee) and 11 (243 tee). On Friday, they reverted to the full yardage on those four holes collectively playing 171 yards longer. LACC's total yardage went from 7,252 to 7,423 yards.
The heat was raised on players so gently that two-time U.S. Open winner Brooks Koepka hardly noticed after following his opening 71 with a 69. "It probably played about the same," Koepka said. "I didn't think it was too tricked up." Koepka just didn't like LACC in general, but that's another story. "I'm not a huge fan of blind tee shots—and then I think there's just some spots that no matter what you hit, the ball just ends up in the same spot," Koepka lamented.
Perhaps the only spice the USGA threw in came in the form of some pins. The biggest change came in the form of the 628-yard par-5 14th, which on Thursday was in a back-right position. Officials moved it to a front right location tucked behind the greenside bunker. It had made almost no difference, however, to the average score which remained at 0.1 over par.
The reason the USGA didn't get too brutal with the hole locations was due to the difference in Beverly Hills' forecast. Rain fell before the opening round, while none fell Friday and the sun came out in the afternoon. Tony Finau played toward the end of the morning wave and noticed his final few holes that the greens were starting to firm.
"[That] makes the greens slightly faster," he said after a 69 improved his total to three under. "I had some putts from above the hole, which obviously you don't want to be, but I thought they were absolutely lightning; impossible to keep near the hole on a handful of putts."
Wyndham Clark shot 67 to post the clubhouse lead at nine under. The Wells Fargo champion noticed the brutality on the par 3s. For Clark, it was the pin on No.4 and the extra distance at Nos. 7 (258 to 295 yards) and 11 (254 to 297).
"No. 4 is [at 221 yards] to a front left pin and the greens are starting to get firm," he said. "That one is more of a setup. It's just really hard to hit it close. Guys aren't really going to be making birdies, and if you miscue there it's an easy bogey.
"[Nos.7 and 11 were harder] simply because they're [more than] 280 yards. It's a par-4 in most golf courses. If you mis-hit it, you're going to have 40 yards to try get up-and-down, and even the best players in the world, we might even be 50 or 60 percent from that distance."
McIlroy applauded the USGA for not throwing the players overboard. But he did welcome tougher conditions.
"I think the overcast conditions [Thursday] combined with that little bit of rain in the morning, I think the course just never got firm at all," the 2011 U.S. Open winner said after vaulting into contention at eight under courtesy of a 67. "It's got the potential to get a little firmer and faster over the next couple days. I wouldn't be surprised on Saturday and Sunday to see it bite back, which … is what a U.S. Open is all about. It should be tough. It should be just as much of a mental grind out there as a physical one."