Happy Returns
U.S. Open 2023: The 2017 U.S. team that rolled at L.A. Country Club was not just any Walker Cup team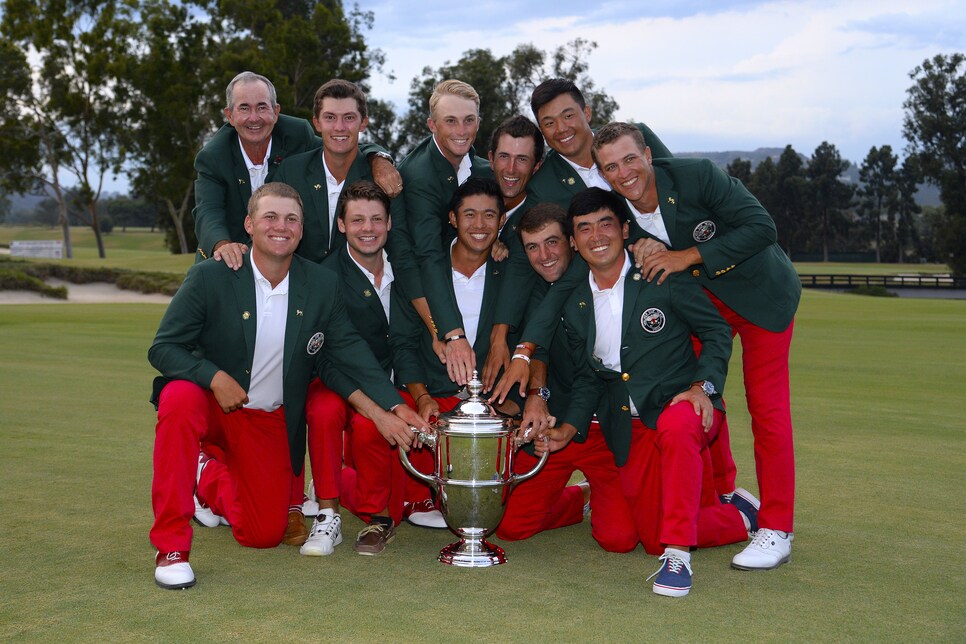 Among the prestigious events that have been held at Los Angeles Country Club, one of the most memorable would be the 2017 Walker Cup, when the United States completed the second-largest margin of victory (19-7) in the 100-plus-year history of the competition.
In the aftermath of their triumphant victory over Great Britain & Ireland, those 10 USA players have since become some of the game's most successful players.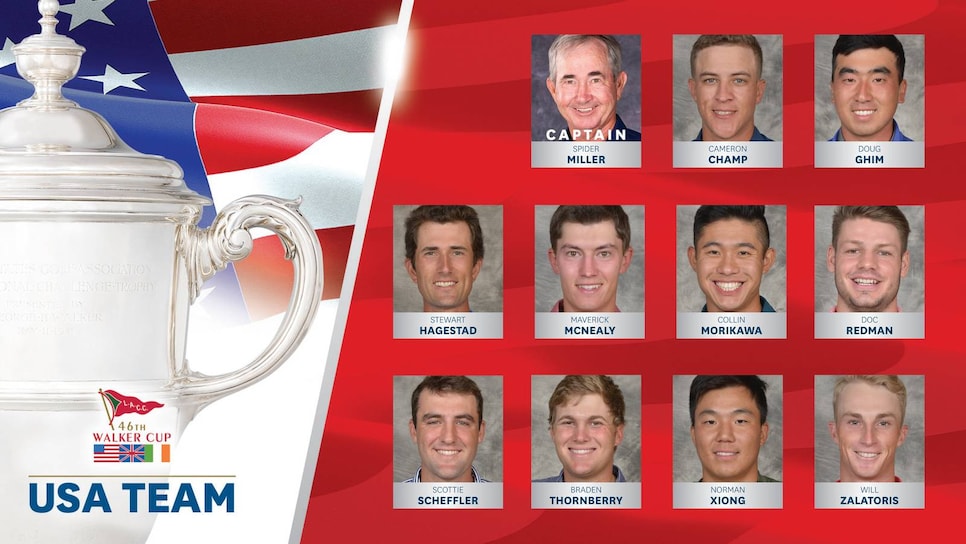 Now it's easy to say all of this looking back but Captain John "Spider" Miller seemed to see this success coming back when he helped the USGA select his team for the 46th Walker Cup.
"The young men who will wear the 'USA' on their sleeves in the 46th Walker Cup at The Los Angeles Country Club are a special group," Miller said then. "They will go on to do great things. Some will distinguish themselves by playing golf professionally. A few could win major championships. It's possible that one of them might even invent something that changes the world."
Miller wasn't wrong. Of the 10 players, seven earned their PGA Tour cards following their win over Great Britain & Ireland. Combined, they have 15 PGA Tour wins, which includes a major from Scottie Scheffler and two majors from Collin Morikawa. The group also has five Korn Ferry Tour wins and have earned a combined total of $99,101,854 since turning pro after the 2017 event. Stewart Hagestad, who has since remained an amateur, has also had a successful playing career, winning three U.S. Mid-Amateur titles and competing in six majors championships. From that team, only Morikawa and Scheffler will be in the field this week.
So how did this seemingly standard group of golfers band together to become one of the most memorable Walker Cup teams?
The U.S. and Captain Miller were coming off of a devastating seven-point loss in the 45th Walker Cup match at Royal Lytham & St. Annes. And Miller was determined to reclaim the Cup in would be his final run as captain. In 2016, Miller invited a group of 16 players to an informal practice session in California. The time together was equally as important for Miller as it was for the players since it allowed the captain to see how the players interacted with one another.
It was likely a majority of the team would come from that pool of players, Miller said. However, he made it clear in an interview with Shane O'Donoghue in August 2017 that he allowed players every opportunity to showcase their games before making his final decision.
After much deliberation, the 10-man team consisted of Cameron Champ, Doug Ghim, Stewart Hagestad, Maverick McNealy, Collin Morikawa, Doc Redman, Scottie Scheffler, Braden Thornberry, Norman Xiong and Will Zalatoris.
After the list was announced, Miller and the rest of the USGA committee that helped select the team faced a bit of backlash from the golf community for leaving off Sam Burns, 2017 College Player of the Year.
"It's hard to select just 10 players out of this great country," Miller told the USGA. "It's tough. There's any number of players who would have, at certain times, played well enough to be on it, but at the end of the day, you have to come up with 10, and I'm very happy with the 10 that we have."
Miller's work was far from over. Aside from McNealy, none of the USA players had been on the Walker Cup team together before. Further, only Doug Ghim and Scottie Scheffler had played together as teammates at the University of Texas
To help facilitate a bond between his players, Ghim told Golf Digest that Miller took them out to play Valley Club and spent time celebrating the fact that they made the team.
"As their captain, I want to create an atmosphere in which they can have fun, but one that also prepares them to play their best," Miller told the USGA, "Leading up to the competition, we'll do some team-building activities and will get to know each other a little better. A lot of it will be focused on golf, but some of it will be cultural. If they are wearing the red, white and blue, I want them to know what that represents and appreciate those who have made sacrifices for our country."
The next few weeks would be the ultimate test of Miller's leadership. He told the USGA that he believed the most successful leaders empowered their teams by making them part of the process. He wanted his team to participate in the decision-making and share in the collective responsibility.
"We are in this together, win or lose," Miller told the USGA.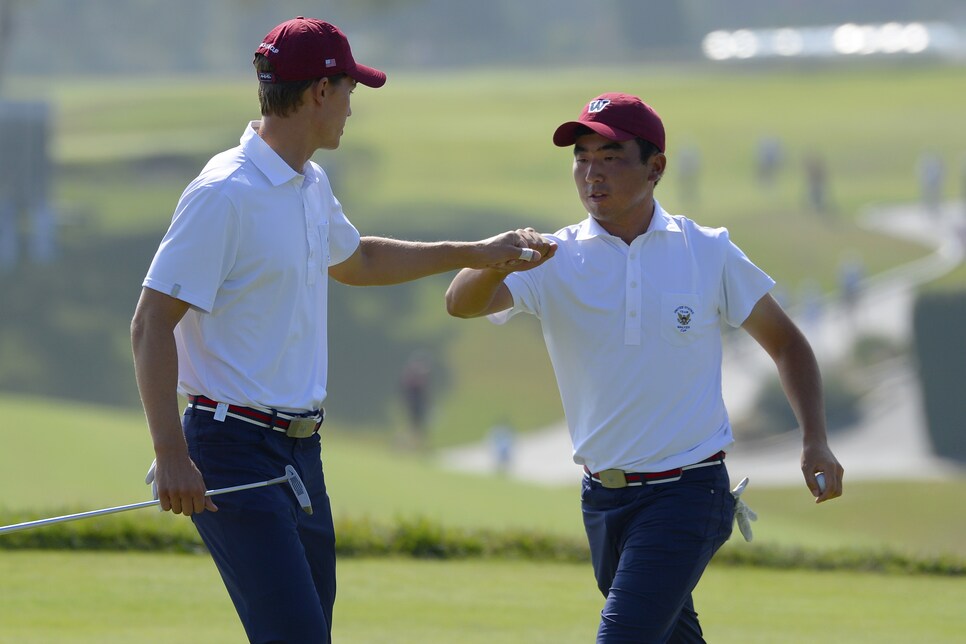 Miller also stressed the importance of preparation with his team and helped them to develop their winning mindset well in advance of Day 1 morning four-ball session. This meant shifting the typical approach that his players were used to when playing in a team format. The captain asked players to stand back on the tee and talk about the shot they were about to hit, something they weren't accustomed to.
"When they play their own ball, they're used to being in their own thoughts. So that's what I came up with, and we're trying it," Miller said.
On Day 1, Morikawa/Xiong and McNealy/Ghim won their matches to win two points for the U.S. and keep the score even. However, it was USA's singles matches in the afternoon session that solidified their victory over Great Britain & Ireland.
Thornberry, Xiong, Morikawa, Zalatoris, Ghim and McNealy all won their Saturday singles matches, securing six points for Team USA and giving them a commanding four-point lead heading into Sunday.
At the start of the second round, three of the four USA foursome teams won their matches, by now, the U.S. team was practically running away with it, taking an 11-5 lead.
The Sunday singles matches delivered the final blow, giving the U.S. a 19-7 victory. It's hard to imagine a better comeback story for Miller and McNealy, who had both lost to Great Britain & Ireland just two years prior in the 2015 Walker Cup.
"We had a choice to be either the 2017 Walker Cup team or the winning 2017 Walker Cup team. and it was up to them and how they played and their performance, and they chose to be known as the winning team, and they did that. And it's a memory for these guys," Miller said then.
"When they're my age, they will have the defining moments in golf in their careers, and it's going to be a number of things that will define them, but they will always remember the Walker Cup, and they will always remember being a part of this winning team. And that's what it's all about. That's why it is so special," Miller said in the same interview.
McNealy, along with Morikawa and Ghim also made history by being the first team to post three 4-0 rounds since the inception of the Walker Cup.
"I've never really gone undefeated in one of these team events," Morikawa said, "And just to have some momentum to know that I can do it against these guys, these guys are the best [amateur] players around the country and the entire world, really. So just to come out here and I just had a great time with everyone. I'm just glad we can come out with a win."
Their incredible win and roster will go down as one of, if not the best, in Walker Cup history.