News
Tyrrell Hatton puts on impressive Sunday close to win for second straight week at Italian Open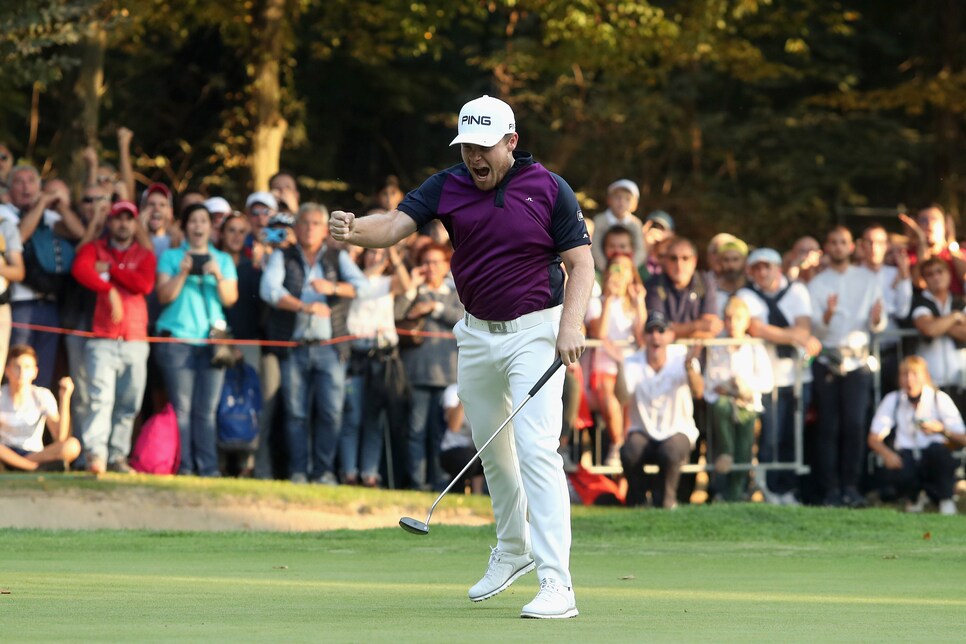 Christopher Lee/Getty Images
The second coming of Tyrrell Hatton continues. Following a summer of disappointment in which he missed the halfway cut in all four major championships, but only seven days after clinching his second European Tour title with a successful defense of his Alfred Dunhill Links Championship at St. Andrews, the 26-year-old Englishman added a third with a thrilling victory in the Italian Open.
Seemingly out of contention on a last day marked by almost universal low scoring, Hatton made five birdies in the last seven holes—including one from 20 feet on the last green—to finish with a Sunday 65 and 21 under for four circuits of the Parco Reale di Monza course, passing compatriot Ross Fisher and Kiradech Aphibarnrat of Thailand by a single shot.
Fisher's closing eight-under-par 63 over the 7,156-yard layout confirmed his own hot form—seven days earlier he closed the Dunhill with a course record 61 over the Old Course at St. Andrews—and left him in second place for the second week in succession. But he was far from the only Englishman to play well on the final day. As many as six sons of St. George finished in the top-10, Hatton leading them.
"It was a battle with myself today," said the new champion, who picked up €990,399 for winning the fifth of eight $7 million Rolex Series events on this year's European Tour. He also is making himself more than strong contender for a Ryder Cup place in France 11 months from now. "I had a slow front nine amidst all those birdies from everyone else. My caddie kept telling me they would come. And they did. I'm over the moon.
"I knew I needed birdies, and a hot streak with the putter really helped. It was amazing to see that putt drop on the last. Had a good feeling over it, even if my hands and knees were shaking. But that's what you want to feel. It is great knowing I had to make it and doing it.
Hatton says he and his father, Jeff, worked on his game over the summer when his form began to betray him. Says Hatton: "We ignored all the other opinions we were hearing, went back to what we do best and now we've come out the other side."
In other words, the pair went back to basics, a simple but effective doctrine they have followed almost from day one.
"I like the way Jack Nicklaus went about things," says the elder Hatton, a teaching professional and custom-club fitter. "He says the three most important things in golf are set-up, set-up and set-up. I like that philosophy. We also follow another of Jack's doctrines: when you are playing well you don't see your coach. If it isn't broken, there is nothing to fix. That isn't the modern way, but it is the way I think it should be. Maybe I am just old-fashioned, but in my book if you are playing well the last person you want to be talking to is your coach.
"Besides, Tyrrell has had the same swing since he was about 17. We did a lot of coaching before that. But now all we do is put his swing back to where we got it to when he was 17. All the coaching was done to prior to that. All we really focused on was posture, path, plane, stance, balance—all of the basics. If you've not got those right you're not going to be a good player."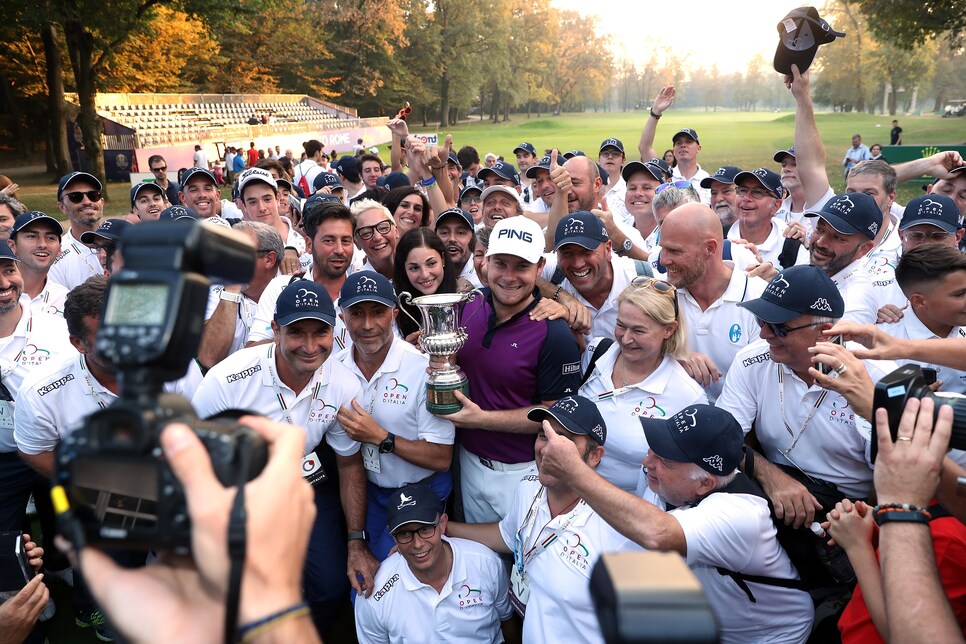 Christopher Lee/Getty Images
Indeed, that way of thinking has served his son well over years of steady progress up professional golf's sometimes slippery ladder.
"We haven't changed my swing for at least nine years," confirms the younger Hatton, a graduate of the Jameiga, Hooters, EuroPro and Challenge circuits before he arrived on the European Tour in 2014. "But I'm not one of those guys who went straight from amateur golf into the big leagues. I like the way it has gone for me. I've progressed steadily. There has been no feeling of rushing too far too soon. I've gained confidence at every level then moved on.
"All of those tours toughened me up, they were all hard schools. On the Hooters Winter Series in Florida—where the entry fee each week is $800—I broke par in every round and only made about $6,500. It was a case of 'get better or get out.' The EuroPro is the same way. The winner gets a nice check, but you are basically playing for your own cash. And finishing 10th every week isn't going to get it done.
"Ironically, though, my whole game is just that - pretty consistent. Maybe only my putting varies more than a little now and then. I just don't hole enough putts. When you see me in contention it is always because I've been making a few."
In that respect at least, he has never changed.