News
This quirky story involving Vijay Singh and an errant drive explains the soft spot Tyrrell Hatton has for the BMW PGA Championship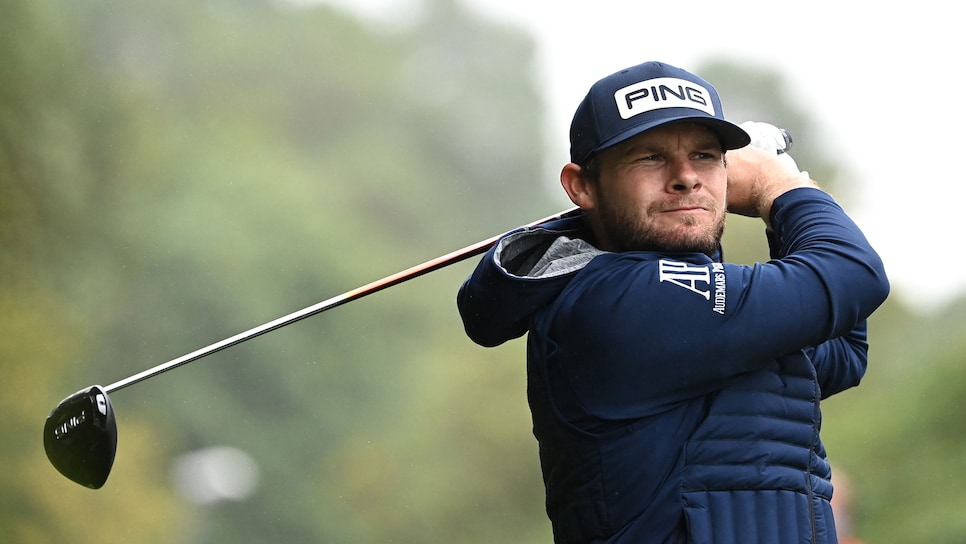 Tyrrell Hatton tees off on the fourth hole during the opening round of the 2020 BMW PGA Championship.
Ross Kinnaird
When the morning wave finished on Thursday, Tyrrell Hatton was leading the BMW PGA Championship at Wentworth after an opening-round six-under 66 at the 7,267-yard West course.
Which is not so surprising.
Hatton is, after all, a four-time winner on the European Tour, a Ryder Cupper and, earlier this year, claimed his maiden victory on the PGA Tour at the Arnold Palmer Invitational. So Hatton is a bit of a player, even if his record at the European Tour's flagship event is hardly distinguished. In six previous appearances at Wentworth, the 28-year-old Englishman has managed only one top 10. He has missed the cut twice and recorded three other finishes no better than T-30.
Because few in this week's 120-man field will know the course known as the Burma Road better than the man who hails from nearby High Wycombe. Accompanied by his father, Jeff, Hatton first saw Wentworth in 1997 at the age of 5, back when the event was the Volvo PGA Championship. The diminutive figure of Ian Woosnam won that year, in what was surely an inspiration for the then tiny youngster.
"I just feel pretty comfortable out on the golf course," said Hatton, who made an eagle, five birdies and dropped only one shot in what was his 21st competitive round in this $7 million event. "I've been around it so many times now. It almost has that home course feel, like one you know so well. So it was a nice start today. Hopefully I can keep that going the next few days. Winning would be special. To lift the trophy here is a career goal of mine. Coming here was one of my sort of favorite things to do when I was a kid. That's what makes this week so special for me."
There was one discordant note from back in the day. Asked for his earliest Wentworth memory, Hatton recalled nearly being "taken out" by an errant Vijay Singh tee shot while standing to the right of the 18th fairway.
"Thankfully he just missed us and we're able to stand here today," said Hatton with a smile.
There was another near-thing too.
"Tyrrell must have been 8 or 9," said his father, Jeff. "We were standing behind the fourth green when [2010 champion] Simon Khan walked past. As the pros often do when kids are around, he lobbed a ball in our direction. Unfortunately, Tyrell was looking the other way and didn't see the ball coming. I caught it right in front of his nose."
Inevitably, the subject of Hatton's often-volatile personality came up in post-round conversation. The two-time Dunhill Links champion is (in)famous for his propensity to explode mid-round. Few players have ever reacted more graphically to less-than satisfactory shots. But a combination of off-course contentment—after more than eight months in the U.S. he has been home for the last 2½ weeks—and a recent weight loss has Hatton claiming things are a-changing in the temperament department.
"I feel like I'm in a good place right now," he said. "And if I'm obviously happier, I'm going to be calmer on the golf course. That's obviously going to help me. I felt pretty relaxed out there today. I think that's just through having my home comforts again. The first thing I did when I got home was have a bacon sandwich, a cup of tea and a curry at night. And there's nothing like sleeping in your own bed. So it is good to be back."
At home and, so far at least, at Wentworth.