The Loop
Two years after their teammate's death, two college golfers make aces in the same round en route to historic victory
Georgia Southern won its first men's tournament in more than a year Sunday. But it wasn't the fact that the Eagles won so much as how they won that makes for one of the most inspirational golf stories of the year so far.
Playing at the Schenkel Invitational at Forest Heights Country Club in Statesboro, Ga., two Georgia Southern seniors, Hayden Anderson and Will Evans, who finished T-4 and T-22 in the tournament, respectively, each recorded holes-in-one during Saturday's second round. Those aces helped the team shoot a combined 12-under 276 on the day, vaulting them into a lead it would not relinquish Sunday when the Eagles beat runner-up UAB by 12 strokes.
It was the first time in the tournament's 35-year history that Georgia Southern had won its home event.
Anderson and Evans are roommates and two of four seniors on a team that should have included a fifth -- Thomas Sharkey, who died tragically in a house fire alongside his 8-year-old sister in 2011. Before the tournament, members of the team decided that if they won, they would take the trophy and deliver it to Tomas' mother, Angela, in her native Scotland.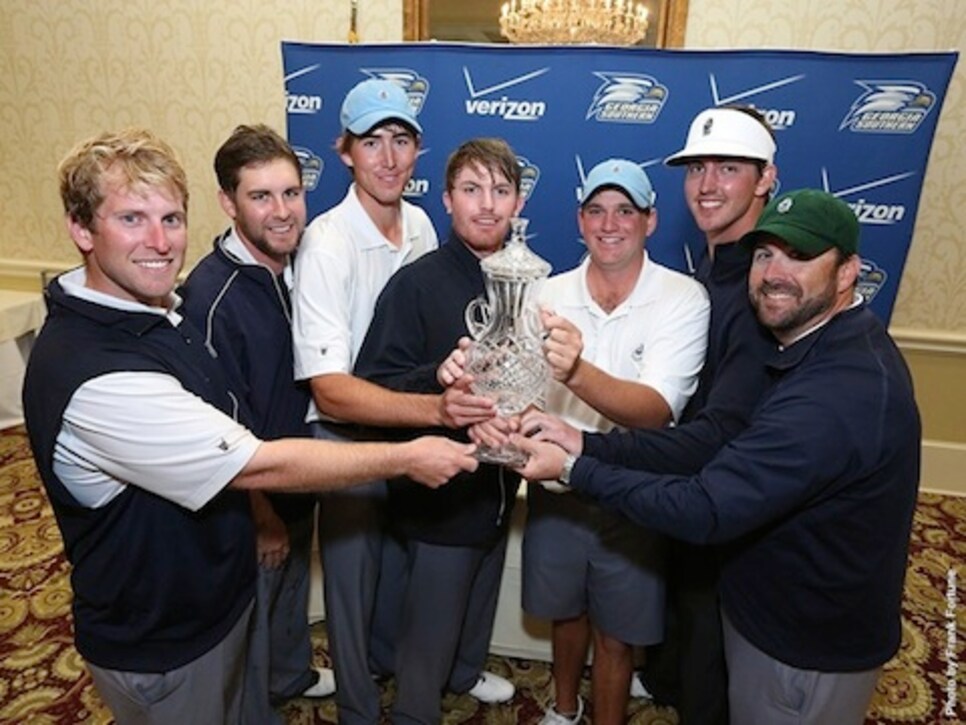 "It definitely felt like destiny, but you never want to think that because the game of golf will come up and bite you real quick," Scott Wolfes, the team's low man and individual medalist, said in a release.
"I just tried to play the best I could and not to think about anything and not to look at the scoreboard," Wolfes added. "There are so many things bigger than golf, and I'm thankful for every day I get to play."
That thought was echoed by the team's coach, Larry Mays.
"It was an emotional day yesterday with the two hole-in-ones, and we just wanted to come out today and finish it off. ... Thomas was there the whole time, and we had the perfect Scottish [weather] for the last nine holes."