The Loop
Two USGA champions duke it out in Friday's match of the day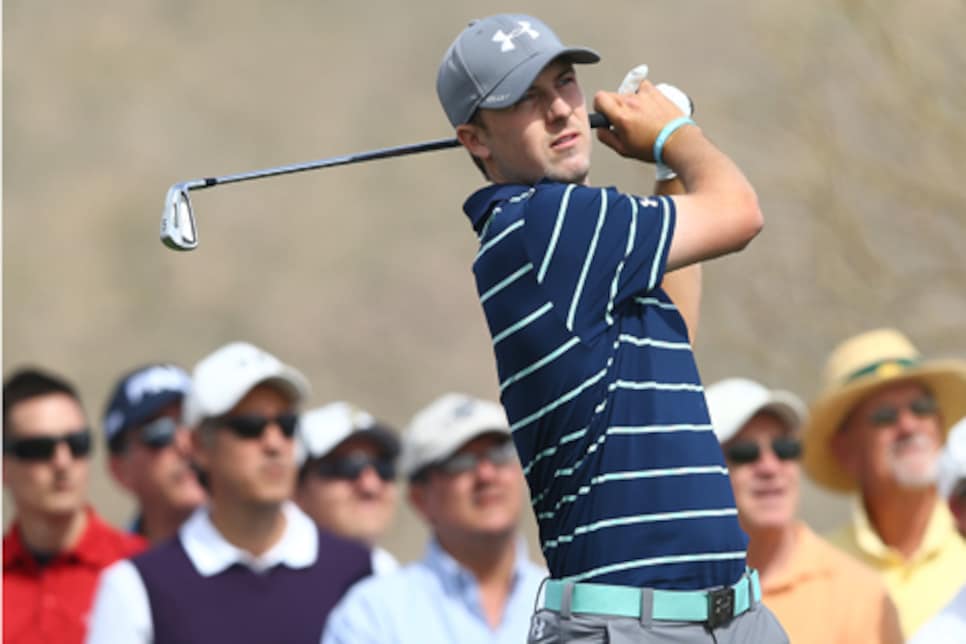 Jordan Spieth advanced to the final eight at the WGC-Match Play with a win over defending champion Matt Kuchar on Friday. Photo: Andy Lyons/Getty Images
MARANA, Ariz. -- "I'm so amped up right now," Jordan Spieth said to his caddie, Michael Greller, as they walked up to the 14th green at Dove Mountain.
Protecting a 1-up lead on Matt Kuchar after dropping two straight holes, Spieth did his best to keep his emotions in check during Friday's third-round match. It worked.
Spieth showed restraint with mini fist pumps after par putts on 14 and 15. Then he made his biggest putt on 17, as he sent Kuchar, the defending champion, home with birdie putt from about 10 feet.
Spieth found the rough with his driver off the tee, but his approach cleared the front greenside bunker by three feet to set up the winning birdie and end a testing day.
"I knew that was going to be a tough match, on a course that Kuch loves, and it was," Spieth said. "He's a smiling assassin. I feel a different intensity from him versus other players. It almost seems like he's more laid back than other players, even though I know inside he's not. He's a competitor.
"I'm just happy to move on."
The 20-year-old Texan will take on 44-year-old Ernie Els, who advanced by defeating Jason Dufner, 1 up.
The scorecards for both players couldn't be much different over the last three days. Spieth is 13 under par at Dove Mountain while Els is four over.
But Spieth isn't underestimating the four-time major champion Els. Don't forget that Els is a seven-time winner of the Volvo World Match Play Championship.
"You've got to beat past champions and major champions in this tournament to keep advancing," Spieth said, referring to Kuchar and Els. "Although I'm neither, I'd like to be one."
The quality of golf from Spieth down the stretch was equivalent to one. Against Kuchar, the 1997 U.S. Amateur champion and a Ryder Cupper, Spieth showed why he's dangerous in match play. Following two bogeys on 12 and 13, he played the final five holes in one under.
If Spieth keeps playing like he has been, the two-time U.S. Junior Amateur champion might just add a WGC-Match Play title to his resume.
Kuchar, for one, wouldn't be surprised.
"To lose to a guy who's playing that good, I can only sit back and cheer him on to go win the whole thing," Kuchar said.