The Loop
Two days after Akron, Woods suddenly upbeat
HAVEN, Wis. -- On two occasions during his news conference on Tuesday at Whistling Straits, Tiger Woods said he was excited about where his game is headed, a remarkable statement when considering that where Woods' ball was headed the previous week at Firestone was the source of most of the excitement.
"I didn't do a whole lot positively around the golf course," Woods said of his 18-over-par total in the Bridgestone Invitational, the worst 72-hole performance of his career. "Unfortunately I couldn't put together any rounds.  But I've done some good work the last two days, and I've still got one more day of some work and hopefully I'll be ready come Thursday."
Most noteworthy about Woods' practice session Tuesday was it came under the not-entirely-indifferent eye of Sean Foley, the swing instructor for Woods' practice partners Sean O'Hair and Hunter Mahan. Woods at one point even asked Foley to shoot some video of his swing from behind. Foley obliged, and later the instructor, who is one of Golf Digest's Top-20 Teachers Under 40, told a reporter that his working with Woods was a "possibility."
Although Woods at first tried to downplay his interactions with Foley, he did leave the door open a crack when pressed.
"Certainly it's a possibility. No doubt," Woods said. "But there also is a lot other coaches out there that's a possibility, as well, that I've talked to. So I just wanted to have him take a look at it today on video and so I can take a look at it and that's what we did. "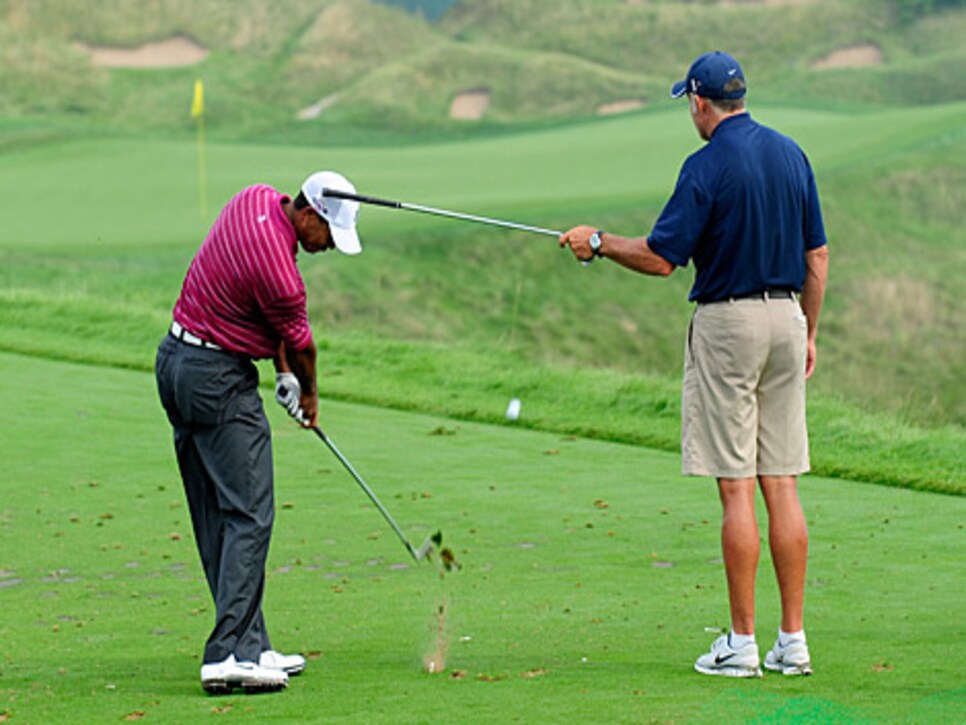 Added Mahan, who played with Woods and O'Hair on Tuesday: "Could be something more, you never know. I have a feeling they're going to talk about that in private and then figure that out in the next few weeks or months. But I don't know exactly what they're doing together."
In the absence of any official instructor, Woods has also relied on caddie Steve Williams, who repeatedly held the grip of a club to the player's head during swings in an effort to keep it still on the backswing.
"It's something I've worked on over the years," Woods said. "I've gotten away from that. The head was too moving way too much for me and my golf swing."
Whether that will make enough of a difference come the first round of the PGA Thursday is unclear, but Woods was encouraged enough to say he now would be willing to be selected as one of Corey Pavin's captains picks for the upcoming Ryder Cup. Just two days earlier, he sounded like he'd prefer to stay home.
"Hopefully I won't be a pick," he said. "I would like to be able to play myself on to that team."
(Photo: Stuart Franklin/Getty Images)