The Loop
Two aging heroes are young again, if briefly
AUGUSTA, Ga. -- Jack Nicklaus and Arnold Palmer, lords of all they survey at Augusta National, came to the first tee at 7:36 a.m., each man freshly barbered, Arnie in a brilliant red sweater, Jack in black, both happy to be there, but then, between them they're old enough to have teed it up with Abe Lincoln, so they're happy to be anywhere, especially starring in the ceremonial start of the 75th Masters.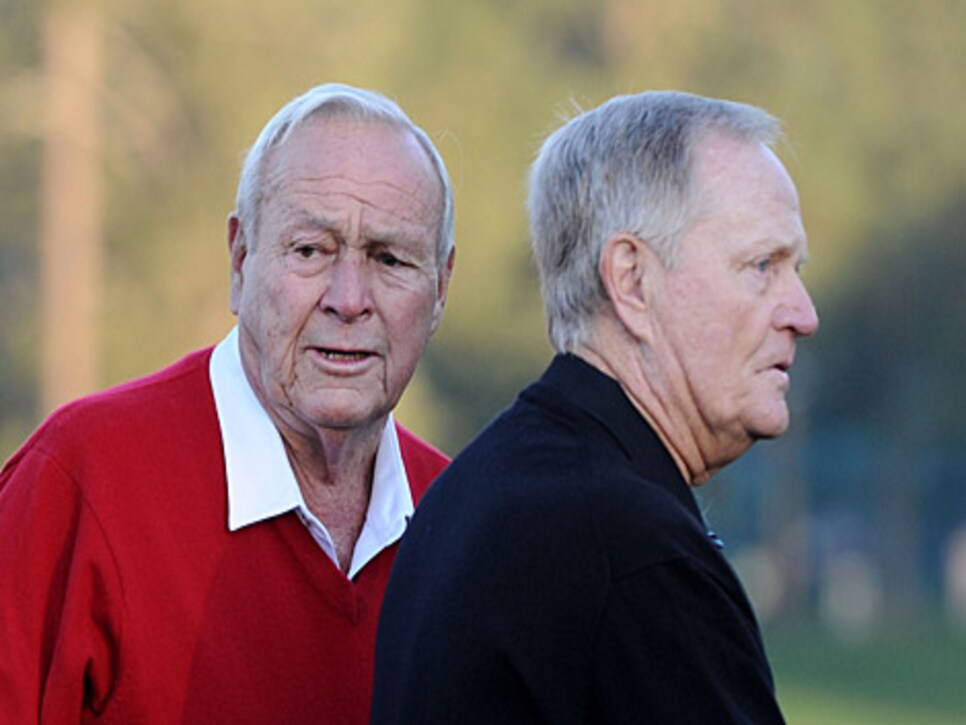 Palmer and Nicklaus each found the fairway with their ceremonial tee shots. Photo by Getty Images
"Golf's greatest ambassador," tournament chairman Billy Payne said of Palmer, and he called Nicklaus "a true legend of the game." On a gorgeous morning, a cloudless sky, the air crisp and cool, the men had walked from the clubhouse to the first tee through a crowd of early-rising fans gathered for one purpose only, to see old heroes made young again, if only for a moment, if only for one swing. As they moved the couple hundred feet, there came the day's first applause, and applause only, no shoutings, just the warm, polite applause of thanks for the memories.
First, Palmer. A bad hip. Eighty-one years old. Not easy getting the peg in the ground. But he took it seriously, this one swing. Somewhere in that swing -- the spin at the top of the follow-through -- we saw a trace of the Palmer who won here four times. Straight down the middle, good enough -- and Arnie pumped at fist at the ball, as if to say, "Got that one!"
Then, Nicklaus.  Creaking back. Seventy-one years old. Getting the ball on the tee, then, straightening up, saying with a smile, "Hard to get back up." Looking down the forever-to-that-hill first fairway.  The morning's sun low, behind trees, shadows on the valley. "We can't hit it out of our shadows," he said, laughing, for that much was certain on this morning. But Jack, too, took it seriously. The familiar routine: looking down the line of the shot from behind, approaching the ball from the side, cocking the head to the right just a click -- then, a big drive, nearly to the bunker.
Then Jack high-fived Arnie, they laughed together, these old rivals, winners of 10 Masters, and they walked back to the clubhouse, royalty leaving the tee to the commoners.