The Loop
Two aces up the sleeve of 12-year-old California golfer during nine-hole round
In a 20-minute span, a 12-year old duplicated a feat most golfers only dream of accomplishing.
Naomi Lee, a 7th grader from Menlo Park, Calif., etched her name into golf's record books when she aced two holes in the same round on Pebble Beach's nine-hole Peter Hay executive course on March 3.
Her aces came on the 82-yard third hole (using a 9-iron) and the 64-yard sixth hole (using a 52-degree wedge).
According to Golf Digest's knowledge, of the 150 reported double-ace rounds, Lee is the youngest female to pull off the trick. What are the odds of hitting two holes-in-one in one round? That'd be 67 million-to-1, according to a Sept. 2005 column in Golf Digest by David Owen.
While the odds decrease somewhat in Lee's case because she had nine par-3 holes instead of the standard four par-3 holes on a regulation course, it doesn't change the fact that a 12-year-old accomplished the feat.
Lee's officially spoiled for the rest of her golf career.
"It's something you don't really understand the gravity of until you really start to dig into it," says father Doug Lee, who's a member at The Olympic Club. "Maybe it's something Tiger or Jack have never done."
Actually, he's right. According to PGA Tour records, it's only been done twice in the modern era on tour. At the 2006 Reno-Tahoe Open, Yusaku Miyazato aced two holes within a six-hole span in the second round on Nos. 7 and 12 at Montreux G. & C.C. (He shot a 66 and finished T-21). The first was Bill Whedon, who made two holes-in-one in the first round of the 1955 Insurance City Open.
More recently, Daniel Chopra aced two holes during a practice round, also at Pebble Beach, before this year's event. In 2010, a 16-year-old from Texas recorded two holes-in-one in a qualifying round for the Greater Houston Junior Championship at Cypresswood G.C. Also in 2010, two sisters on the Central Oklahoma team each aced a hole during a practice round.
Lee wasn't in a competition, though, she is a competitor herself. She was recently named the Bay Area Player of the Year by U.S. Golf Kids, after shooting one-over par at Half Moon Bay's Ocean Course in February to win a U.S. Kids qualifier. Her recent surge has qualified her for the Teen World Championships in Pinehurst, N.C., July 26-28.
The pair of aces actually brings Lee's career total to three, as she recorded her first one in October of 2009, also at Pebble Beach's Peter Hay Course. That was on the 78-yard fourth hole, using a 4-hybrid, which shows how Lee added distance over the past two years. Doug says Naomi averages about 215 yards off the tee.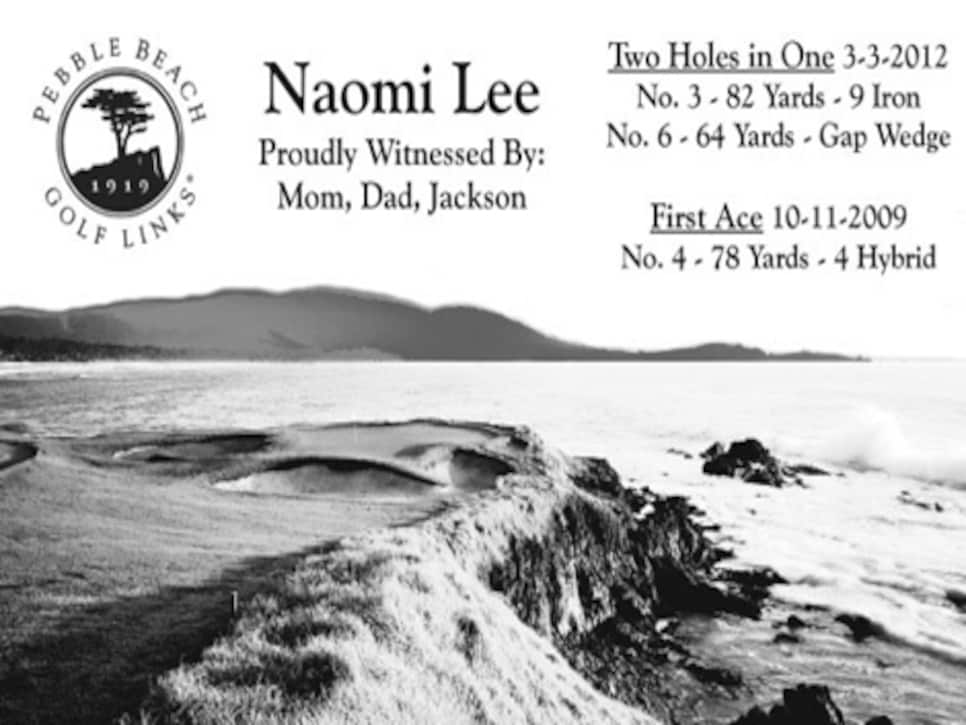 Even with some accolades to her name, Lee says she's usually very nervous before she hits any shot. But not anymore, "I'm probably going to remind myself every time I stand over a golf ball that guess what, 'I got two holes-in-one, and that's like, amazing.' "
The prophetic 7th grader adds: "I'm trying to be good at golf, and this helps a lot, because I know if I put my mind to it, I can make awesome shots. From this, I kind of have new confidence. And people say that great shots happen because of confidence."
What did Naomi to do to celebrate? She got to eat ice cream at her favorite parlor.
"But I didn't buy sodas for anybody," she confessed.
In the past week, after newspaper articles in her local papers detailed her feat, she was recognized at her practice facility.
"They said, 'You're the girl who had two holes-in-one!'" Doug recalls. "She's like, 'Huh?' It's all pretty great."
Photos: Courtesy of The Lees