The Loop
I'm starting to find a Twitter niche. I'll be tweeting whenever I'm on the road or when I have some inside scoop about the world of golf and travel. I'm finding it makes most sense when I'm getting tours of top courses, blog updates or observations and anecdotes from buddies trips. I've been in Myrtle Beach this week. Tomorrow morning I fly to Mississippi for golf in the afternoon and on Saturday I'll be attending my first SEC football game. I'll be tweeting from "The Grove" where I'll be watching Ole Miss take on Alabama. I can't say or think Alabama football without breaking into a bad impersonation of Keith Jackson. But I'll keep that to myself. I will, however, share a few recent tweets from this week in Myrtle Beach: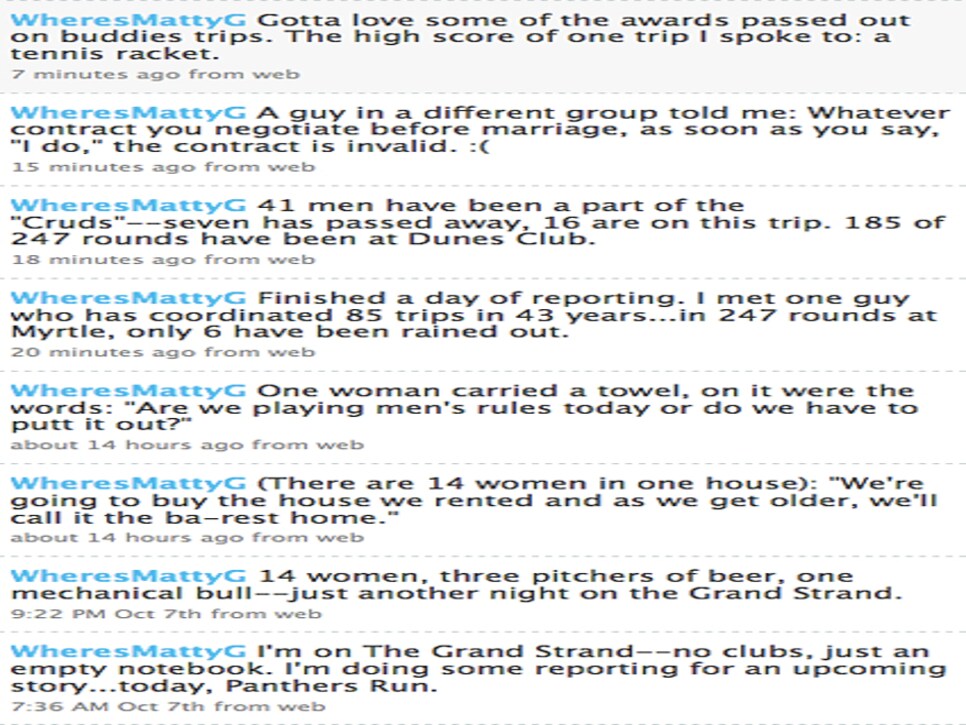 Next week look for a blog about Jack Nicklaus fishing in Central Oregon. It's Jack in his own words (an audio clip) talking about the one that got away. Or, did it?
I'll also give you a profile of my Dad's friend in San Diego--Clarence "Clitz" Busch, 90, has 43 hole-in-ones. I have video of his swing. In addition to having a cool name, he's one of the coolest cats alive. He plays five rounds per week.
Finally, another audio clip of the current Q&A with Eliza Dushku. She's hot. And she loves to talk golf. And she's hot.