The Loop
Tweeting From Bandon Dunes
I'm back at Bandon Dunes for my third year of the (Bruce) Taylor Cup. It's a buddies trip where some business is discussed, but there's far more smack-talk, appreciation of the surroundings and modified grinding for a point. I use "modified" because yesterday we played in a 14-club wind and there were situations where a 6 on a par 4 might win the hole. The scene looks and feels more like a pillow-fight than a title-fight. But it's all relative, it's matchplay and you just need to be better than the man standing next to you, not par. It's a Ryder Cup format with alternate shot, best ball and singles matches. We play six rounds, two on each of the three courses on property. We stay in a cottage, eat at the lodge and fall asleep before our heads hit the pillow.
I'm filing tweets on Twitter all week, which will include a special tour on Wednesday afternoon of Old Macdonald--the new fourth course at Bandon opening in June.
Here's a few tweets from Yesterday's round: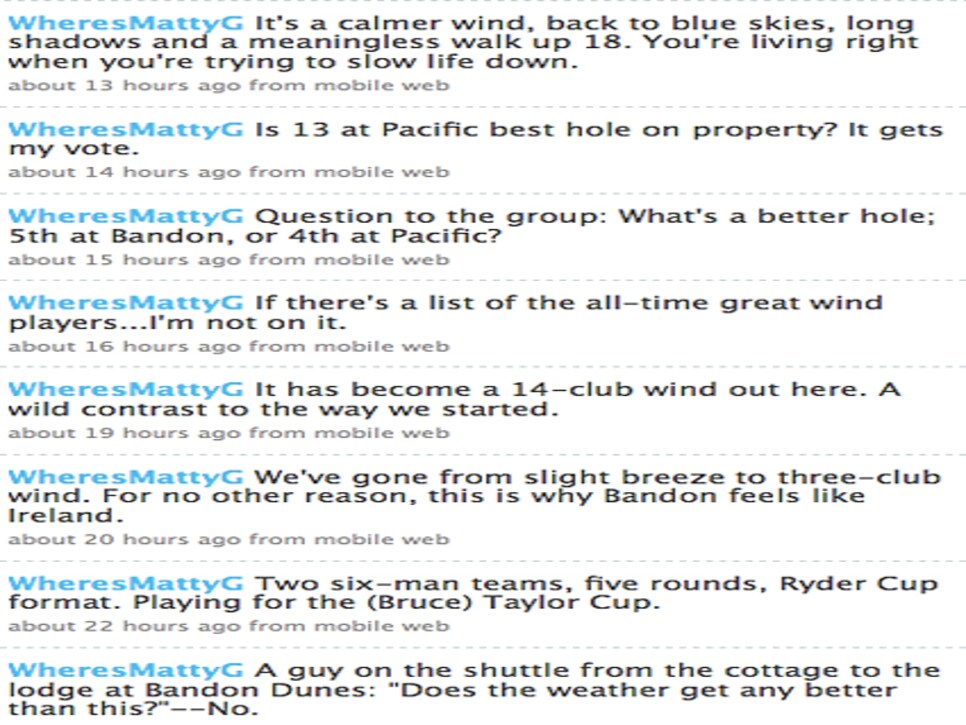 Today we play Bandon Trails in the morning (alternate shot) and Bandon Dunes in the afternoon (best ball of the twosome).