The Loop
How to play two types of knockdowns
Monday's Instruction Blog entry discussed the way D.A. Points played the final few nerve-racking holes at Pebble Beach to win his first PGA Tour event, the AT&T National Pro-Am. He hit mostly knockdown shots for ultimate control. I resurrected a Golf Digest article I did 20 years ago with Paul Azinger about the same subject, because Paul relied on his knockdown shot while winning in similar fashion at Pebble Beach in 1991.
An astute reader of this blog pointed out in a comment that Azinger's clubface seemed to be well open--the face looking at the sky--well past impact, rather than in the normal toe-up position. A closer examination of Paul's original article reveals that he was showing how to hit two types of knockdowns. I'll let him take it from here, in his own words:
The basic knockdown shot for me generally moves slightly left to right or fairly straight.That's because I don't let the clubface turn over through impact  (open-face photo,* below left*). That's how Lee Trevino plays the shot. When the ball lands, it takes one hop and, boom, it stops. If the pin is on the back of a two-tiered green, I'll land it short of the tier. It will hop up the hill and stop near the pin.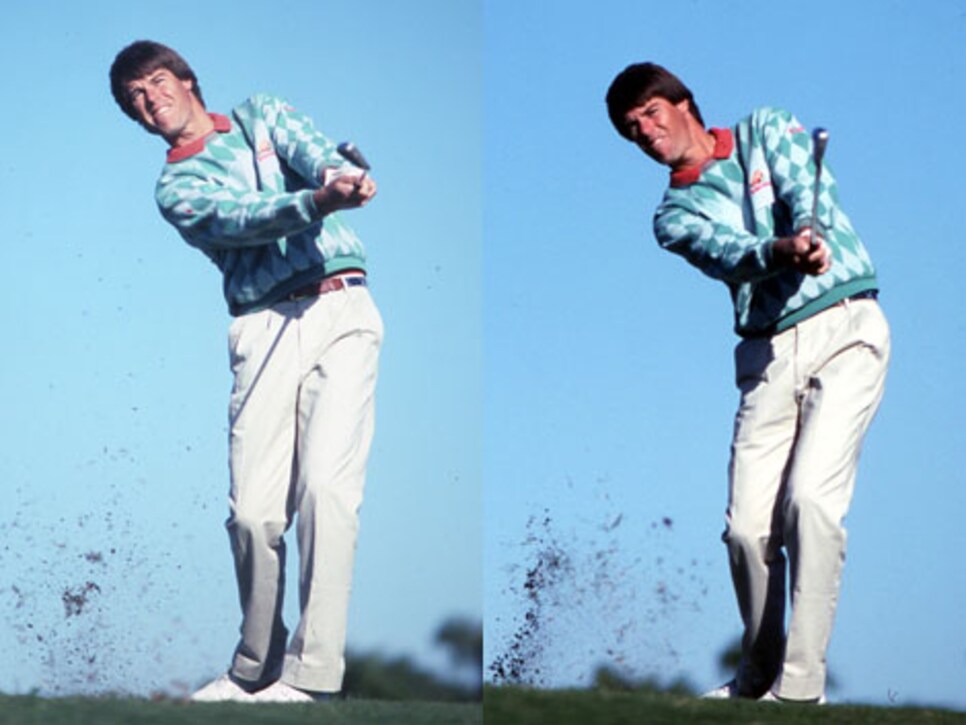 But sometimes I'll let the club turn over if I want the ball to run a bit after it lands (toe-up photo, above right). That's the way Chi Chi Rodriguez plays it. He has more of a neutral grip. His arms don't separate from his body; they release naturally. He still finishes low, however.
A final note: Grip pressure is important. Because you are making a shorter, more compact swing and probably trying not to let the clubface turn over through impact, it's easy to get tight in your hands and arms. You need to have a firm hold of the club, but be careful not to get too tight. As in boxing, you've got to be relaxed to produce a knockdown.