The Loop
Turns out Phil Mickelson was more of a players' choice than a captain's pick for the Presidents Cup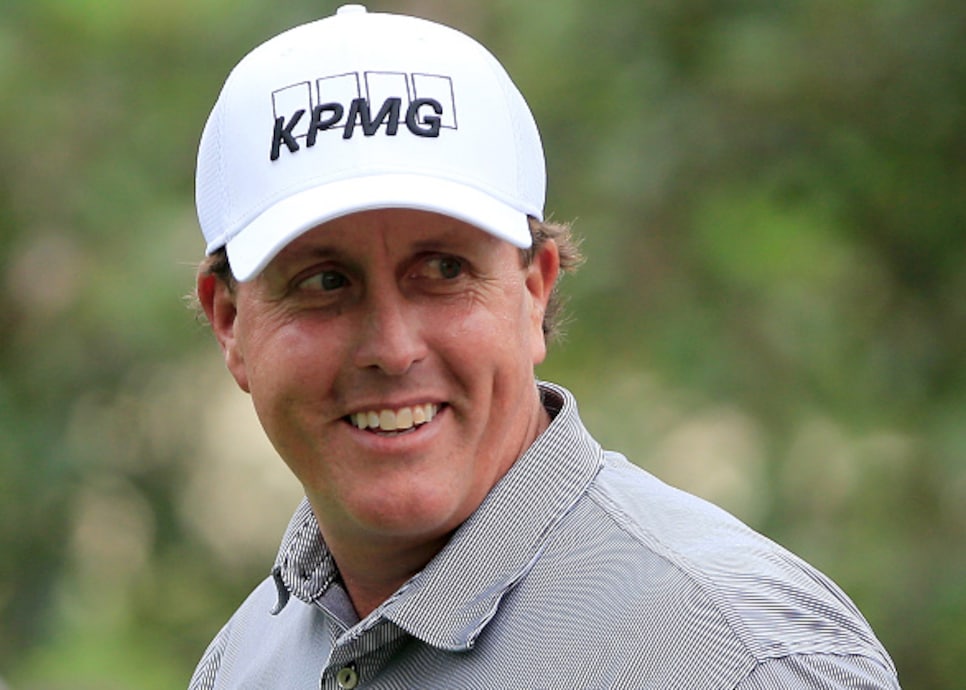 Phil Mickelson's selection to this year's U.S. Presidents Cup team came as a surprise and had many people wondering, "What's Captain Jay Haas thinking?"
After all, Mickelson hasn't won since the 2013 Open Championship and the 45-year-old star has just four top-10 finishes on the PGA Tour in the past two seasons. He was ranked No. 30 in the Presidents Cup standings when he was picked.
Was Haas just throwing a bone to his fellow captain's pick for the inaugural Presidents Cup in 1994? Was he throwing a bone to NBC/Golf Channel, which has the unenviable task of trying to get American TV viewers to tune into a sporting event on South Korean time?
Turns out, it wasn't Haas driving the Phil for Presidents Cup campaign bus at all, but rather the players. NBC/Golf Channel analyst Notah Begay III explained how it went down during a pre-event teleconference.
"I think it was simply a team choice. I think there was an informal survey taken amongst the ten players that made it, and Phil Mickelson was unanimously selected, which says two things: There's a lot of respect for him and what he's accomplished in the game, and he's a good locker room guy," Begay said. "He's the kind of guy that gets in there, is positive, encouraging and commands enough respect for what he's done on his individual record for people to sort of listen."
People certainly listened to Mickelson at last year's Ryder Cup when he publicly disagreed with captain Tom Watson's captaincy -- with Watson sitting a few feet away from him. Whether you agree with how Phil handled that situation, it spurred the creation of a Ryder Cup Task Force shortly after. But it's his dealings with players as an elder statesman that has earned him this trip to South Korea.
"He's been a mentor of sorts," said Begay of Mickelson, who is the only golfer to play in every Presidents Cup. "He's very good at trying to walk these younger players through certain scenarios, in practice rounds, on the range, in the locker room, in the team room."
"I mean, the bottom line is Mickelson is always going to be sort of the Alpha male in there and I think that's one reason why he was picked, not because of his golf necessarily," Miller said.
Perhaps, so, but Haas also has to hope for some solid play from Phil. As we saw at Gleneagles last year, Mickelson isn't ready to only assume the role of cheerleader just yet.