The Loop
Turns out, Jim Furyk is quite the romantic! The classic story of how he met his wife, Tabitha
When you think of Jim Furyk, the most common descriptions that come to mind are likely a hard-nosed, workman-like attitude. He's carved out a tremendously successful career on the PGA Tour -- one of the best of his generation -- with an unorthodox swing.
You might not have thought about Furyk as a ladies man. But after he described how he met his wife, Tabitha, at Jack Nicklaus' Memorial Tournament as a young tour pro, you might give Furyk some credit for having game off the course.
In addition, Tabitha described how Jim proposed to her -- after months of failed attempts -- along the beach during the week of the 2000 U.S. Open at Pebble Beach. How cool! She described how the couple went out to dinner in Carmel, and were taking a stroll on the beach when Jim decided to get down on one knee and propose. "Going back to Pebble Beach every year is really a special occasion for us," Tabitha told SiriusXM's PGA Tour radio on Tuesday morning.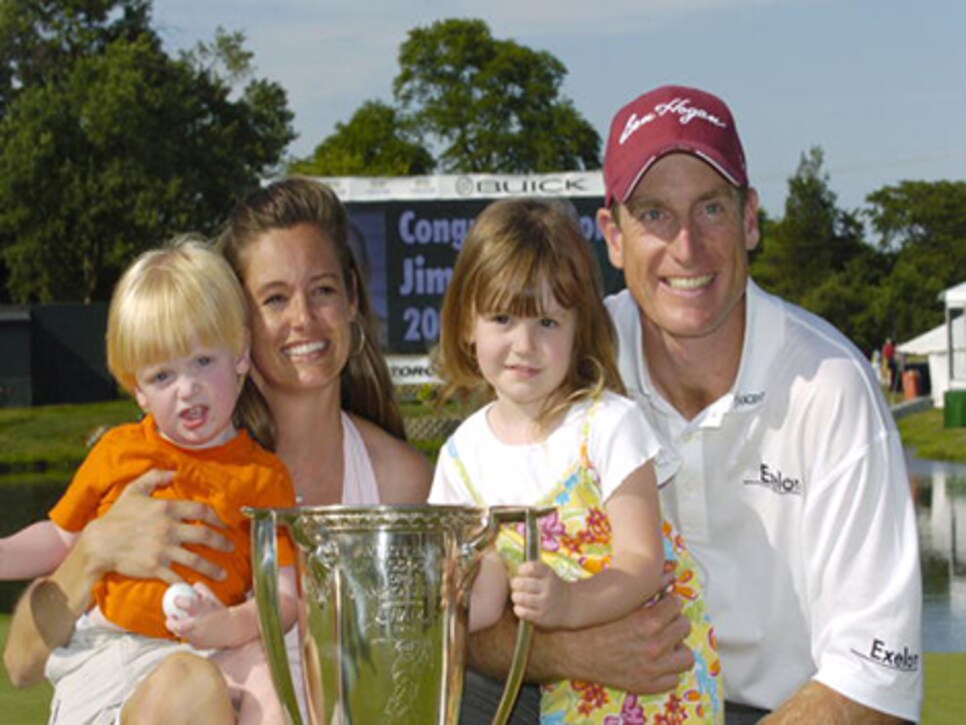 *The Furyk family posing with the Western Open trophy in 2005 after Jim's win at Cog Hill G.C. in Lemont, Ill, one of his 16 PGA Tour wins. *
Also in the interview, Furyk described how he courted Tabitha during a post-round radio interview on the grounds of Muirfield Village in Ohio.
Here's Jim describing it:
"I was a second year player on the PGA Tour, Tabitha worked at Muirfield Realty, right next to where we played the Memorial at Muirfield. Her boss at the time was a gentleman by the name of Ray Hustek, who took the week off of work to do a radio show called 'Mr. Golf.' And he would cut into the show with an update of something going on at the tournament every 20 minutes.
"I walked off the green [after my round] and was goofing around with some kids and Tabitha caught my eye, so I said hello to her. I was a little shy about going up and talking to her. Then Ray came up to interview me. So the whole while he was interview me I kind of positioned myself so that I could keep checking her out. And [Ray] noticed, and he's the one that ended up kind of introducing us and getting us started."
So next time you watch Furyk plodding along during a PGA Tour event, we now know the guy has a cunning side to him as well.
Photos: Courtesy of Getty Images