The Loop
Turns out Bubba Watson passed a kidney stone the same week he won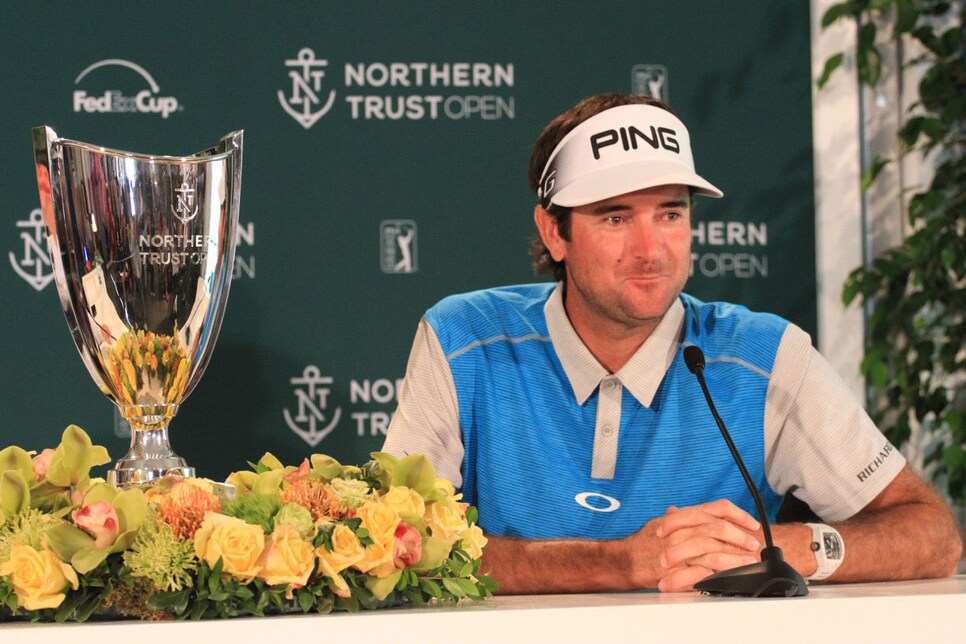 PACIFIC PALISADES, CA -- Here was Bubba Watson's eventful Los Angeles week in a nutshell: passed a kidney stone Monday, took in a Justin Bieber concert rehearsal, filmed a cameo on his beloved "Girl Meets World," stayed to the end of the crazy Clipper-Warrior game Saturday night, then won his second Northern Trust Open Sunday by one stroke over Adam Scott and Jason Kokrak.
And about that kidney stone.
First things first, don't worry about Bubba though. He experienced the pain-free kind (who knew?).
More painful was the detail in which he went with media after the round. Thankfully, this is one press conference that wasn't televised live.
"So Sunday, I made the cut -- I missed the cut at Pebble," Bubba said after revealing he had passed one five years ago. "And that Sunday morning playing with the kids, I had to go take a bathroom break, and same thing. Red liquid came out. I said, "This ain't right."
"So we called the doctor, we called the tournament here. They set me up with a place. I landed on Monday morning, went. Did a CT scan and 30 minutes after the CT scan, again, just downing water, thinking it's going to be the same thing.
"Five years ago he said there was one more in my system and obviously it decided this week. My baby came out I guess.
"Again, no pain. And I'm already a head case, so my thoughts of seeing red liquids coming out, I thought I was dying, basically, without pain."
Bubba has kept the stone as a souvenir but so far, has no plans to share it or to start marking his ball with it.
In lighter Watson news, he did stick around for the crazy Warriors-Clippers game that nearly saw the Clippers reserve stage a comeback in trash time. Watson said he received a text message from Steph Curry too close to his tee time Sunday, but the gist was that the world's greatest shooter wants to teach Bubba's son how to shoot a basketball.
Just another eventful week in the world of Bubba.