The Loop
Turf Guy stole the show at the Big Ten Championship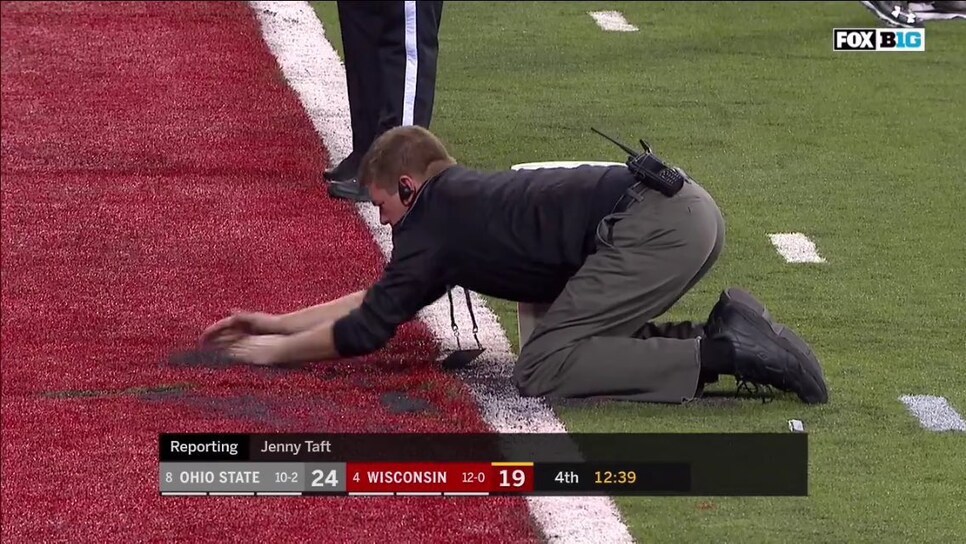 The whole season had been leading up to this moment. Ohio State and Wisconsin in the Big Ten Championship, with a potential trip to the College Football Playoff on the line. The stage was set at Lucas Oil Stadium.
The Buckeyes, 3.5-point favorites, jumped out to a 21-10 halftime lead, powered by senior quarterback J.T. Barrett, who threw for two touchdowns and ran for another. It had all the makings of an MVP performance, but then OSU stalled in the second half, kicking just one field goal in the third quarter and allowing a long drive from Wisconsin, who looked to cut into the 24-13 deficit. Six plays into the final quarter, the Badgers punched it in on a one-yard scrum that was the stuff of Big Ten legend. It was a dog-pile so vicious that it nearly ruined part of the turf in the end zone. Here's video of the TD and the subsequent turf maintenance that was needed:
But this is just a small highlight. The turf fixing delayed Wisconsin's two-point conversion attempt for what felt like an eternity, but was really only about 10 minutes. A lot can happen on social media in 10 minutes though, and the man now known affectionately as "turf guy" became the instant MVP of the Big Ten Championship:
Turf guy's fame grew tenfold when Gus Johnson and Joel Klatt decided to give some A+ play-by-play:
As the delay got longer, the tweets got funnier:
Just an incredible night for Eric "Turf Guy" Harlow, who received the most well-deserved standing ovation in turf maintenance history:
History will show that Ohio State running back J.K. Dobbins won the 2017 Big Ten Championship MVP, but we all know none of it would have been possible without Turf Guy.