The Loop
Tuning in golf's new Back9 Network
If you've seen some of the video clips promoting the Back9 Network, a startup channel covering golf and "the golf lifestyle," you might be surprised to hear what founder Jamie Bosworth says about the typical programming he has in mind.
"People thought we were going to be pretty outrageous," says Bosworth, "but it's going to be much more down-the-middle" than some of the network's promotional material might have you believe. Clips like the one below from the PGA Merchandise Show, with its thumping disco beat and "we rock all day, we rock all night!" attitude, were designed to attract attention, not necessarily reflect what the network will look like.
Make no mistake: Bosworth does want the Connecticut-based Back9 Network to be different...but it still has to appeal to golfers, after all. The magazine Golf Punk published in the U.K. until it folded two years ago, serves as both an inspiration and a warning for Bosworth. "It was very well done," he says. "The problem was, it was a little too narrow. It was just for younger, hipper golfers, and we are not that. We're for everyone."
Bosworth describes the network's core programming as "something similar to a radio simulcast of a guy like Matt Adams," who has a wide-ranging golf program called Fairways of Life on Sirius XM.  The network's "flagship show"? That will be Scorecard. This daily SportsCenter-type wrap up of the golf world with four hosts --"two guys and two girls," says Bosworth -- "will be like a combination of ESPN's PTI and [Comedy Central's] The Daily Show."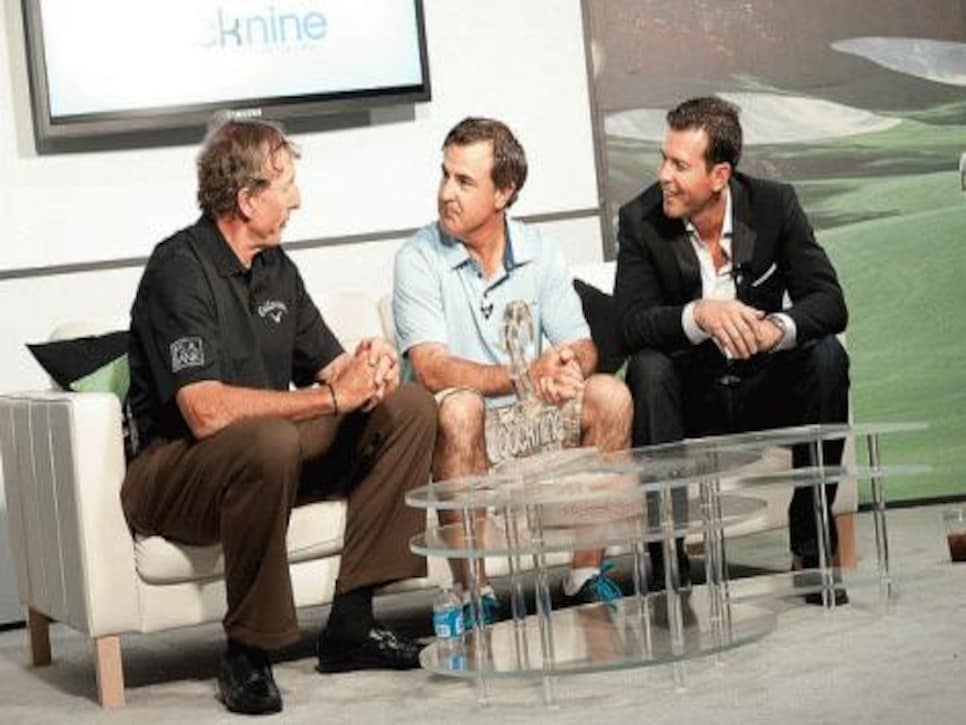 Back9 Network CEO James Bosworth (right, with instructor David Leadbetter and actor/comedian Jackie Flynn, star of a new show, "Lucky Me") says the Back9 Network will be "for everyone." Photo courtesy Back 9 Network.
Some of the network's less traditional elements -- a reality dating show called Hole Lotta Love, for example, or a comedy called Beer Cart Girl -- are meant to "augment" the core programming, he says.
He reserves most enthusiasm for Of Course, an animated program he deems "hilariously funny" and likens to The League on the FX network. Excerpts from the show will start appearing on YouTube soon. Bosworth guesses it will probably be the network's No. 1 rated program. "We're going to get a lot of brand awareness out of this."
Brand awareness is nice. But what Bosworth, 39, needs most is to convince satellite providers and cable companies to carry the new channel. That could be his most difficult challenge, with neither cable nor satellite companies being in the most expansive mood these days. It might be different if his chief competition, the Golf Channel, was pulling in massive ratings. It is not, even with professional tournament coverage -- which the Back9 Network will lack.
Yet Bosworth seems to be undaunted. A former sales executive with Odyssey Golf and Callaway Golf who also worked briefly as an assistant pro at Pebble Beach in the 1990s, Bosworth has lined up a team of celebrity backers that includes Clint Eastwood, Boston Celtics star Ray Allen and University of Connecticut women's hoops coach Geno Auriemma. All have made "serious" investments in the company, he says, declining to be more specific.
Just this week the network started streaming some of its programming online at back9network.com. Click on "shows" on the homepage to see partial versions of a few offerings. Bosworth aims to keep adding more and more. By Dec. 1, his goal is to have a "four-hour repeatable grid" of programming that could stream each day. He imagines companies in the golf business will make up 40-50 percent of his ad revenue in the first year, with "non-endemic" sponsorships coming from financial services, autos, real estate and other companies hoping to reach wealthy viewers.
Bosworth views Universal Sports Network as a role model. That network, which began online in 2006, is now a division of NBC and is carried on cable and satellite. Bosworth has hired Carlos Silva, Universal's former president, as his chief operating officer. He is among 12 full-time employees, a group Bosworth expects will hit 65 or 70 by yearend.
The Back9 Network's sales pitch hinges on the idea that golf is VASTLY bigger and more diverse than what's served by traditional golf media, including Golf Digest and GolfDigest.com. "Some research we've seen shows the market is seven times larger than a typical golf publication is targeting," he says, adding: "Golf is really cool, but we've allowed certain people to hijack the game. The way it's portrayed in the media is this very quiet...almost like it's some kind of self-induced punishment." His potential viewers look at golf as a "lifestyle" and, more important, "as a lot of fun," he argues.