News
Tseng and Pettersen credit each other for second-place tie
RANCHO MIRAGE, CALIF.- It's easy to see that Yani Tseng and Suzann Pettersen are good buds. Heck, they even dress alike ("She's the youngest, so she has to call me every day to find out what I'm wearing," Pettersen joked after their round was over).
Rarely have two players paired together in a major championship seemed to have more fun; at times on Saturday, the twosome acted like they were playing a $5 Nassau back at Bay Hill or Lake Nona.
There was, in fact, side money on the line, but neither player was willing to confess how much. "It's worth it. I'll tell you that," Pettersen said with a laugh.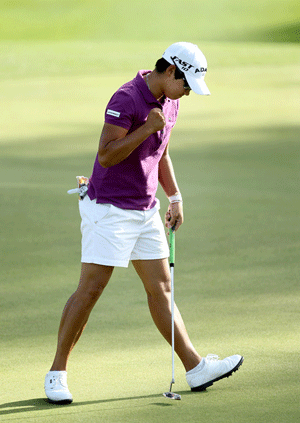 *Kidding aside, both players attributed their solid play on Saturday to the relaxed atmosphere the friendly pairing brought to the round. "She is a great golfer, and it was a great match today," Tseng said. "It's a lot of fun playing with Suzann. We like to play with each other because our game is very similar." Pettersen agreed: "[Yani] is  a great girl. She has a great personality, very straightforward. She has a great game and is a very aggressive player.  Kind of reminds me a little bit of myself."
Pettersen and Tseng both shot 67 on Saturday to tie for second place at nine under par for the tournament. And they'll get to rib each other some more tomorrow, as they are paired together yet again, only this time with leader Karen Stupples (who's at -10) as the group's third.
Stupples had a couple of shaky bogeys in her round of 68, but she finished strong, holing a long birdie putt on 17 that was followed by vigorous fist-pumping. After the round, she was proud of how she'd handled her nerves. "I was ver**y nervous out there to start," she admitted. "But it's sort of a good buzz to be that nervous. Because you know that you're doing well. And I know my nerves can't be any worse tomorrow than they were today. I'm excited about that fact. I know that I was able to overcome them this morning. All I can do is go out there tomorrow and enjoy it. Look at all the people chasing me. How could I not enjoy that? I'm more excited than I can even tell you."
With a leaderboard like this, so is the gallery: