If it's hard to put Jordan Spieth's season into context, that's because he's taken the record book, deposited it in a trash can and lit it on fire.
In capturing the Tour Championship on Sunday, Spieth logged his fifth victory of the campaign. Despite two missed postseason cuts -- that sure seems like a lifetime ago, doesn't it? -- the Atlanta conquest earned the Texan the FedEx Cup. And with the win, Spieth became the clear-cut choice for PGA Tour Player of the Year.
East Lake Golf Club bestowed other accolades. At 22 years old, Spieth became the youngest quintuple winner in a year since Horton Smith in 1929. Following a month-long game of hot potato with Jason Day and Rory McIlroy, Spieth ends the PGA Tour season as the No. 1 player in the world. The Vardon Trophy for the lowest scoring average will sit on Spieth's mantle, as will top money honors. (In case you needed help digesting Spieth's $22 million earnings this year, that total averages out to $259,346 per round, which is $13,908 per hole, or $3,623 per shot.)
Spieth had the type of season -- highlighted by wins at the Masters and U.S. Open -- that constitutes a good career. Factoring his age (Spieth could still be in college) makes onlookers wonder what the future has in store.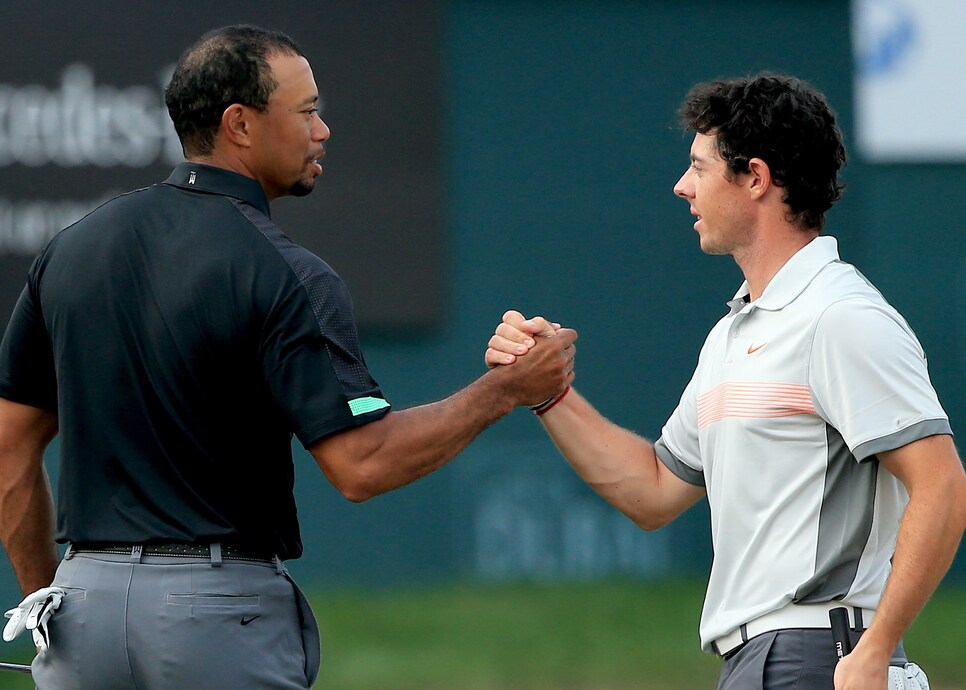 And make no mistake, his age is a major component of this amazement equation. Though it's common for youth to dominate in other sports -- think LeBron James, Mike Trout, Sidney Crosby -- experience is viewed as a prerequisite to reach golf's upper echelons. That Spieth has sidestepped this parameter, or succeeded without it, puts him in rarefied company.
While there are parallels to his contemporary McIlroy -- lest we forget, Rory has four majors of his own at age 26 -- the go-to similarity in analyzing Spieth has been Tiger Woods. It's a juxtaposition Spieth has shied away from, but there is evidence to the contrary.
Woods is the youngest Masters winner, but Spieth grabbed his second major at an earlier age. Spieth is nowhere near the neighborhood of Tiger off the tee; Woods could only hit approach shots like Spieth in his dreams. Both of their scrambling abilities left opponents in awe, and the hole seemed to double in size when attempting putts over 20 feet.
His humility will ask otherwise, but going forth, the shadow of Woods, along with the game's other greats, will be ever-present for Spieth.
Which leads us to the most remarkable aspect of Spieth's season: He may be remembered for what he didn't accomplish, as he fell just strokes shy of winning the Grand Slam. For many golfers have enjoyed monumental feats; few flirt with immortality.
Of course, Spieth is only 22. The best may be yet to come.