News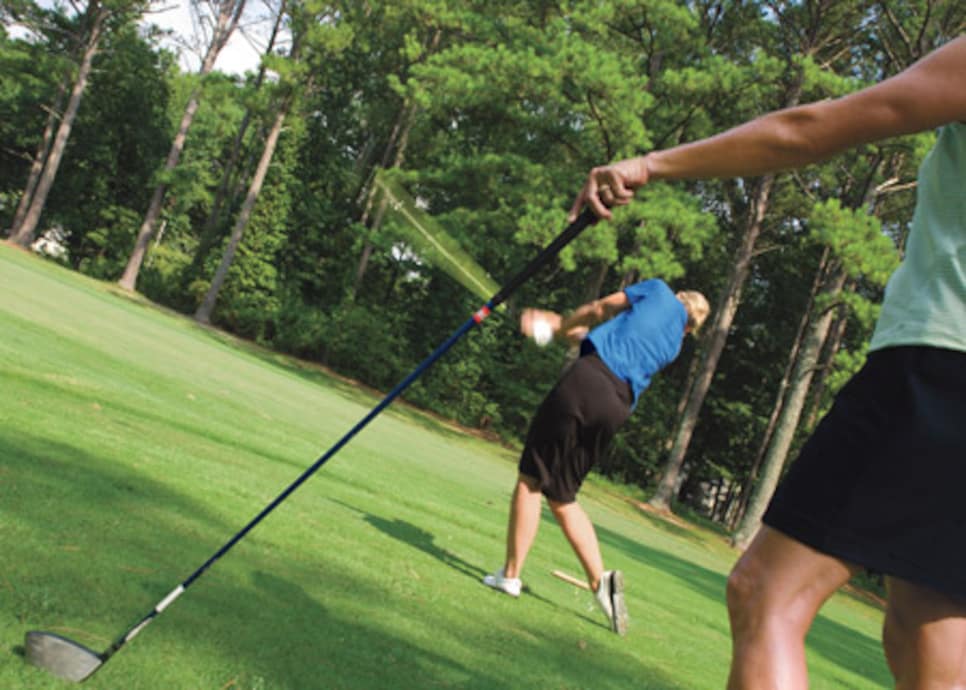 Holder and her playing companions, Debby Lichtman, 56, a retired nurse from Peachtree City, and 57-year-old real-estate agent Jodie Shepard from Newnan, Ga., are acquaintances who had participated in a Golf For Women day of new equipment testing in Pine Mountain, Ga., in October 2006. The clubs available were the newest drivers, fairway woods, hybrids, irons and putters from every women's-club manufacturer in the industry. The golfers were treated to a selection far more extensive than any recreational player would ever encounter in a single store, and it was an eye-opening experience for them. "Before that day, I never realized there were so many clubs available to women, or that they were so good," Shepard says. "I was used to playing men's clubs. Whatever my husband had in the garage that he wasn't using, I'd pull out. But the newer clubs were great. They worked a lot better."
The testing day led to a three-part series in GFW called Try & Buy. In Part I ("The Case for New Clubs," March/April 2007), we published the results of a comprehensive reader survey that revealed how little women golfers know about the technological advances in golf equipment. In Part II ("Can I Get a Little Help Here?" September/October 2007), GFW investigated the golf retail environment and offered solutions for navigating the typical challenges that women face when buying clubs. In this, Part III of our series, we follow up with three women who tried new clubs, and who proceeded to revamp the makeup of their bags. The results speak for themselves.
After the club-testing day last October, Holder, Lichtman and Shepard all took a closer look at their own equipment. "I realized that my bag was frozen in time," says Holder, a 4-handicap who plays with her mother and father twice a month and was the first girl to play on her high school's boys' golf team in 1980. Holder carried a 2-iron while playing collegiate golf for Troy University, in Alabama. Never one to easily adjust to new clubs, she hadn't bought new equipment in 14 years. Her bag contained a set of Ping Zing irons, a Ping Eye II 5-wood, a Callaway Big Bertha 3-wood and a Callaway Great Big Bertha 9-degree driver, all with men's regular-flex shafts. Hindered by old technology and an inability to spend as much time on the practice range as she once did, Holder's game had begun to stagnate.
As a member of the Georgia Women's Golf Association and the Georgia Senior Women's Golf Association, Lichtman, a 10-handicap, was playing more golf than ever but still struggling with her approach shots in the 140-yard range. Several of the par 4s at Flat Creek, Lichtman's home club, force players to carry a water hazard or a bunker before landing the ball on the green. "You don't want to lay up when you're at 140 yards, but standing there with a 5- or 6-iron over water is nerve-racking," Lichtman says. Last year, she played with TaylorMade Rescue Dual hybrids but wasn't completely satisfied with their performance: "I was hoping to find approach clubs that would get the ball airborne a little higher and carry it farther," she says.
For Shepard, a 6-handicap who plays golf two or three times a week, participates in a West Georgia women's league and competes in numerous tournaments around the state every year, distance wasn't an issue. However, she says, "my irons always felt too heavy and I had to swing hard at the ball to make it go." She was playing Callaway X-16 irons with steel shafts purchased in 2003, which she had reshafted with lighter graphite. "Even then, the clubs were still heavy, especially after playing in a three-day event," she says. "That's why, after trying the new clubs, I decided it was time for a change."
In May, Shepard made the two-hour drive from the Newnan home she shares with her husband, Neal, and son, Matt, to the Reynolds Plantation TaylorMade Performance Lab for a clubfitting: "It was my Mother's Day gift to myself," she says with a laugh. During the three-hour session, Shepard was fitted with sensors to track the movement of her head, shoulders, elbows, waist, hips, knees, ankles and feet while she hit balls on the launch monitor. "The fitter spent a good bit of time with me and gave me swing pointers as well," Shepard recalls. After the fitting, her swing data (including clubhead speed, face angle, lie angle and impact location) and specific club needs were burned onto a CD; the information was used to fit her into TaylorMade r7 irons and a Burner hybrid. "The feel of the lighter clubs and the higher trajectory of the hybrid were wonderful for me after struggling with my 5-iron," Shepard says.
As the threesome reaches the fairway of the 290-yard, par-4 second hole, Lichtman proclaims, "Here come the hybrids!" All three players added hybrids to their bags this year. "It's the greatest modern golf invention," Shepard says. "Before this, I couldn't hit a 6-iron out of the lies I can now hit my hybrid out of. For starters, it just slides right through the rough." As she continues down the fairway, Shepard rattles off the other uses she's found for her hybrid: escaping a muddy lie, chipping around the greens and getting out of fairway bunkers.
Holder's path to her new clubs was more relaxed; she didn't opt for launch monitor testing but instead tried clubs on the range to find the ones that felt best. She attended a demo day at Maple Ridge Golf Club, her home course in Columbus, and talked to representatives from club companies while she hit ball after ball with "just about every iron they had, as well as woods, wedges and hybrids." After the demo day, she says, "I was planning to buy so many different clubs. I compared prices from shops and bought the driver, irons and wedges from three different sources." Holder ended up replacing every club in her bag except for an old Snake Eyes hybrid ("It's a hand-me-down and I love it"). She bought a 10.5-degree Ping Rapture driver, Callaway Fusion irons and Callaway X wedges. As she sticks another approach close to the pin on the third hole, she smiles and says, "See, everything bites with these things."
Lichtman has an insatiable quest for improvement that's earned her the nickname Taz, as in the zany, high-energy Tasmanian devil cartoon character. She debated whether to visit her local instructor—who has a launch monitor but a smaller selection of demo clubs—or a larger retailer, which offers a wider selection and a return policy, and whose sales personnel do not charge for fittings.
After a couple of trips to the PGA Tour Superstore in Atlanta, Lichtman found a salesperson willing to spend time with her, collecting measurements and compiling launch monitor data. Lichtman opted for a 12-degree Cobra Speed LD driver and TaylorMade Burner 3-, 4- and 5-hybrids, which complement the TaylorMade CGB irons she'd purchased three years ago. Lichtman loves the narrower hybrid clubhead. Her swing is more that of a "digger" than a "sweeper," so unlike most of her golf friends, she doesn't feel comfortable using fairway woods. "They don't look like they're going to get the ball off the ground. But the 3-hybrid basically replaces my 5-wood—it's 19 degrees instead of 18," she says, displaying her newfound knowledge, "so it's perfect for me." On an approach over a bunker, she proves with ease that the 140-yard shot is no longer a dreaded distance: Thanks to her hybrid, she hits the ball far enough and high enough to carry the hazard and still land it softly on the green.
As the round draws to a close, the women talk about how their games have changed as a result of their new equipment. But they admit that putting together a set of clubs to match their games is an evolving process. "I still have a gap between my 5-iron and 21-degree hybrid, so I find myself trying to jump on the 5-iron or lay off the hybrid," Holder says. "I need to fill that gap." While Shepard is making cleaner contact with her new irons, she's still adjusting to the distances that the ball travels, as well as the clubs' feel. "They're lighter, so I get quicker with the swing and jab at it at times, but when I slow down, I make crisp contact."
Solid contact, forgiveness on mis-hits and predictable results are the key benefits each player has gained from her new equipment. All three are looking forward to playing their best golf in the years ahead: Shepard is planning to compete in more state golf tournaments, Holder will play more local events, and Lichtman is content to lower her Index and win a couple of dollars off her playing partners in her three-times-a-week games. They say they'll continue to test equipment, having become avid students of new technology.
As they walk off the ninth green, Shepard teases Lichtman about her TaylorMade Rossa Inza putter: "It looks like a '57 Chevy with headlights, taillights and a lot of junk in the trunk," she says. Truth be told, Shepard covets that putter. "Some of us are getting older, and we need every edge we can get," she says. As Lichtman puts her bag into her car, she concludes, "It's true, buying new clubs took time and effort. But the right equipment has made the game so much more fun."